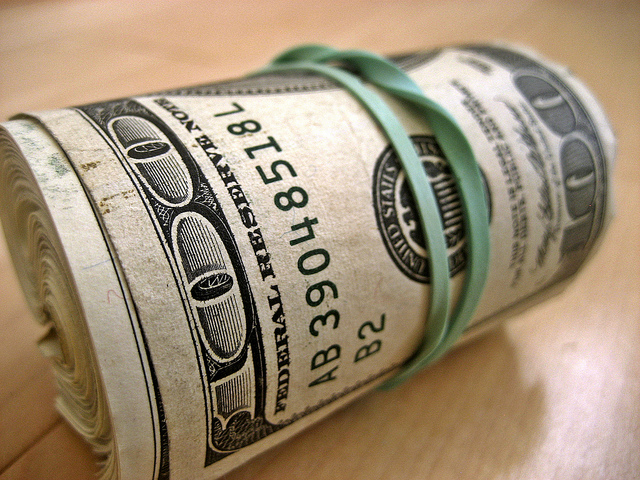 The shift of media and the advertising dollars with it
While print ads have been staple to advertisers for hundreds of years, there's been an inherent problem with its' effectiveness. Regardless of the publication, marketers who use print to promote their products have battled the same 900 pound elephant in the room; measuring ROI. In the past several years, online media has offered an alternative platform for marketers to promote their products and services, and with it, a promise of highly targeted, closely measurable campaigns. While many savvy marketers have shifted most, if not all of their ad budgets online, the majority of advertising dollars still reside in print publications. As media continues to move online, the advertising dollars with it are still very slow to follow, which is setting the stage for an interesting paradigm shift over the course of the next few years. Nearly all of the campaigns we run to promote eDirectory are done online.
As a marketer, web banners, email newsletter sponsorships and email blasts provide keen insight into the success of our messages, our offers and how responsive a given audience is to that message and offer. How many people saw the ad? How many people clicked on it? Of those people, how many people came to my website?
Which pages did they click on when they were there and at what point did they abandon the site? How many people opened my email, how many people that opened that email came to my site, downloaded a whitepaper or furthermore, how many people bought our software because of that ad? The ways to break down and dissect the numbers into cost per lead, cost per conversion, cost per click—they're all limitless. In print, however, the only concrete number is circulation.
While Magazine X may say their circulation is 100,000, I have no way of knowing howmany people picked up and read that magazine, or for that matter, even saw my ad, let alone came to my website or called me because of it. The best I can do is ask each lead where they heard of us, either by phone or in an email form, and studies show that this information is 25% accurate at best. It isn't that newspaper and magazine advertising isn't feasible—it just became significantly less feasible when online advertising became more prominent. It now pales in comparison. So, online media is becoming more favorable than print, nothing too profound in that.
What is profound is the way in which it's making its' migration. While people prefer to view their content online, the companies who are putting money into advertising dollars don't seem quite as eager to migrate…yet. Print circulation for nearly every major publication like the Wall Street Journal, the Washington Post, USA Today and the New York times continues to decline quarter by quarter.
In 2008, the Washington Post reported that it's newspaper publishing revenue stood at $232.6 million dollars, while Washingtonpost.com accounted for $33.7 million of its' revenue. Between 2007 to 2009, their print circulation dropped ~7%. In Q3 of 2009, their newspaper revenue dropped 20% and their print ad revenue declined 28%, respectively.
One steady increase to their bottom line has been their online advertising revenue, increasing 13% in Q3. An article published by Scott Karp in 2007 tracked similar, but even more drastic trends with the New York Times, which reported that while 90% of its' readership is online, the ad revenue from the New York Times only contributes to 10% of their bottom line — perfectly inverse economics.
So what does all this mean? Well, as you can see, print circulation is down, but the advertising dollars associated with those print publications are still very much to follow. The medium to which the vast majority of readers are using to access content is online, but many advertisers are still throwing money into print. While it may be a gradual, more ad dollars will soon be shifting online, in what some reports have estimated to be $65 billion on the next few years.
In short, people are about to get a great deal smarter with the way they market their products and with the progression of web 2.0 technologies, aggregators and other prominent internet platforms, a great deal of that ad revenue is up for grabs.
The horizon looks bright. A Tsunami of ad dollars are going to roll up on the shores of site owners in the years to come, but monetizing that site to capture a piece of the money that will shift from print to online is the biggest hurdle publishers, site owners, entrepreneurs and businesses face right now. There are few things to consider when structuring or restructuring a site to attract advertising dollars.
Internet users are inherently lazy
No shocker here. Why do people like RSS feeds? Because it means they don't have to find the information, it's sent directly to them. Why do people like social networks? It allows them to interact with millions of people under one roof, as opposed to interact with them separately in segmented arenas. Why do people like Priceline and Orbitz? Because it sure beats going to 37 different websites searching for airlines, hotels and car rentals.
Why do people like Kayak even more? Because it sure beats going to Orbitz, Travelocity, Priceline, Expedia and Hotwire.
Profitable sites provide one of two things to a lazy internet browser: Informational Resource or Entertainment. Think of nearly any successful website in the world and it provides one, if not both of those components. Why do people read PerezHilton.com? Because for some, it's entertaining.
Why is there so much buzz around local search directories? Because they provide an all-encompassing informational resource that has everything under one roof including restaurant menus, reviews, business listings, classifieds, events and more.
Think Niche
If online media promises marketers a highly targeted, stringently profiled advertising platform, the more targeted and profiled, the more confidence marketers should have in their ability to reach their target audience.
Because of this, you're seeing several niche, focused sites developing for every one broad, general print publication. Many print publications subject matter is spread wide, but thin, so their depth is extremely limited.
They often scratch the surface at a wide array of subject matter, providing marketers with a more generalized, ambiguous vehicle to advertise on. When the ad dollars come flowing to online platforms, and with Forbes.com anticipating $65 billion in the next few years, the most successful sites will provide unparalleled depth. Let's take an example of a hypothetical hockey magazine. This magazine may keep up on trades, feature player profiles, new equipment lines, scouting reports, trade rumors and more. In the online world, site owners are cashing in on developing high depth, narrow focus site content on each of these topics.

The online publications cover the same content as their print competitor, but provide a great deal more depth of information. By doing this, they provide a more molded visitor profile to advertisers. So when CCM, one of hockey's biggest equipment manufacturers, are evaluating their media buys, they know that their advertisements on hockey gear online.com are targeting men between the ages of 14-45, 64% of whom are looking to buy new hockey equipment in the next six months.
This is something print publications simply can't offer. Well designed sites will offer this level of micro-targeted advertising, and marketers will come to expect this from their advertisers. In the end most super niche, narrow focused sites will be the ones cashing in on the advertising dollar shift.
Let's put it in an example of local search. Let's say I'm a restaurant owner the DC metro area, specifically in Alexandria VA. I'm looking to increase my business visibility by running a few ads in various print and online publications. I have a few options to consider:

Notice how all of these publications are broken into three tiers. In the first tier, we see DC metro-wide publications like the Washington Post. One level below that is a list of publications that cover the entire Northern Virginia region of DC. The final tier shows those publications dedicated solely to the Alexandria VA region, where my restaurant is located. While circulation/site traffic and costs of running ads have to be considered in all this, as a marketer, my ad dollars are best spent on the bottom tier.
All of these publications are those either printed and distributed in the Alexandria VA region, or even better, are sites people come to who are actively searching for restaurants, shops, events and business in Old Town Alexandria. This is as close to target audience as I can get and I can't ask for more relevance in those I'm marketing to. This is why local search sites are becoming so successful, because they offer local small businesses highly targeted, affordable advertising platforms.
While the Washington Post may boast a circulation 50x that of some of the more niche publications in Alexandria VA, I don't know how many people are picking up the Washington Post in Northern Virginia area, or how many people in Alexandria for that matter.
Furthermore, the Washington Post can't tell me how many people are picking up their paper in the Alexandria area looking for local restaurants. This is the future of advertising. Successful site owners will create sites that offer the most finely targeted audience coupled with the most highly concentrated content as possible.
Whether you're looking to start a local search directory in a town of only 20,000 people, a product directory or buyers' guide, it's important to develop a product that is informational or entertaining and moreover, one that easily distinguishes its' benefits from its' print competitors. Think niche and aggressively push your product onto your space and you're bound to create an enviable advertising vehicle for businesses.
Interested in developing a profitable directory? Want to discuss ideas about how to better monetize your existing site? Call or send us an email, we would love to hear it from you.