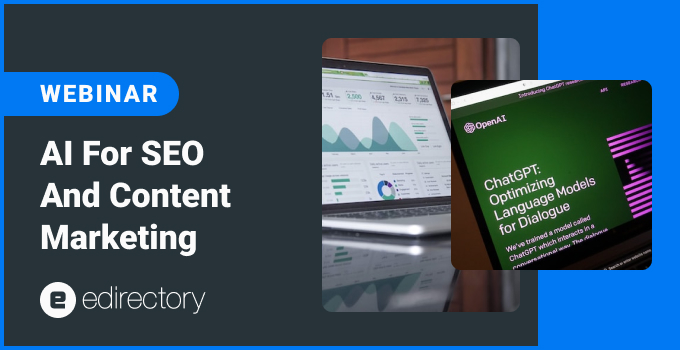 In the digital landscape, online directories have become indispensable resources for users seeking specific products, services, or information. However, with countless directories vying for attention, it is crucial for businesses to ensure their listings stand out and are easily discoverable. Search engine optimization (SEO) plays a pivotal role in maximizing visibility and driving organic traffic to directories. With the advent of Artificial Intelligence (AI), businesses can take their SEO efforts to new heights. In this blog post, we will explore the remarkable ways in which AI can revolutionize SEO in online directories.
In this webinar, the eDirectory CEO James Chubb and the marketing discuss the current panorama of the use of AI on online directories and what are the options to harness the power of content marketing to make your website benefit in SEO strategies.
Content Optimization with AI
Creating compelling and relevant content is essential for SEO success. AI empowers businesses to optimize their content in a more efficient and effective manner. Natural Language Processing (NLP) algorithms analyze the context, sentiment, and relevancy of content, providing valuable insights. AI-powered tools can suggest improvements, highlight areas for enhancement, and ensure the content aligns with the latest SEO best practices.
Webinar: AI for SEO and Content Marketing in Online Directories
Conclusion
In the ever-evolving landscape of online directories, AI has emerged as a powerful ally in optimizing SEO efforts. By harnessing the power of AI, businesses can uncover hidden keywords, optimize content for improved visibility, and enhance user experiences. As AI technology continues to advance, embracing its potential becomes essential for staying ahead of the competition.
*We are not affiliated, associated, authorized, endorsed by, or in any way officially connected to the tools and sites mentioned in the webinar.
USEFUL LINKS AND TOOLS MENTIONED IN THE WEBINAR
This session was recorded on May 18th, 2023.
Want more tips? Shoot us a note at marketing@eDirectory.com.