Building a real estate website with eDirectory is a quick and simple task. In this comprehensive guide, we will walk you through the process and the dos and don'ts of this type of online directory that will attract more visitors, generate leads, and help you establish a strong online presence in the real estate industry.
We will give you access to a fully-featured, well-designed, and SEO-ready real estate website. Excellent for both brokers and real estate/property agencies looking on How to Build a Real Estate Website. Let's dive into it.
 1. THE IMPORTANCE OF A WELL-DESIGNED REAL ESTATE WEBSITE
A well-designed and user-friendly website significantly impacts the success of a real estate business in several ways.
A positive user experience encourages visitors to stay longer on the website, explore different listings, and engage with its features. This increases the chances of potential buyers or renters finding the perfect property and converting it into leads or clients for your advertisers.
The eDirectory's design, for both desktop and mobile devices, ensures that users can easily find what they're looking for, whether it's property listings, filters, contact information, or other essential features. This reduces frustration and enhances overall user satisfaction.
2. OPTIMIZE CATEGORIES' STRUCTURE AND WEBSITE NAVIGATION
With eDirectory you can build a well-structured real estate website with optimized categories and intuitive navigation. It is essential for both users and search engines. Here are some key tips to optimize your real estate website.
2.1 Clear and Logical Hierarchy for Categories
Ensure that your real estate website's pages and content are arranged in a coherent hierarchy. Utilize categories and subcategories to establish an organized architecture that facilitates effortless navigation and discovery of property listings and general information.
With eDirectory, you have the flexibility to create unlimited categories and subcategories, allowing you to organize your website exactly as you desire.
Each Property Listing in an eDirectory real estate website can be associated with up to 10 Categories and Sub-categories, making it easier for the potential buyer/renter to search, filter and find what they are looking for.
2.2 User-Friendly Navigation
In addition to organizing your website's content effectively, it is crucial to prioritize user experience (UX) and user interface (UI) in the context of a real estate website. A user-friendly navigation menu plays a vital role in enhancing UX/UI. By implementing a clear and intuitive navigation system, visitors can effortlessly explore your website, leading to higher engagement and improved satisfaction.
The eDirectory software allows site owners to adjust the navigation menu and the links on the footer according to the website's objectives.
3. SHOWCASE PROPERTY LISTINGS EFFECTIVELY
An essential aspect of a real estate website is showcasing property listings in an appealing and user-friendly manner. Remember that the listing detail page is the place that connects the user to the property, so trying to answer possible questions in advance is a good strategy.
Here's how you can do it:
3.1 Detailed Property Descriptions
Take full advantage of the eDirectory's exclusive Listing Template Editor. With this feature you can create custom fields for each property category in your real estate website, helping your advertisers to showcase the best they have while creating rich and unique pages – perfect for users and search engines.
Highlight the key features, amenities, and unique selling points of each property type. The richer your description gets, the better it will engage with the visitors.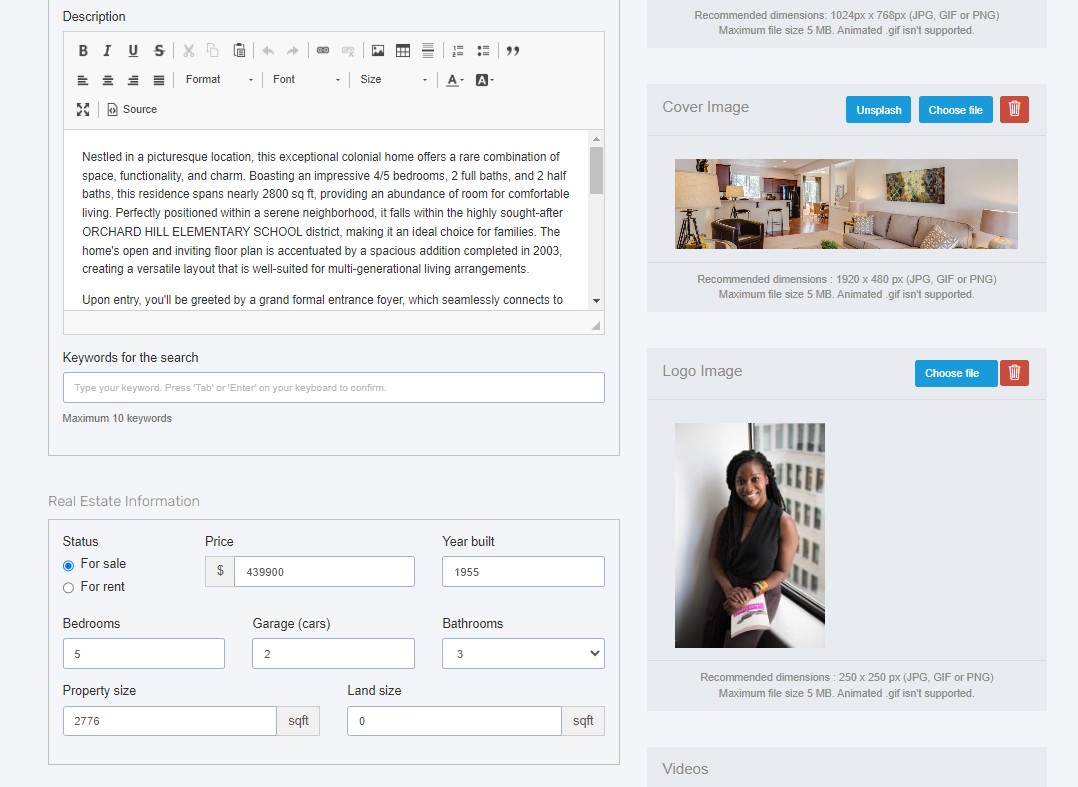 3.2 High-Quality Design
Visual content significantly impacts users' perception of a property, and professional-quality visuals can make a substantial difference in attracting potential buyers and renters.
The eDirectory's exclusive Listing Template Editor also allows you to create a unique design for the Listing Detail Page. From the header to the content, there's a lot you can create for your real estate website.
You can create unlimited tabs to distribute the content (fields) whether it is text, icons, image gallery, and videos.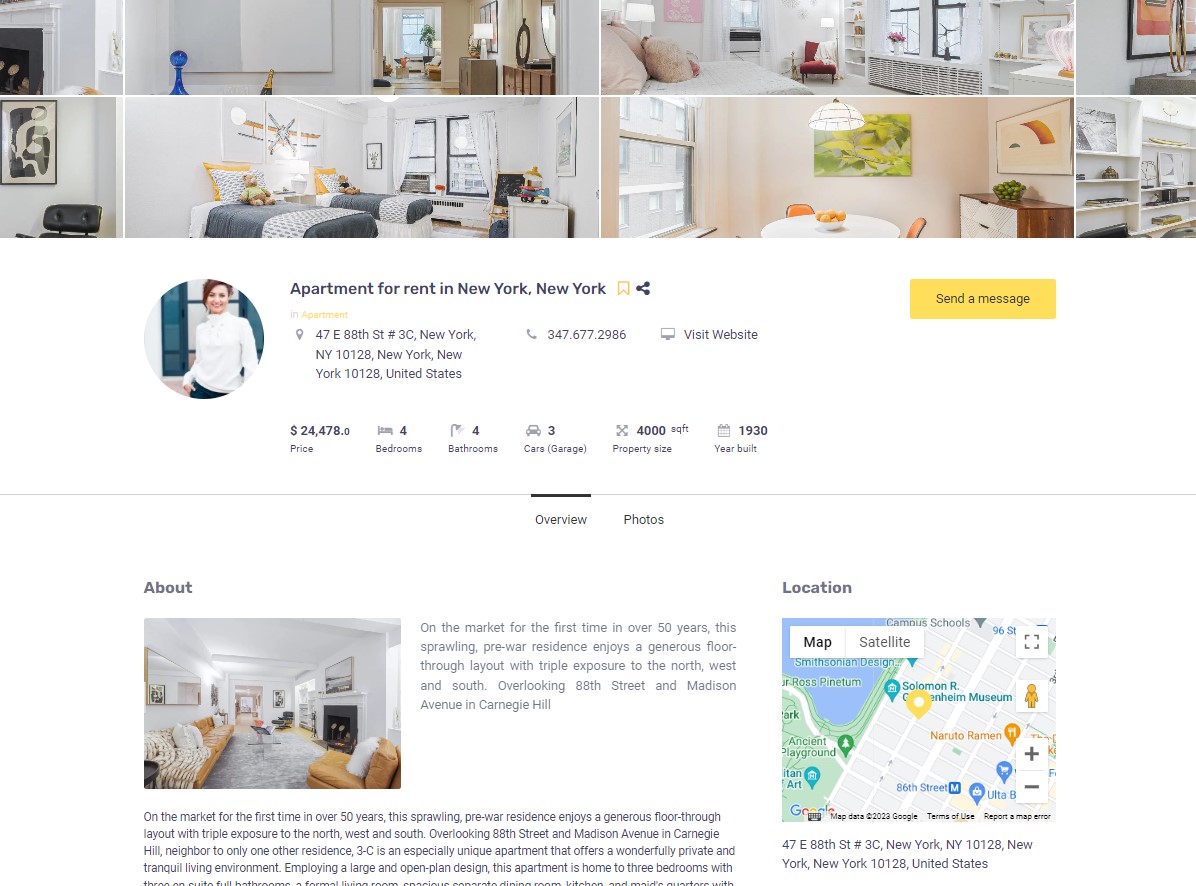 4. CRAFT ENGAGING AND SEO-OPTIMIZED CONTENT
To get your site ranked in Google, Bing, and other search engines, you need content, and content is king in the world of SEO (Search Engine Optimization). Your real estate website should have high-quality, informative, and keyword-rich content that resonates with your target audience.
With eDirectory you can easily optimize all of your pages and content: locations, categories, blog posts, listings, and more.
Focus on conducting thorough keyword research, identifying relevant search terms, and strategically incorporating them into your content. This way you can increase your chances of having maximum exposure and outranking competitors.
Moreover, the eDirectory Real Estate website is coded within the Schema.org parameters. Explaining in broad terms Schema.org is a collaborative project by major search engines like Google and Microsoft, providing a common language for organizing data on web pages.
By using Schema.org markup, websites can make it easier for search engines to understand their content, which improves search engine optimization (SEO) and boosts visibility in search results. For real estate websites, using the correct Schema.org type, known as RealEstateListing, is essential. It helps search engines recognize and categorize real estate listings effectively, displaying important details like property information and prices directly in search results.
5. FACILITATE OPERATIONS
Managing a real estate website can be a daunting task so you should be looking for a platform that allows for a good level of business automation and user-generated content management.
eDirectory allows advertisers to create, manage, pay, and publish content on their own, through the Advertiser Dashboard.
The payment gateway integrations associated with recurring payments and billing reminder emails make it easy to collect online payments. If an item is due or not renewed, it will be automatically suspended from your site. You don't have to lift a finger.
You can also approve the listing before them goes live to ensure the quality of the content. It all saves you valuable time and effort.

6. ADDITIONAL MONETIZATION
To outrank other real estate websites in your target market, it's vital to implement effective local SEO strategies. Identify and optimize your website for relevant local keywords. Include location-specific terms in your content, meta tags, headings, and URLs to improve your visibility in local search results.
Add the country, states or provinces, cities, and neighborhoods that your real estate directory will encompass.
Monetizing a real estate website should not be complicated. A good software like eDirectory will allow you to create different listing levels with different features in each such as custom fields, videos, number of images, etc.
Besides property listings, you can also monetize your eDirectory real estate website by selling events, articles, service classifieds, and banner ads.
7. use the right platform to Build a Real Estate Website
By following the strategies outlined in this guide, you can build a highly effective real estate website ready to outrank competitors and attract more quality traffic. Remember to focus on delivering exceptional user experience, and valuable content, and implementing proven SEO techniques to achieve long-term success in the online real estate market.
Launch your real estate website today with eDirectory
If you own a real estate agency or are an independent broker, the eDirectory Real Estate Website is the ideal solution for your business. eDirectory is a complete platform ready to generate recurring revenue and offer value to advertisers and visitors. Take a free guided demo of eDirectory and learn how it can help you build your online business in the real estate market.