Creating an online directory brings an amazing opportunity to generate a recurring revenue stream. From using the built-in payment tools that eDirectory provides, to offering links to 3rd party affiliate products and services – when it comes to monetizing your website, opportunity abounds!
Here are a few ideas of how to get started making money with your website:
Paid Listings on Your Directory
Directory owners can easily create their own plans and pricing for listings across their directory. Use eDirectory's powerful built-in tools to create up to 4 different listing levels. From simple text listings that can be offered inexpensively, to offering showcase listings which are premium listings designed to be an SEO-friendly micro-site featuring details of the business, image gallery, video, lead capture forms and more. These showcase listing can be priced at a premium based on the size of your audience, niche market and location.
Offer fully-managed or self-service advertising and make it easy for interested advertisers to sign up on your website. eDirectory's platform tools make this easy to set up and display on your website.
See Pricing Listings, Banners and More for a Directory Site
Paid Banner Advertising and Sponsorship
Banner ad space on a popular website can be sold as prime real estate at a premium rate.  eDirectory's full-featured banner system allows site managers to easily offer self-service banner ad sales as well as fully managed accounts. Display banners on a home page are of high value or select categories, modules (events, articles…) or locations. Enhance your banner advertising functionality with the Geo-Targeted Banner Ad modification tool from the Mod Store and which will add even more value and put location-specific advertisements in front of your site visitors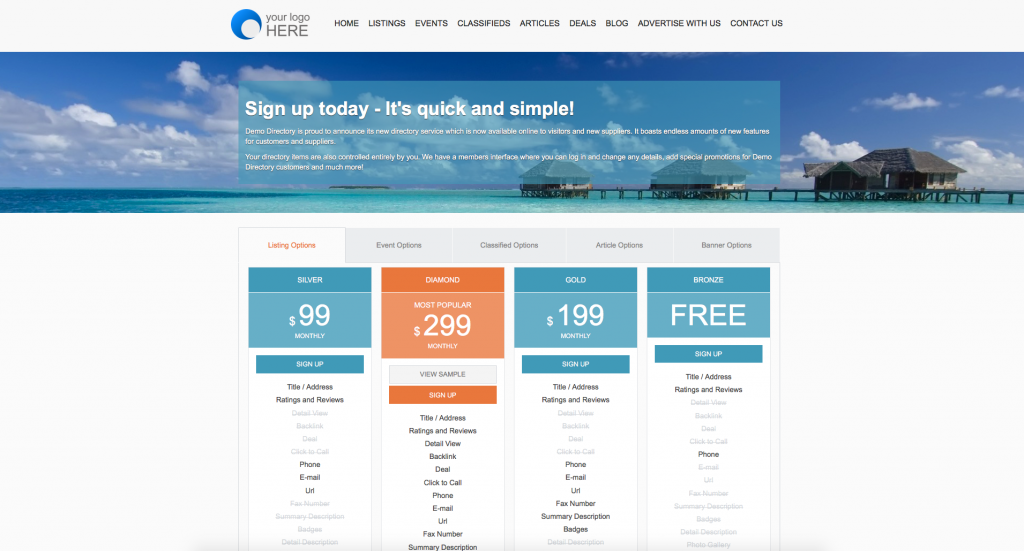 Sell Leads
What's more valuable that a hot lead? Selling leads may take a bit more work but the pay-off is worth it especially for high-traffic, niche directory websites. By creating general lead capture forms on your website as well as lead capture forms on premium listings, interested visitors can request more information or request a quote.  In turn, the site manager can then offer to sell per lead or offer a subscription to a lead generation pool.
Monetize with Google Adsense
You want to monetize your website with Google Adsense to increase the bottom line for your directory website.  Google Adsense uses search technology to place ads on websites based on keywords and content of the website.  This can be a great way to produce extra income as the ads displayed will be very relevant to your visitors and Google will be sure to display the highest paying ads.
Google makes the process quite simple – once you sign up for a free Google Adsense account, you will complete the forms and be supplied with some HTML code to add to their websites.

Affiliate Offers
Marketing with affiliate offers is a very effective way to monetize your website traffic. It allows you to present your visitors with relevant offers for products or services that they are likely to be interested in. For instance, if you have a niche directory website about skiing, find an affiliate offer that would be of interest to your visitors, such as air travel (think Expedia…) hotels and lodging, skis and snowboards or skiwear.
How this works – you would place a supplied banner or text link on your website that contained your affiliate link and directed the visitor to the offer. If they sign up for the offer, you'd earn an affiliate referral payment or commission.
Check with your current preferred vendors or partners to see if they offer an affiliate program. To research additional options, please see the large affiliate providers such as Share-a-sale.com, CJ.com (Commission Junction), Rakuten LinkShare, AvantLink or Amazon Associates.
Social Media Mentions
If you have worked hard to build a huge following on social media – why not capitalize on that and offer your advertisers a way to ride your coattails.  You can price out what you would charge your advertisers and sponsors to post messages promoting their products, services or specials at a premium price!
Content is still king.  To add value to your website and to increase your monetization options, be sure to create great quality content that will drive traffic and lead visitors to your website… and keep them coming back!