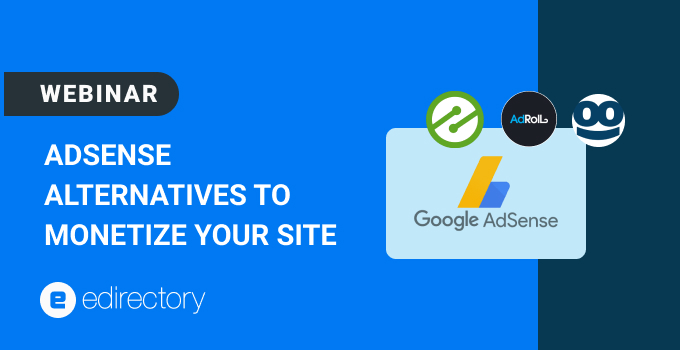 Monetizing an online directory is a lucrative endeavor in today's digital landscape. Google AdSense has been a go-to platform for many website owners to generate revenue through display ads. However, relying solely on AdSense may not always be the most profitable choice. In this article, we will explore some of the top AdSense alternatives to help you maximize your earnings from your online directory.
eDirectory Monetization Options
eDirectory offers a versatile range of monetization options to empower online directories and community-based platforms. These include revenue streams such as listings, classifieds, events, articles, and banner ads. Directory owners can generate income by charging businesses and individuals for premium listings and classified ads, organizing and promoting events within their community, providing a platform for informative articles, and offering strategic banner ad placements to advertisers. This comprehensive suite of monetization features enables eDirectory users to diversify their income streams while enhancing the value they provide to their audience.
Adsense Alternatives to Monetize Your Online Directory
1. Media.net
Media.net is a prominent AdSense alternative that specializes in contextual advertising. It serves high-quality ads and offers various ad formats to choose from. Media.net is known for its user-friendly interface and excellent customer support. It's a popular choice among publishers, especially those with niche websites or online directories.
2. PropellerAds.com
PropellerAds.com is a global advertising network that provides a wide range of ad formats, including push notifications, native ads, and interstitials. It's a great choice for publishers looking to diversify their ad inventory and increase revenue. PropellerAds.com also offers detailed analytics and optimization tools to help you maximize your earnings.
3. Adsterra.com
Adsterra.com is another alternative that caters to both publishers and advertisers. It offers a variety of ad formats, including popunders, banners, and push notifications. Adsterra.com is known for its competitive payouts and user-friendly platform. They also provide advanced targeting options to help you reach your desired audience.
4. Adversal.com
Adversal.com is a premium CPM ad network that focuses on providing high-quality display ads. While they have strict approval requirements, their payouts are often higher than other networks. Adversal.com offers a 100% fill rate and provides excellent support to its publishers.
5. Monumetric.com
Monumetric.com is an ad management platform that offers a range of monetization solutions. They work closely with publishers to optimize ad placements and increase revenue. Monumetric.com provides access to premium ad exchanges and offers competitive CPM rates.
6. Infolinks.com
Infolinks.com specializes in in-text and in-frame ads, making it a unique AdSense alternative. They provide a non-intrusive way to monetize your content. Infolinks.com is easy to integrate and offers various ad customization options.
7. Yllix.com
Yllix.com is an ad network that provides a wide range of ad formats, including popunders, mobile redirects, and sliders. They offer competitive rates and a user-friendly platform. Yllix.com is suitable for online directories looking to monetize their traffic effectively.
8. SheMedia.com
SheMedia.com is a leading platform for female-focused content and advertising. If your online directory caters to a female audience, SheMedia.com can be an excellent choice. They offer a variety of ad formats tailored to women's interests.
9. Outbrain.com
Outbrain.com is a content discovery platform that focuses on native advertising. It's a great option for online directories that want to promote sponsored content in a non-disruptive manner. Outbrain.com provides personalized recommendations to engage users effectively.
10. Taboola.com
Taboola.com is a prominent native advertising platform similar to Outbrain. It offers content discovery solutions that can seamlessly blend with your online directory's content. Taboola.com is known for its vast network of publishers and advertisers.
Affiliate Marketing Strategies
In addition to ad networks, affiliate marketing can be a powerful monetization strategy for online directories. Promoting relevant products or services to your audience and earning commissions on sales can boost your revenue. Some top players in the affiliate marketing field include:
Amazon Associates: The Amazon affiliate program allows you to promote a vast range of products and earn commissions on each sale.
ShareASale: ShareASale is an affiliate marketing network that connects publishers with a wide variety of advertisers and products.
ClickBank: ClickBank specializes in digital products and offers high commissions for affiliates promoting ebooks, software, and more.
CJ Affiliate: CJ Affiliate (formerly Commission Junction) is a well-established affiliate network with a diverse range of advertisers.
Rakuten Advertising: Rakuten offers a global affiliate marketing network with opportunities to partner with top brands.
Webinar: Adsense Alternatives to Monetize Your Online Directory
Conclusion
In conclusion, diversifying your monetization strategies beyond Google AdSense can significantly increase your online directory's revenue. Explore the mentioned alternatives and consider incorporating affiliate marketing to maximize your earnings. Remember to test different approaches and analyze your results to find the best combination of strategies for your specific audience and niche.
*We are not affiliated, associated, authorized, endorsed by, or in any way officially connected to the tools and sites mentioned in the webinar.
USEFUL LINKS AND TOOLS MENTIONED IN THE WEBINAR
This session was recorded on September 27th, 2023.
Want more tips? Shoot us a note at marketing@eDirectory.com.