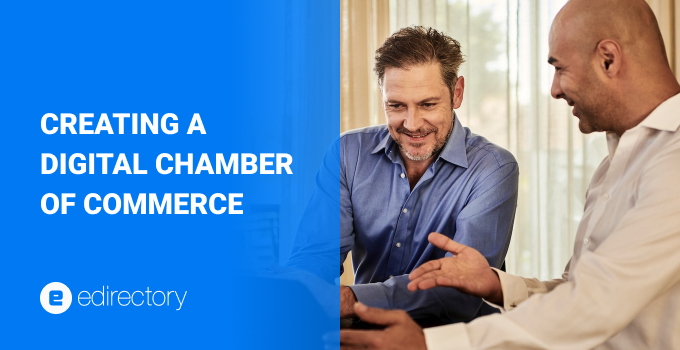 Creating a digital presence for your chamber of commerce is essential to propagate and disseminate the association's activities, as well as attract new members and increase current participants' online presence.
In addition to offering goods and services to the community, chambers of commerce play a crucial role in communities of entrepreneurs and entrepreneurs, providing ideas and solutions for improvement, based on the demands of the members themselves.
However, how can your chamber of commerce expand the reach of its services and solutions?
To stand out in the marketplace in today's increasingly connected world, chambers of commerce must consider ways to attract new members, offer benefits that are aligned with members' reality, and create a more integrated community by incorporating these factors into their operations.
Chambers of commerce benefit from these actions because they help municipalities maintain an up-to-date database of businesses, which contributes to creating new companies locally and moving the economy forward.
Building an online business directory website for your chamber of commerce is a great way to reach these goals, as we explain in this article.
Additionally, we have selected the best tools and resources to add to your website, how to make it even more valuable to current and potential members, and how to actually create a functional and interactive site.
Keep reading this detailed guide to learn more about how to digitize your chamber of commerce and all you need to know!
Why go digital with your chamber of commerce?
For businesses and chambers of commerce, having an online presence isn't merely a recommendation anymore, it's a necessity.
Having a digital presence increases your chances of being found and of enhancing your results significantly if you know how to position yourself online, and chambers of commerce are not any different.
Digitalization offers you the opportunity to enhance the solutions you provide and allow your association members to integrate more effectively.
So, creating an online business directory for your chamber of commerce is an opportunity to give your members a chance to showcase their businesses, reach new customers, and have a more optimized space for interactions, discussions, and product promotions. In addition, it's a great offering for businesses and professionals who don't yet have the resources to establish a strong online presence (like ranking well on Google).
Providing a digital platform benefits all parties involved: associations, companies, and society. An online directory is beneficial to chambers of commerce since it automatically collects monthly fees from advertisers. Members benefit from the exposure, search engine rankings, and interaction like messaging, offers, and lead registration and society benefits from a niche portal that is verified.
How to make your site more valuable to current and potential members?
It is equally relevant to consider what this change might mean to your community members or potential advertisers now that you know the benefits of digitization.
After all, they also need to weigh these benefits before they decide to join, right?
So, to make this space even more valuable to members and to attract more people, you need to offer solutions to the real demands of this group.
As an example, if a potential member seeks your chamber of commerce because they are experiencing specific difficulties in their business, offering support materials such as eBooks and training, valuable content, and a community that shows them they are not alone in their journey will help them feel more connected and make their decision to join your association easier.
So thinking strategically about tools to help your community is what you need to do to make your chamber of commerce website relevant.
9 must-have resources for chambers of commerce websites
In addition to adding value to users and potential members, using resources that facilitate navigation, content consumption, promotion of services, and interactions between the community on the site is essential.
1. Build a custom website for your audience
One of the most important aspects when building a trade guide for trade associations is to think about customizing it according to the needs of your audience.
This will be a community space. Therefore, feeling welcomed within the virtual environment is crucial to keeping members engaged and retaining them. Thus, thinking about a personalized identity aligned with the interests of your audience is fundamental.
Set the location of your business guide to facilitate searches for companies and services at different levels (city, region, neighborhood) and customize display information to satisfy users' search interests.
Segment your trade association members for easy identification when launching promotions and marketing campaigns. Offer free and premium profiles for new members to sign up for your trade association's ad portal, each with its own features.
2. Consider a responsive website
The responsiveness of a website determines how a user can interact with your chamber of commerce site on any device: mobile, tablet, or computer. Visitors and members are guaranteed to have the best visual and user experience when your site is responsive.
In order to increase conversions and retain users, your chamber of commerce website should be responsive and optimized. The eDirectory platform allows chambers of commerce and associations to create online directories and classified websites that are responsive to all devices. You can also build an iPhone and Android app for your website so users and members can access it anywhere.
3. Have an exclusive "members only" area for your users
A members-only area is another key feature of your chamber of commerce's website. From there, members can edit and add information about their services, post photos, videos, blog articles, and interact with visitors and collect leads.
A "members only" area creates the feeling of belonging to the group, much like a club for selected companies. eDirectory provides businesses and service providers with a control panel that allows them to display information, offers, and services in a well-organized and optimized manner.

4. Have a "Join our chamber of commerce" sign-in button
Having a button that allows them to join a members-only area is also helpful. Placing these buttons strategically on the site will allow users to easily join the association when they browse the platform.
The ability to automate the entry of new members is essential to the growth of your chamber of commerce in a digital environment. It offers a "sign up" button to make it easy for new users to sign up, as well as payment automation, email reminders, tools, and call-to-actions.
5. Valuable content is key to attracting new members
By creating valuable content in a niche, you create authority, and relevance, create a sense of community and attract new users to your website organically. This is because people are truly interested in what you have to say, and this is no different for chamber of commerce's websites.
For generating organic traffic to your portal, content marketing strategies remain relevant. Searches on Google are geared toward topics that people are interested in, and if your chamber website matches the keywords, it may appear in the first results.
Online business directories are excellent for search engine rankings. This is because the richer your association website is in ads, events, classifieds, and text articles, the more often it will appear in the top spots.
So, this is a helpful strategy to keep in mind when building your website, and remember: invest in quality and relevant content for your current and future members.
Featured webinar: generate more revenue with agency services
6. Create a welcoming environment for new members
It is easier to adapt to a new community if you feel welcome from the beginning. It might seem like a small detail, but it can have a tremendous impact on member retention.
When new members register on your chamber of commerce website, consider creating a welcome space for them in a featured area; the new member should receive an automatic welcome email that contains relevant information and content that can be of assistance during this first interaction.
Make sure to add welcome videos, and articles on the basics of "how to start", and consider creating a knowledge base area in your chamber of commerce website with short articles and a FAQ (frequently asked questions) section.
7. Add a featured members section
It is possible to create a desire in new users to register on your website by taking advantage of certain mental triggers. Highlighting members on your portal ends up encouraging other companies and service providers to join so that they can also promote their activities.
Therefore, make sure to include a section on your chamber of commerce website to increase exposure to the most valuable members in different categories. Create contests in your community to determine people's choices in every category and also, the editor's choice with highly rated members from your city.
8. Create a FAQ page on your trade association's website
Your page users will likely have some questions about membership before joining, right?
This can be easily remedied through an FAQ page, that is, a page with the most frequently asked questions related to the trade association, answered objectively and directly, and made available to the user easily.
9. Invest time in good design and a great user experience
In addition to all the elements mentioned above, having a beautifully designed website that aligns with the association's goals, and high-quality images that value the city or region and the association's work is crucial.
People are easily attracted to appealing visual elements, and having this notion is key to ensuring a successful website. Add images that show positive aspects of your city/region and value the work of the trade association, consider offering professional image production to your members as a way to increase the chamber of commerce revenue.
Create a legacy for your community
And finally, by digitizing your chamber of commerce, your earnings will go beyond new members and revenue generation but the legacy for your city will be enormous, as a great repository with the best services, restaurants, leisure options, and shops, all organized and updated, that is, a lively commercial guide full of new activities.
Creating an ad portal for your trade association
Now you know the main aspects of creating a website for your chamber of commerce in a functional, responsive, and truly member-oriented way.
So, finding a complete platform that offers you everything you need to create your website optimized, scalable, and monetizable is essential.
eDirectory offers you all this on a single platform. With our solution you can:
Create a scalable website, starting with a small space and becoming an advertiser for thousands of users and visitors.

Monetize in a variety of ways: add a periodic subscription session, members area, advertise, add a classifieds and events area, etc.

Develop a space to provide different types of content such as blogs, ads, classifieds, events, offers, and more.

Create an exclusive area for members, where they can access and manage their accounts completely autonomously, optimizing your time and theirs.

Moderate the content made available on the site, ensuring the quality of the information shared.

Add resources to member pages and edit them as you wish, customizing them in a variety of ways.
Wrapping up
Did you realize the importance of creating a website for your chamber of commerce?
Being digital is an increasingly urgent business need, and trade associations are included in that list.
Now you know how to best optimize your services with eDirectory and create a responsive, functional, monetizable, customizable, and fully thought-out website for your audience.
The time has come to think about offering more quality services and scaling your business once and for all.
To learn more about the eDirectory solution and get a free demo, click here to learn more!