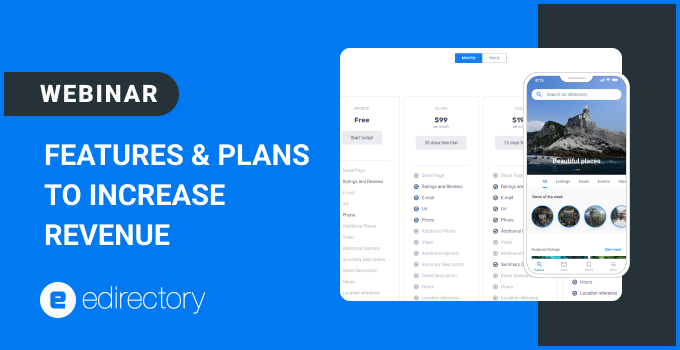 In this webinar, the team demonstrates how to explore to the fullest eDirectory's features and plan configuration to increase revenue on online directories of any kind. eDirectory is fully featured and ready to generate income through its plans:
From basic to full-featured plans
We provide a wide range of features and plans to meet your business needs. The platform allows listing owners to choose from up to four different plans, enabling you to select the package that best suits your requirements. With the basic free plan, listing owners are able to display crucial information about their business. The upper levels are richer in features that include contact details, business hours, descriptions, and more, ensuring listings stand out in the online business directory.
Recognizing that every business is unique, eDirectory also offers the option to add custom fields. This empowers sponsors to personalize listings even further, tailoring them to specific industries or target audiences. Whether sponsors opt for our basic plan or upgrade to the full package, eDirectory equips your business listing with the necessary tools to thrive and succeed online.
Webinar: Features and plans to increase revenue on online directories
*We are not affiliated, associated, authorized, endorsed by, or in any way officially connected to the tools and sites mentioned in the webinar.
USEFUL LINKS AND TOOLS MENTIONED IN THE WEBINAR
This session was recorded on May 31st, 2023.
Want more tips? Shoot us a note at marketing@eDirectory.com.