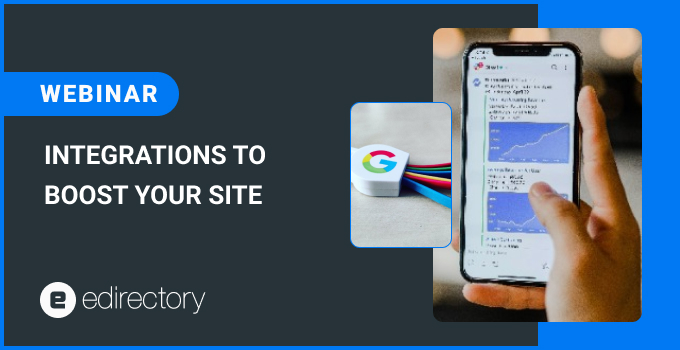 In today's digitally driven world, an online directory has become an indispensable tool for individuals and businesses alike. Whether you're seeking specific services, looking for contact information, or aiming to establish your business's online presence, online directories offer an invaluable resource. eDirectory stands as a prominent option in this arena, offering an intuitive and comprehensive platform.
In this webinar, we delve into the strategies and integrations to power up your online directory website and make it smarter than the competition.
Webinar: Integrations to Power Up Your Online Directory Website
Selected integrations for you to explore
The eDirectory marketing team hand-picked a few integrations that are useful and easy to install but, as mentioned in the webinar, it's not necessary to use everything shiny and new to stand out. You should carefully evaluate every widget you wish to add to your site, balancing loading speeds with the user experience.
Social media feeds: https://elfsight.com/social-feed-widget/

Show reviews from Google, Facebook, and Amazon: https://elfsight.com/all-in-one-reviews-widget/

Interactive click-to-call: https://elfsight.com/click-to-call-widget/
Pop-ups for discount codes: https://elfsight.com/popup-widget/
All in one Chat widget: https://elfsight.com/all-in-one-chat-widget/
YouTube video player: https://elfsight.com/youtube-channel-plugin-yottie/
Cookie consent: https://elfsight.com/cookie-consent-widget/
Menu for restaurants: https://elfsight.com/restaurant-menu-widget/
Google Maps Integration: https://elfsight.com/google-maps-widget/
Age verification Widget: https://elfsight.com/age-verification-widget/
USEFUL LINKS AND TOOLS MENTIONED IN THE WEBINAR:
*We are not affiliated, associated, authorized, endorsed by, or in any way officially connected to the tools and sites mentioned in the webinar.
This session was recorded on August 30, 2023.
Want more tips? Shoot us a note at marketing@eDirectory.com.