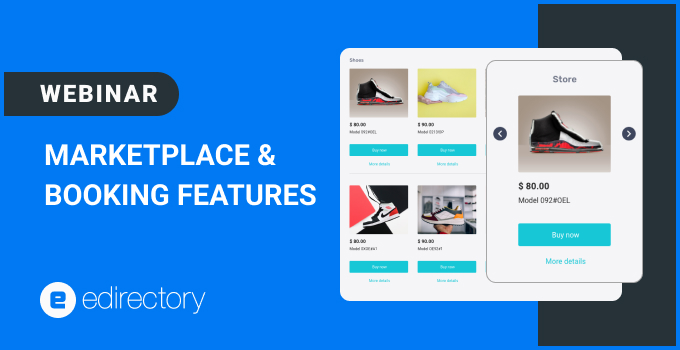 In today's fast-paced world, time is of the essence. Fortunately, the digital age has brought us online directories with convenient booking features. From reserving tables at your favorite restaurant to scheduling appointments with healthcare providers, and even booking music lessons or personal training sessions, these online services have revolutionized the way we manage our daily lives. 
In this new webinar, the eDirectory team showcases one of our most useful tools introduced in version 13.1: the products and services widget. Ideal to make your website a sales platform with the possibility to sell services and products on the spot.
We also selected the best third-party tool for you to power up your listings, while as site owner or as a sponsor looking to expand the range of offers. Keep reading to know how to take the best from the marketplace and booking features for online directories.
Restaurant Reservations
Gone are the days of calling restaurants for reservations and waiting on hold. With popular apps like OpenTable, booking a table at your desired eatery is just a few clicks away. These platforms provide real-time availability, allowing you to choose the date, time, and party size. You can embed the book a table widget directly onto a listing in eDirectory, making it super easy for users to select their preferred date and book it on the spot.
Healthcare Appointments
Booking appointments with doctors and dentists can be a hassle, but websites such as Zocdoc simplify the process. Consider incorporating the widget by utilizing the embed functionality, enabling you to seamlessly direct your clients to the online booking application with a single button. Healthcare professionals, such as doctors and dentists, can greatly advantage from integrating this feature into their listings.
Music Lessons and Personal Training
Music professionals can offer booking options using tools such as Calendly, where users can book lessons or training sessions that fit their schedule, eliminating the need for endless phone calls or emails. Many services also offer virtual options, allowing you to learn or train from the comfort of your own home such as Lessonface and Trainerize.
So go ahead and watch this new session!
Webinar: Marketplace & Booking Features for Online Directories
Conclusion
Booking features in online directories have transformed the way we manage our daily activities. Whether it's reserving tables at restaurants, scheduling healthcare appointments, or booking music lessons or personal training sessions, these services save us time, enhance our experiences, and offer convenience at our fingertips. Embrace the power of these online platforms and make your eDirectory website even smarter.
*We are not affiliated, associated, authorized, endorsed by, or in any way officially connected to the tools and sites mentioned in the webinar.
USEFUL LINKS AND TOOLS MENTIONED IN THE WEBINAR
This session was recorded on May 31st, 2023.
Want more tips? Shoot us a note at marketing@eDirectory.com.