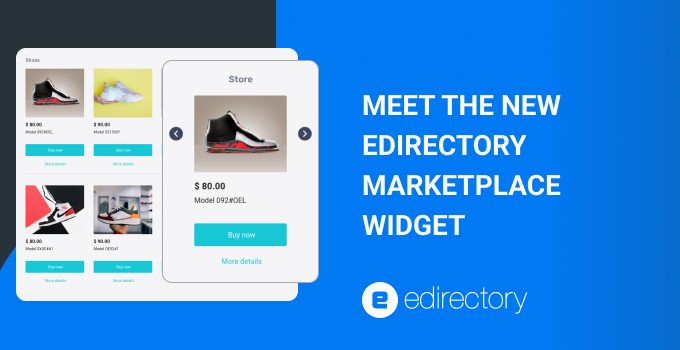 We are thrilled to announce a killer feature that changes the game for the online business directory community: the eDirectory Marketplace Widget. Publishers now have a perfect tool to showcase and sell their products or services directly from your directory with the click of a button, making your online directory a much more attractive option for new and existing sponsors.
This feature has been developed over several months by the eDirectory product team to be useful and easy to manage. You can maximize your online directory by offering more value to sponsors looking to sell online to a wider audience.
The Marketplace Widget is a brand new addition to eDirectory's most recent release, and we'll explore how to utilize it in detail in this article. Let's get started.
Make it possible for your advertisers to sell products and services
Marketplaces have become some of the biggest and most valuable companies in the world. It is expected that B2B eCommerce site sales will reach nearly $1.77 trillion in 2022*¹, an increase of 12% over the past year as online business trends continue to influence everyday B2B operations.
Globally, 40% of all online spending post-pandemic*³ occurs on marketplaces, a number that is predicted to increase in 2022 as the world reopens. With the new eDirectory Marketplace Widget, your advertisers can offer their goods and services directly to their audience through your website.

Easily add a direct payment link (from any payment gateway) to the "Buy Now" button and that's it! The sponsor can make sales and receive the payment instantly. They can also use the custom buttons to book services (book now, make an appointment, etc), which is something we will explore in more detail in the next topic.
We have a detailed article on how to use the eDirectory marketplace widget to its full potential.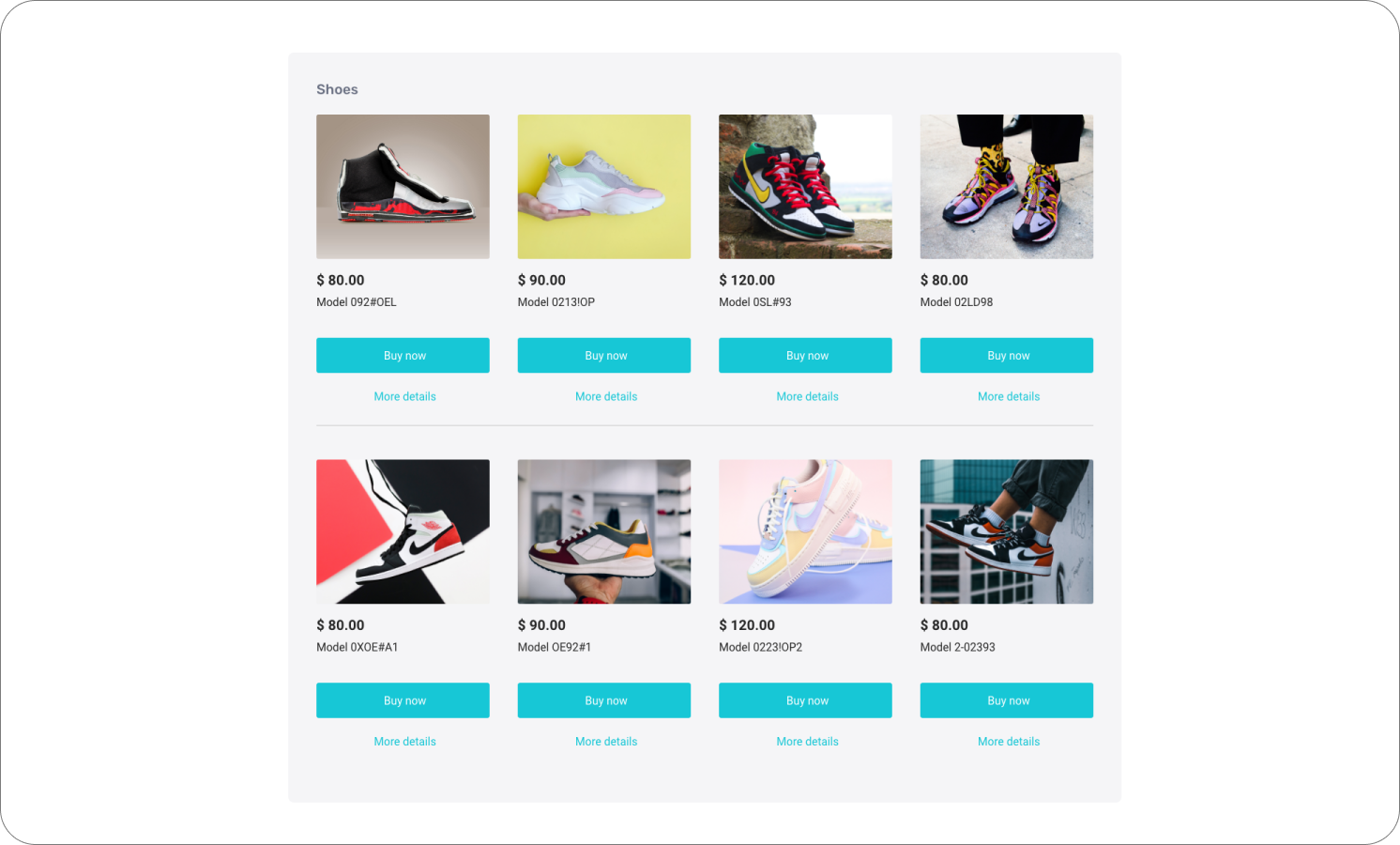 Offer services and book appointments from your online directory
If your advertisers aren't selling physical or digital products, but are instead providing services like classes, consultations, or any activity that requires an appointment, they can use the products and services widget in conjunction with their favorite booking tool (such as Calendly or YouCanBookMe) to drive leads directly to their landing pages.
In niches such as Wellness & Health, where sponsors can offer services such as yoga classes, individual boxing lessons, nutritionist consultations per hour, and personal training sessions, this can be a very valuable feature for listing owners. 
For other consultancy or coaching-related niches, the "Book Now" button is also a differential that adds value to your online directory and could attract new clients, as these professionals work mostly on an appointment basis. Consider upgrading your eDirectory to v13.1 to take advantage of these and more features.
For Restaurant and Food Services
The eDirectory Marketplace Widget is also a killer feature for the restaurant and food niches because now your sponsors can create special offers that can be purchased or booked on the spot!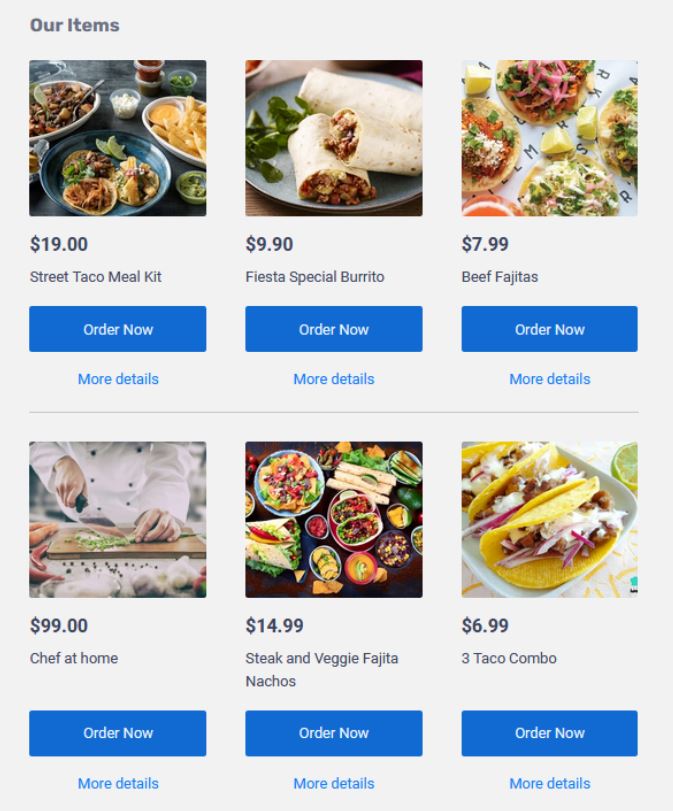 For instance, the demand for personal chefs has grown significantly since June 2020, according to Fanny Suen Hiu-yan, founder of MobiChef, a Hong Kong startup that provides private chefs for hire*². Listing owners can then create unique offers combining products and services to uncover new revenue streams, such as adding a "Chef at home" service with a "Book Now" button linking your favorite booking app, letting the customer choose their own time and date.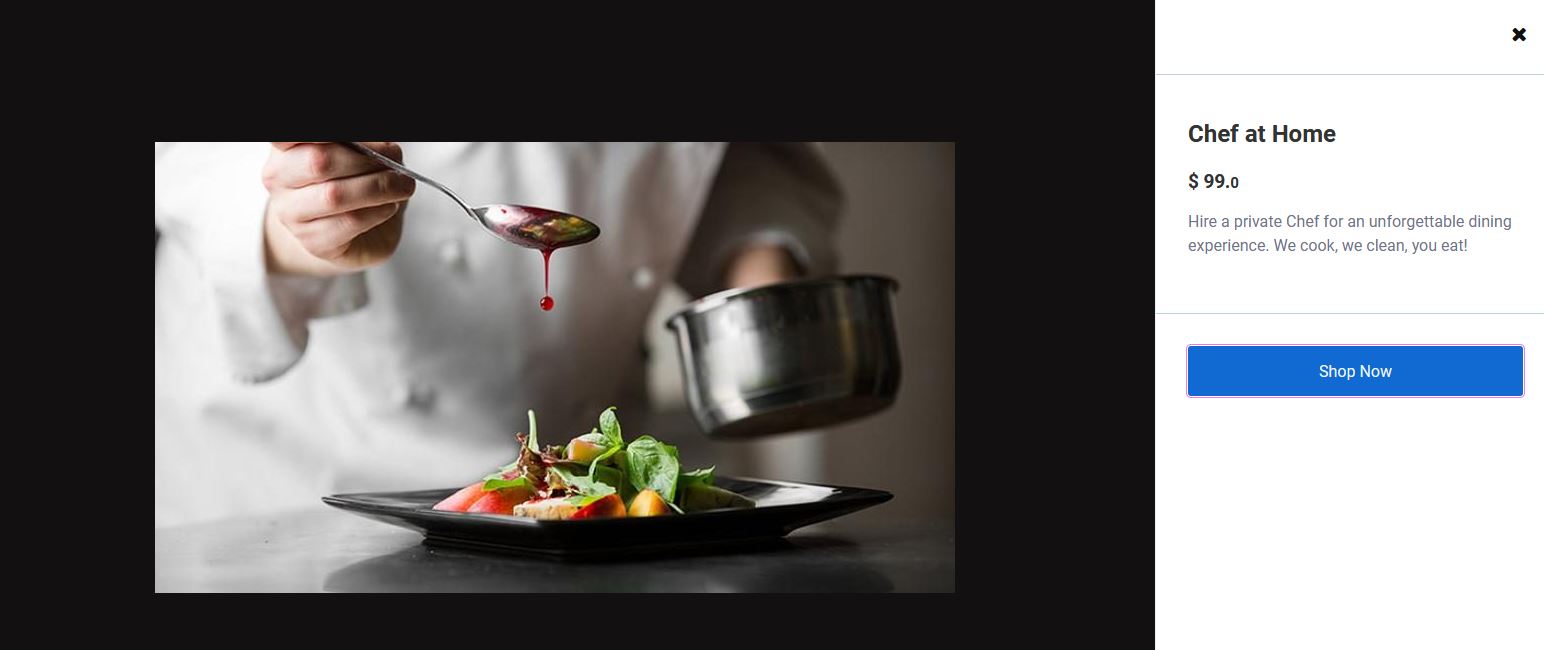 In addition, a reservation service can be added so clients can book tables directly from a listing, thereby avoiding needless phone calls. Restaurants can also sell pre-cooked meals, wine bottles, condiments, and more.
Mix and match calls to actions
It is possible to redirect clients not only to shopping links (like PayPal or Stripe) and booking links (Calendly) but also to custom pages, messaging applications, CRM applications, and so forth.
Take this Golf club example, players can schedule 1 on 1 lessons via text message directly to the club's reception by clicking the Golf Lessons button. The offer appears on the listing and can be visited by the audience.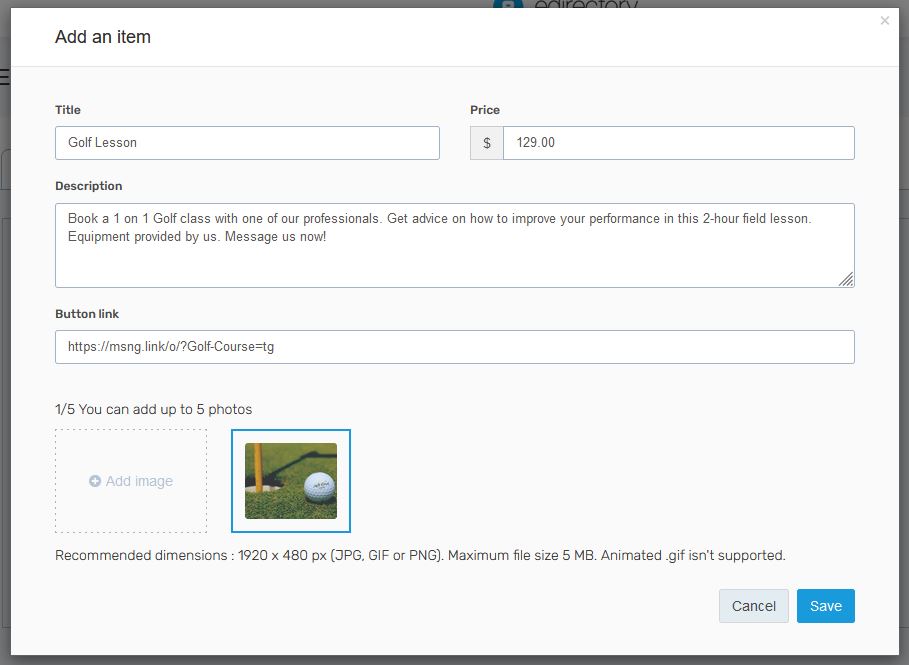 And If your advertisers want to get serious about tracking their conversions through the Products and Services widget, they can use Google Tag Manager or Google Analytics to track any URL or form submission on your online directory in order to take full control of your KPIs.
What kind of buying links can be used with the eDirectory Marketplace Widget?
This widget allows the use of any type of external link! Whether from PayPal, Stripe, Amazon Pay, or WePay among others. It's also possible to link offers directly to a store on Shopify, Magento, Open Cart, and drive the lead to a sales funnel, hence using the listing owner inventory and shipping options.
Leads can also be sent to a landing page with a custom form, and thus have more control to drive the prospects to a CRM app such as Hubspot, Mailchimp, Pipedrive, GetResponse, and so on.

Wrapping up
The Products and Services Widget is a great tool that empowers listing owners that don't have an online store to sell products and services directly to customers. If properly used, this can change the way your advertisers use your online directory.
As a great value offer, you can include this widget only in the top-level listings of your online directory to attract more sponsors.
In  this article we covered:
An introduction to the new eDirectory Marketplace Widget (products and services)

Selling physical and digital products

Offering services and booking appointments

Restaurant and Food usage

Mix different types of links

What types of links can be used
Read the full list of enhancements of eDirectory v13.1 here.
Upgrade to the latest version of eDirectory today!
For active clients looking to take advantage of the latest and greatest eDirectory.com has to offer, simply fill out the Upgrade Request form or contact your account executive.
For new clients looking to launch an online business with all you see here and much more, please request a demo here, call us directly at +1-800-630-4694, or send an email to sales@eDirectory.com.
References:
*¹ https://internetretailing.net/marketplaces/marketplaces/marketplaces-clear-winner-as-51-of-post-pandemic-retail-set-to-take-place-online-23408
*² https://www.scmp.com/magazines/style/leisure/article/3152874/how-personal-chefs-became-covid-19s-must-have-luxury