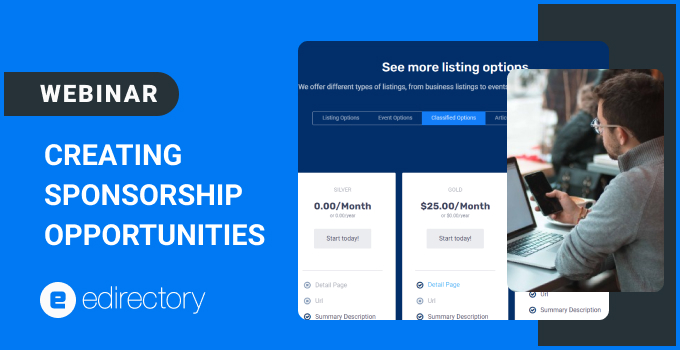 Operating an online business, such as a business directory website, presents an excellent opportunity to generate passive income through various available avenues. In this webinar, the eDirectory team showcases strategies for online directory owners to enhance sponsorship opportunities, thereby attracting fresh paying members.
eDirectory BUILT-IN monetary features
First and foremost, you will discover the key financial tools that come pre-packaged with eDirectory. These tools are specifically designed to simplify your financial management by providing effortless control over your monetary reports. Additionally, you can rely on features such as recurring charging and automated tasks. Let's delve into the primary monetary features offered by eDirectory:
Levels & Plans Builder: With this feature, you can effortlessly create and customize various subscription levels and plans to cater to your customers' needs.

Recurring Payment: eDirectory facilitates recurring payments, ensuring a seamless and convenient payment experience for your users.

Free Trials With Stripe: You can offer free trials to potential customers using the Stripe payment gateway, allowing them to explore your directory's offerings before committing.

Automated Billing Reminder Emails: eDirectory automates the process of sending billing reminder emails to your customers, reducing the need for manual follow-ups.

Customizable Invoices: Tailor your invoices to align with your branding and business requirements using eDirectory's customizable invoice feature.
By exploring and leveraging these tools, you can enhance both your experience as the site owner and the satisfaction of your new and existing sponsors. eDirectory is fully optimized to work seamlessly with leading payment gateways in the market, and its plans and levels configuration ensures that your customers can easily find and subscribe to the ideal subscription tier.
Online media selling opportunities
eDirectory offers a range of compelling options to monetize your website through media sales. Here are the key selling points that users seek when considering a paid subscription:
Increased Online Visibility: eDirectory empowers your business with heightened online visibility, making it easier for potential customers to find you in search results.

Improved Local Search Rankings: Enhance your local search rankings, ensuring that your business stands out in the local market.

Enhanced Business Credibility and Trust: Boost your business credibility and establish trust among your target audience, leading to increased conversions.

Lead Generation: Generate valuable leads for your business, attracting potential customers who are actively searching for your products or services.

Cost-Effective Marketing: eDirectory provides a cost-effective marketing solution, allowing you to reach a wide audience without incurring exorbitant advertising expenses.

Business Growth: By leveraging the power of eDirectory, you can drive business growth, expand your customer base, and increase revenue potential.
The Online Directory Business model effectively addresses these pain points by offering a competitive solution that provides significant value to businesses and enhances their online presence on search engines like Google.
Discover how eDirectory can propel your online business to thrive by capitalizing on new sponsorship opportunities to attract prospective clients.
Webinar: Creating Sponsorship Opportunities for Online Directories
*We are not affiliated, associated, authorized, endorsed by, or in any way officially connected to the tools and sites mentioned in the webinar.
USEFUL LINKS AND TOOLS MENTIONED IN THE WEBINAR
This session was recorded on June 28th, 2023.
Want more tips? Shoot us a note at marketing@eDirectory.com.