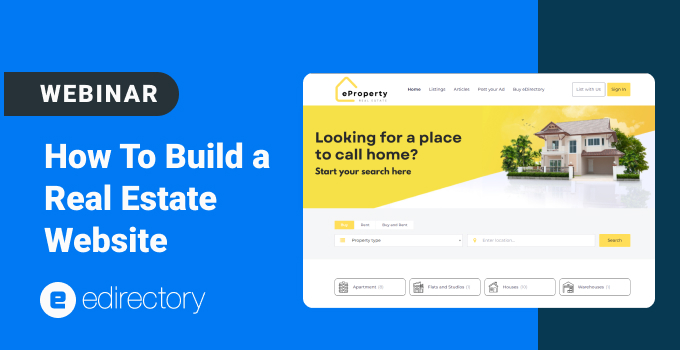 A well-designed real estate website is crucial for the success of any real estate business. It helps to connect buyers and sellers and provides a central location for all relevant information. Furthermore, it can help to streamline the buying and selling process.
The eDirectory's Real Estate Theme is designed for desktop and mobile devices. It ensures that users can easily find what they're looking for, whether it's property listings, filters, contact information, or other essential features. This reduces frustration and enhances overall user satisfaction.
In this Webinar, we'll cover the main aspects of how you can configure your eDirectory Real Estate Website using a pre-determined setup of Listing Categories and Listing Templates.
First, create 3 main categories: Real Estate Agencies, Realtors, and Properties. Based on these 3 profiles you will create 3 new Listing Templates, feel free to add or remove any widgets and other fields you believe are important for each profile. Pro tip: don't forget to turn on the real estate fields in the Property template so it will give you access to all information needed to list a property such are type of operation, pricing, area, number of bedrooms, and so on.
Webinar: The eDirectory Real Estate Theme
Conclusion
Our eDirectory Real Estate theme was created after gathering extensive feedback from both our customers and the market. Unlike a plugin, this theme is included in the newest version of eDirectory and can be found under the Design Menu, themes. If you are not currently running eDirectory V13.3, please visit our website and fill out a form to request an upgrade.
*We are not affiliated, associated, authorized, endorsed by, or in any way officially connected to the tools and sites mentioned in the webinar.
USEFUL LINKS AND TOOLS MENTIONED IN THE WEBINAR
This session was recorded on November 08th, 2023.
Want more tips? Shoot us a note at marketing@eDirectory.com.