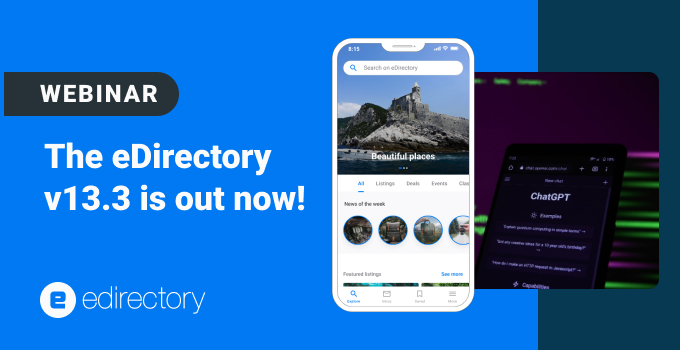 We're are excited to present the newest version of eDirectory: Version 13.3. Now, with the brand new Real Estate theme and our biggest innovation yet, the ChatGPT integration to create content and rich listing descriptions. This integration facilitates the creation and optimization of long and short descriptions, search keywords, and SEO elements for Listings, Events, Classifieds, and Deals. Additionally, for Blog Posts and Articles, the integration offers an Assistant to aid in content ideation. Experienced users can input their own prompts, enabling Chat GPT to generate customized content.
In this webinar, we covered thoroughly the aspects of this new integration, presenting in detail the possibilities on how to achieve quality results in terms of written descriptions.
We briefly covered the new updates to the Real Estate Theme, which includes a refreshed layout, enhanced labels, and full compatibility with eDirectory mobile apps. In addition, it introduces two exclusive search widgets.
The Marketplace Widget also undergone an important update. Introduced in version 13.2, publishers can now generate their own catalog of products and services. The pricing field is optional and text, such as "Special Pricing," can be included.
Webinar: Meet The New eDirectory v13.3
USEFUL LINKS AND TOOLS MENTIONED IN THE WEBINAR
This session was recorded on October 26th, 2023.
Want more tips? Shoot us a note at marketing@eDirectory.com.