We're proud to announce our newest release, eDirectory v13. This platform upgrade brings the exclusive Listing Template Editor: a game-changer on the way you build online directories. The listing template feature allows you to create customized listing pages for different use cases, like jobs, people, restaurants, whatever you can imagine. eDirectory is now more flexible and with improved usability for site owners, advertisers, and end-users.
What's new on eDirectory v13?
The new Listing Template Editor replaces the previous Listing Type feature. In the past versions, you were able to create any custom field you want to match the needs of the categories of your listing. With v13 you are now able to not only add those fields but also to edit the design of the listing detail page, using the same widget-based logic already present in the v12. Drag and drop the elements to design exclusive pages. Besides this major new feature, we improved the design and usability of the back-end. With an optimized layout, this area had several elements reorganized and redesigned to improve its user experience, in addition to facilitating its actions and access to certain resources.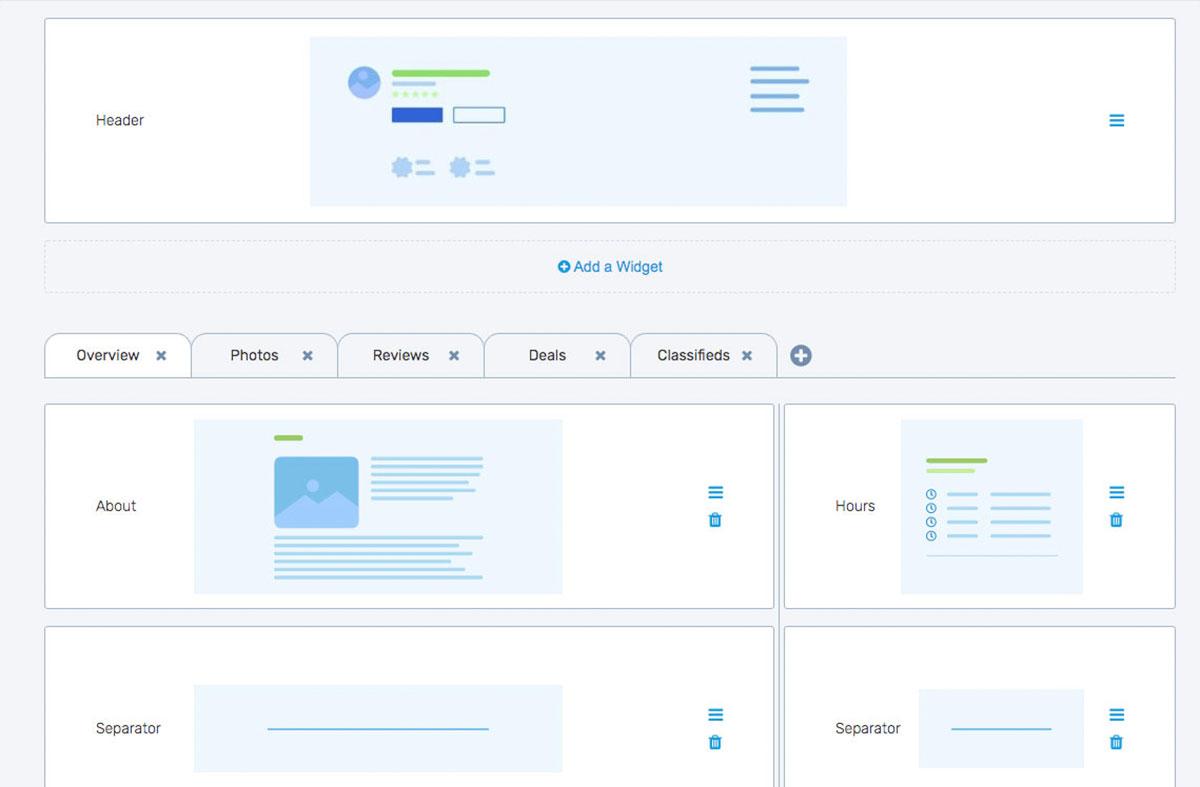 Tabs, Sidebar, and Widgets
You can choose from 26 different widgets to create listing detail pages with one column or with a column plus a sidebar. You can now create unlimited tabs to display the content of your listings but if you prefer having a single tab you can, it's up to you to determine the look-and-feel of your pages with ease, and no code-knowledge required. Use the widgets to create unlimited custom fields. After creating the custom fields, configure the Levels & Prices section to select which plan will display these fields.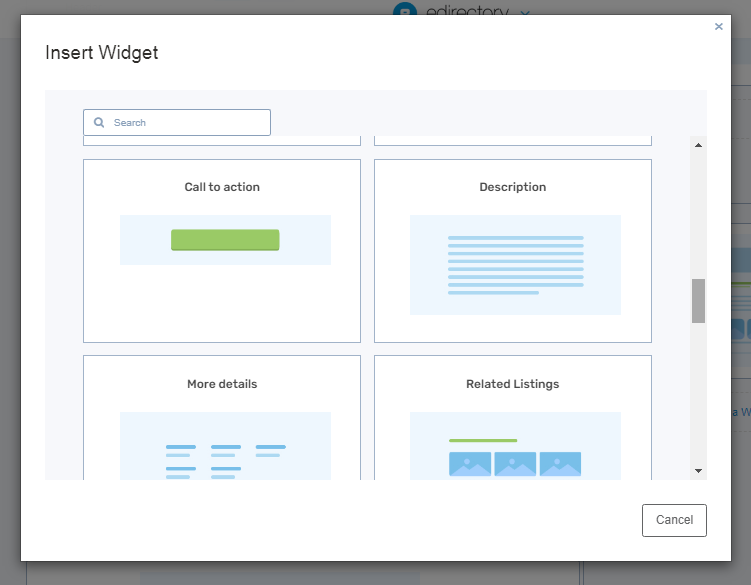 Summary Cards
For the search results page, you can choose one among eleven options of cards for summary views when creating a Listing Template. These cards were designed to meet different proposals and different needs.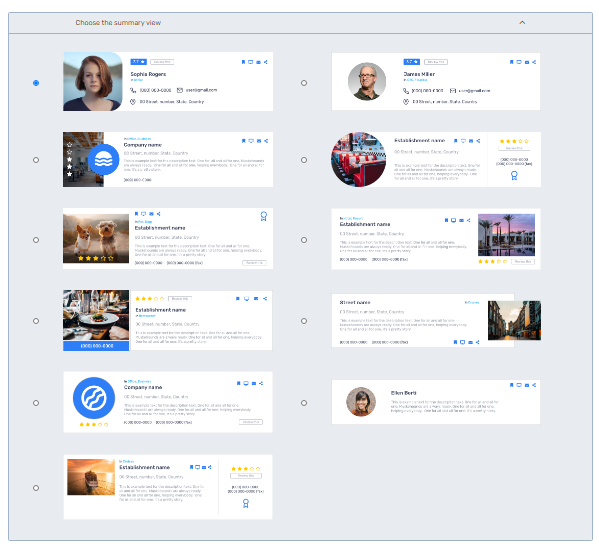 Linked Listings
Easily associate other listings to one specific page. For example, if you are listing a Medical Clinic and want to highlight its professional's profiles, with a few clicks, you can add the Linked Listings Widget on the page and display these profiles in an associated way. 
Related Listings
This is a great way to keep your users exploring your content and spend more time on your site. Simply add the Related Listings widget on the template and customize the rules to display rich content.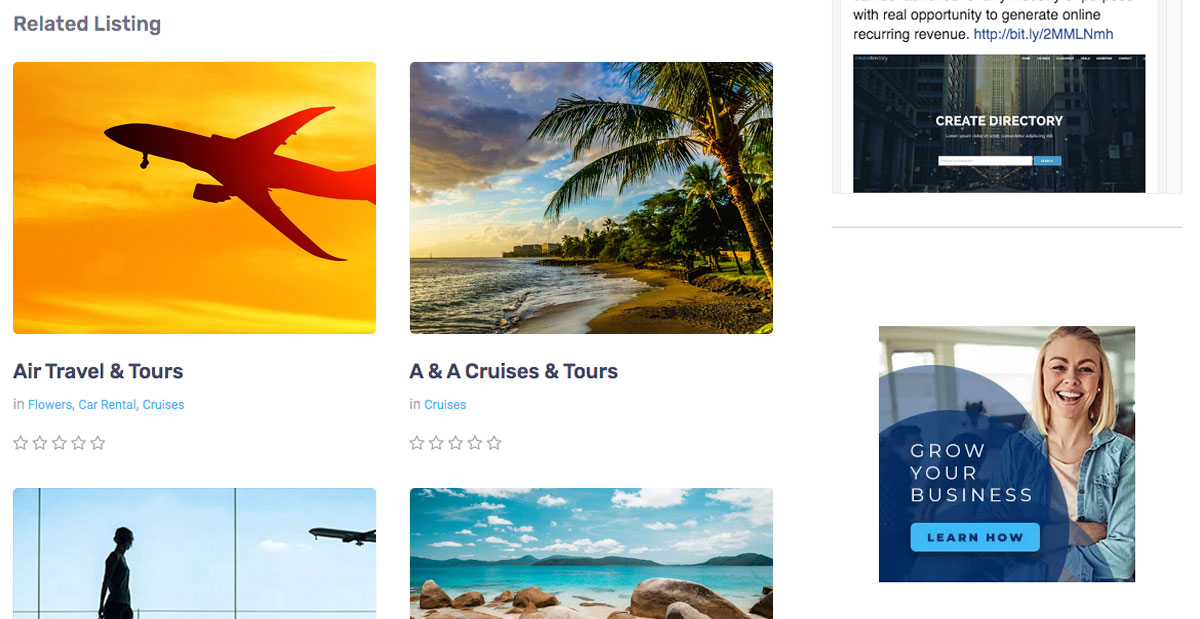 Call-to-Action button
Easily place a button on the listing detail page, customizing its label and destination URL. You can create a "Buy Now", "Book appointment" that goes to an external shopping cart or booking system. Create whatever call-to-action you need for your advertisers.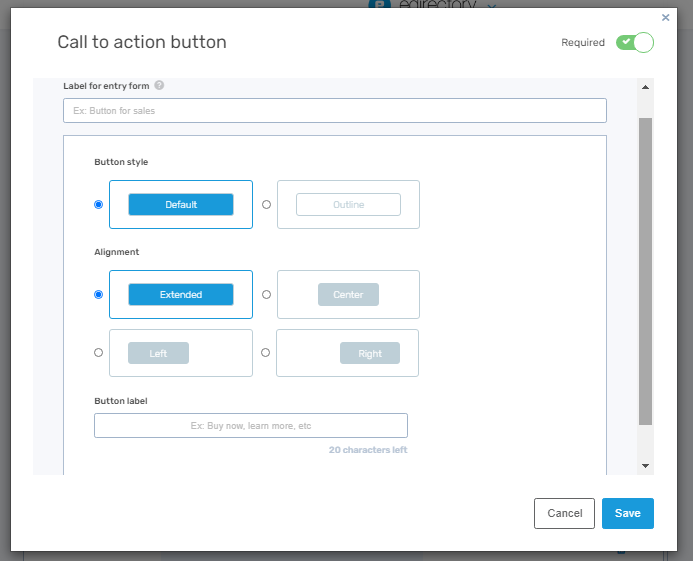 Disable Locations
For those who target just one location, we added the ability to the site manager to disable completely the usage of locations in the system, this will also remove the field "where" from the search boxes.
Upgrade Plan button for advertisers
A new upgrade button has been added to promote free and lower level listings to upgrade to more lucrative paid plans. Now advertisers will see a handy upgrade button to stimulate plan upgrades. This generates a new lead for the site owner to follow up and close the sale. Also, for the lower listings levels, we updated the Listing form to display fields that are not available for the listing level with a lock message, motivating advertisers to consider an upgrade of their plan.
Stripe subscription cancellation
Many payment gateways do not allow subscription cancellations other than directly through the gateway system. Stripe enabled this option and now advertisers can easily cancel their subscriptions within the Advertiser Dashboard.
GDPR improvements
Our customers in or targeting European countries can take advantage of this improvement. We added the ability for the site manager to enable the requirement for explicit consent for end-users to store their personal data, improving eDirectory's GDPR compliance. Because of that, forms no longer checks the "Sign up to our newsletter" by default.
More news from eDirectory v13!
Ability to add multiple banners on the listing page.

Ability to remove the pricing completely for all listings associated with a specific template.

Categories management completely redesigned for better user experience.

Added a shortcut for the site owner to go directly to the listing edit form when visiting a 

listing page on the frontend.

Claims section moved from the Listings section to the Activity sections on the site manager 

dashboard.

Preview page on the advertise widgets updated to offer the ability for users to preview 

listings from different templates.

Added captcha on the widget "Lead gen form" to block spam leads.

Site owners can now check information about their license and eDirectory versions through 

the "About" pop up.

Claim sign up page changed to show the registration form first, instead of the login form.

Label "Friendly URL" and "Page name" updated to "URL Slug".

Webp image format applied to Call to action and Newsletter background images.

Log in and sign up forms updated to include the attribute "required" on the mandatory 

fields.

Button "Read more" removed from the listing page. The listing description is now displayed 

below the listing main image.
Read the full list of enhancements of eDirectory v13 here.
Upgrade to the latest version of eDirectory today!
For active clients looking to take advantage of the latest and greatest eDirectory.com has to offer, simply fill out the Upgrade Request form or contact your account executive. Upgrade fees may be applied.
For new clients looking to launch their online Enterprise with all you see here and much more, please request a demo here, call us directly at +1-800-630-4694, or send an email to sales@eDirectory.com.