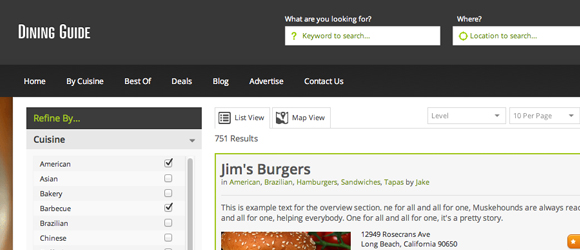 For the last month we have been cranking out some great new features for the Dining Guide edition. These features will also be coming to the main eDirectory theme in the next release a few weeks from now.
Filters:
Refine your search results by Category, Location, Price, Rating or if the result has an available deal.
Map View:
We have added an entirely new map view which allows you to show all results on a handy map – super simple.
In addition, there's a huge list of fixes, enhancements such as an updated photo gallery, new search bar, new header, and more.
Go and see for yourself – www.demodirectory.com

Next Release – Talk about being Responsive….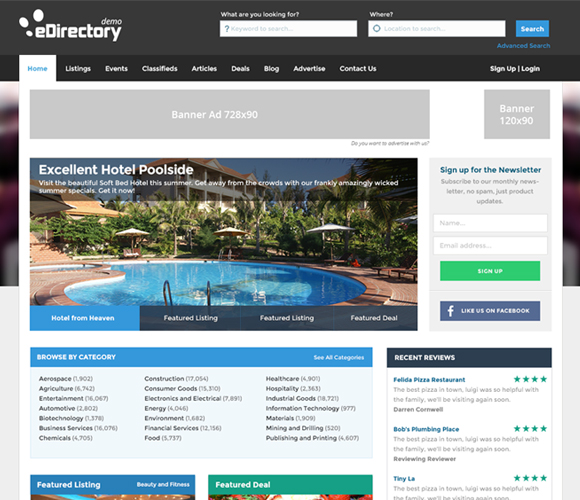 We're well on the way to releasing an all-new default theme…
A fully responsive design, looks just as awesome on a phone as it does on a desktop.
Fully integrated with our iOS and Android applications.
Built on the Brilliant Bootstrap framework.
Grid layout with 'Blocks' making customisation far easier across the board.
Did we mention it's stunning? It's gorgeous.
This (pretty awesome) new front-end will be available in a few weeks. Stay tuned, we just wanted to give you a sneek peek.
Change logs are here…
For all our customers a little more involved with the platforms, we've added complete change logs to the main eDirectory site. Just so you can keep up with what we've been working on. We'll be adding to it as time goes on.
Feel free to check them out here: https://www.edirectory.com/edirectory-changelog/