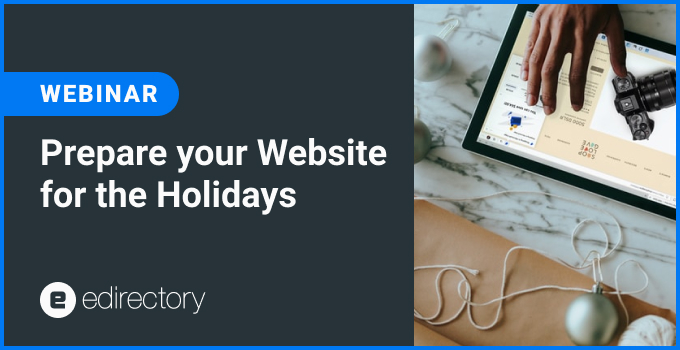 During the end of the year, there are plenty of opportunities and chances to take advantage of. In that regard, we discussed some guidelines to prepare your website for the Holidays, keeping your eDirectory website running smoothly.
In our discussion, we talked about end-of-year promotions and how to make your planning for the year ahead. As part of the design segment, we also offered ideas for making your website more holiday-themed we have two easy-to-use professional tools to help change colors, images, and the sliders on your website.
eDirectory also offers possibilities for automation such as recurring payments, welcoming new users, sending newsletters, and more. Prepare your articles/blog posts and banner ads for your sponsors, let your directory app following the same theme too.
Find out how to balance new sales opportunities, tweak some design elements, and save time by enabling the automation features of eDirectory.
Watch now: prepare your website for the Holidays
USEFUL LINKS AND TOOLS MENTIONED IN THE WEBINAR:
*We are not affiliated, associated, authorized, endorsed by, or in any way officially connected to the tools and sites mentioned in the webinar.
This session was recorded on December 14th, 2022.
Want more tips? Shoot us a note at marketing@eDirectory.com.