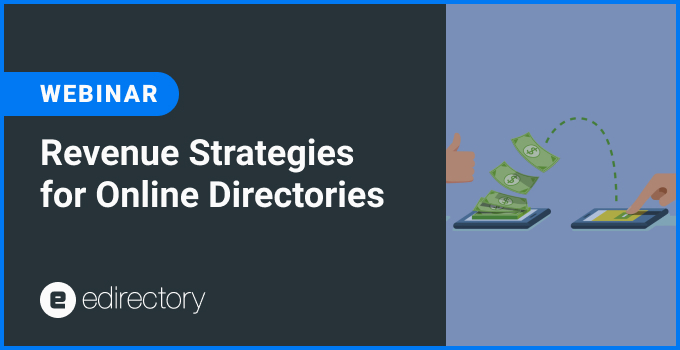 Revenue Strategies for Online Directories can be different depending on your niche.
Creating an online directory brings a fantastic opportunity to generate a recurring revenue stream. From using the built-in payment tools that eDirectory provides to offering links to 3rd party affiliate products and services, opportunity abounds when it comes to monetizing your website!
One of the best ways to start generating revenue is if your online directory already has good content that people are consuming or looking for online. You could consider creating a members-only area on your website, similar to what newspapers do, allowing only subscribers to read or access your material. Invite writers to publish articles as guest bloggers, giving tips and recommendations on restaurants, wine, books, movies, or other materials your audience could find valuable.
Another great way to make extra revenue out of your online directory is by advertising your newsletter. Send a curated list of the best or new services and products listed on your directory to your audience and sell the ad spots for your sponsors, therefore, their brand could be in the spotlight in front of a selected audience.
In this webinar, our CEO James Chubb shows the main methods of monetization used for businesses to generate revenue online.
Revenue Strategies for Online Directories
Online directories are one of the best media businesses out there because the production costs are low, and they gain traction on google rapidly because of the constant content generation (mostly user-created) and they are relatively quick to launch.
Have in mind that promotion takes an important role as you need to make your website visible to your audience. Invest some time to study paid media strategies (PPC) and SEO to generate more organic traffic to your online directory.
And of course, have in mind that the key is to keep your sponsors on board and attract new users. Recurring revenue is the way to make your online directory become profitable in the long run and eDirectory is built for that.
This session took place on September 7th, 2022.
Want more tips? Please send us a note at marketing@eDirectory.com.