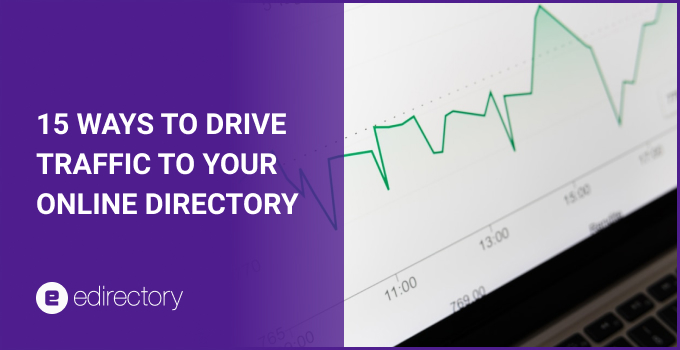 Getting traffic is the backbone of all websites. The same is true for online directory websites, specifically. The more traffic your online directory gets, the higher your conversion rate will be. In other words, more traffic means getting more listings which means more revenue down the line. As such, driving traffic to your online directory should be one of your main goals. The task may seem daunting, especially if your directory is brand new. However, there are quite a few ways to drive traffic to your online directory website and we'll cover them in this article.
15 Ways To Drive Traffic To Your Online Directory
Below, you'll find various tactics and methods for increasing the traffic to your online directory website. The good news is that most of them are free and require only your time.
1. Content Marketing
One of the easiest ways to market an online directory is through content marketing. According to HubSpot, businesses that blog get 55% more website visitors than businesses that don't.
Focus on creating content that would be relevant and helpful to your target audience. In other words, create content that solves their problems, educates them about your offer, and answers questions they have that are related to your online website directory.
Once you've started creating content, it will be indexed by the search engines which means it can appear as a search result when your audience searches for relevant keywords.
In short, creating content not only boosts your website traffic but it also allows you to appear as a search result for both potential customers and people looking for the best resources or specific businesses in their area.
2. Make Use Of Social Media
Aside from content marketing, social media is another easy way to promote your directory. Facebook is one of the most popular platforms out there but don't forget that there are many other social media platforms including:
Twitter
Instagram
LinkedIn
Pinterest
Youtube
And others.
Remember, you don't have to be active on all of these. Rather, the key here is to focus on one or two platforms where your target audience likes to spend time. Then, post relevant and engaging content. You can also repurpose content from your website's blog instead of creating all the content from scratch.
Engage in a conversation with your followers, ask questions, and reply to comments. This will boost your engagement which will increase the chances of your content being shown to people who aren't yet following you.
Link to your directory website in your profile's bio and point people to helpful resources on your website as well as share about the benefits of being listed in the directory. You can also create promotional posts or a special offer such as a reduced listing price for your social media followers.
3. Use Video
Video marketing has been gaining in popularity for the past few years and it shows no signs of slowing down. Video marketing is great not only for increasing conversions but also building trust and establishing a more personal relationship with your audience.
Similar to content marketing, you can use video marketing to create helpful and educational content that your audience would benefit from.
When it comes to video marketing, YouTube is your best choice for long-form educational videos. Posting content on YouTube has another benefit: it allows your videos to show up in search results and you can embed them onto your website along with a transcript as a blog post.
If you prefer shorter video content, platforms like TikTok and Instagram Reels are great for showing your brand's personality and making a connection with your audience.
4. Optimize Your Site
In 2021, nobody likes a slow-loading website. It hurts your user experience and search engines typically favor websites that load fast. That's why it's crucial to optimize your site as higher rank in search engines leads to more traffic. Not to mention, your existing users and visitors will be more inclined to recommend and share your online directory website if it loads fast.
Start by running a speed test with a tool such as Pingdom Tools to determine how fast or how slow your website loads. Then, work on getting the load time to 2 seconds or less. A few recommendations include:
Using a Content Delivery Network to serve static content such as script and style files
Optimizing images and compressing their file size
Making use of caching techniques
5. Work On Your SEO 
Search Engine Optimization is one of the best ways to drive traffic to your website. When you optimize your site for SEO, you'll get organic traffic — visitors who are already interested in what you have to offer and are actively looking for it.
In addition to that, having an SEO-optimized site means you don't have to rely on the ever-changing social media algorithms and you don't have to pay for ads.
The downside of using SEO is that it's a long-term strategy. However, once you start ranking for your desired keywords, you'll reap the benefits for years to come. The first step in optimizing your online website directory is to use an SEO-friendly directory platform. Aside from that, here are a few more tips for optimizing your site for search engines:
Publish relevant, quality content on a regular basis
Link to other pages and resources on your site
Optimize your site to load fast
Use keywords naturally
Optimize page titles
Optimize images with SEO-friendly titles and alt tags
6. Comment On Relevant Sites
Most websites that allow commenting have a field where you can enter your website. By leaving comments and contributing to a discussion on relevant websites in your industry, you can get people to click through to your website.
This not only helps you build relationships but it also puts your online directory in front of new audiences that might be interested in creating a listing for their business and website.
7. Be Active On Forums Or Communities In Your Niche
Similar to leaving comments on websites in your industry, you should get involved in forums in your niche. This gives you an opportunity not only to reply to others but also to start topics and become one of the top contributors in the specific forum which is bound to get your profile viewed by other users.
However, don't make the mistake of joining a forum and then posting a link to your online directory every chance you get. Instead, focus on providing value first. You can include a link to your directory as a helpful resource or when someone asks for it directly.
Another way to point users to your online directory is to include it in the forum signature. That way, it's always present but it's not obtrusive.
If you can't find a forum that's related to your industry, try finding a community in Facebook or LinkedIn groups. With Facebook and LinkedIn groups, you'll want to make sure that your profile is optimized and links to your online directory or to your Facebook business page.
8. Take Advantage Of OTHER Directories
Another way to market your online directory is to put it in another directory. Places like Google My Business and Bing Places For Business make it easy to get started and list your directory.
In addition to that, getting listed in either Google My Business or Bing Places For Business can also help improve your SEO. Once you list your directory, it can show up as a relevant local search result when people enter keywords and topics that are related to your directory.
9. Paid Advertising
If you have a marketing budget, you could consider investing in paid advertising. Both Google Ads and Facebook Ads are a great way to expose your directory to new audiences and gain visibility.
Facebook ads are a great choice if you want to get really detailed with your audience targeting. They also allow you to use images, video, and text ads so you have more choices when it comes to creating a compelling ad for your business directory.
If you want to keep it simple, you can opt for Google Ads as they make it easy to create text ads that drive traffic to your directory.
10. Post On LinkedIn, Medium, And Similar Sites
We've mentioned earlier that content marketing is a great way to drive traffic to your online directory website. Another benefit of content marketing is that it gives you plenty of material to repurpose as social media content or to repost on other websites.
LinkedIn and Medium are great places to repost your blog posts without having to pitch your article idea and go through the approval process.
There are a few ways to approach this:
You can repost the article in its entirety and say it was originally published on your website
Repost a part of the article and encourage readers to go read the rest over on your website
Expand on the original article and end with a call to action that points them to a landing page on your site where they can explore all the features your online directory has to offer
11. Use Guest Blogging
Guest blogging is a common marketing practice where you submit a blog post or an article to another relevant website in your niche. This method works really well for driving traffic to your website, especially if you link to a landing page with a special offer.
Once you submit a guest post, you'll get a link back to your website through your byline that appears at the bottom of the article. As a result, you get traffic to your website and you build authority and brand awareness at the same time.
When it comes to guest blogging, the biggest challenge is finding websites that accept guest posts and making sure they're relevant to your industry. It does you no good to publish a guest post on a popular site with millions of readers if that website has nothing to do with your niche.
Instead, you need to focus on websites that your target audience would visit as this will result in getting visitors that are interested in getting listed in your directory. Luckily, you can find plenty of suitable websites where you can submit a guest post with a quick Google search.
All you have to do is type in a keyword related to your industry along with a few search operators to find guest posting opportunities. A few examples include:
KEYWORD intitle:"write for us"
KEYWORD "submit a guest post"
KEYWORD inurl:/guest-post/
KEYWORD "accepting guest posts"
KEYWORD "guest post guidelines"
KEYWORD "become a contributor"
Keep in mind the list above is not exhaustive but it should serve as a good starting point.
12. Invite Others To Guest Blog For You
Speaking of guest blogging, it's a two-way street. Just like you can write content for others, they can write content for you too. Consider inviting your directory members to write a blog post for you that would be interesting and relevant to your audience. Or, create a page on your site that outlines the guest post submission process.
This is another method that has a twofold benefit. For starters, it gives you fresh content for your site and takes content creation off your plate. Secondly, the guest blogger will more than likely promote the article they've written which brings in more traffic to your site.
13. Provide Your Customers With A Badge That Links To Your Directory
When someone signs up to be listed in your directory, give them a code for a badge they can embed on their website. The badge should link back to your directory. The benefit of this approach is two-fold. For one, your customers can use the badge to boost their credibility and showcase where their website or business has been featured.
Secondly, it allows you to get a backlink from another, relevant website which can boost your SEO authority. Lastly, since the website will feature a badge with a link to your directory, every visitor who lands on the website can click through to visit your online directory which results in more traffic.
14. Make Use Of Ratings, Reviews, And Testimonials
People buy from businesses and people they trust. Nothing builds trust faster than ratings and reviews from other people. According to research, 87% of consumers read online reviews for local businesses. As such, your directory should make it easy for others to leave reviews and share their experiences.
Another way to build trust is to showcase testimonials throughout your directory website. Featuring testimonials will increase the trust potential customers have in your directory. You can invite your users to send you a testimonial or leave a review on Google My Business or even your Facebook business page if you have one.
Once you start getting testimonials and reviews, you can add them to your homepage as well as the main sales page. Don't forget to make the most of your testimonials by also sharing them on social media profiles.
15. Invest In Email Marketing
Don't wait to build your email list. Email marketing has one of the best returns on investment, with several sources citing that for every dollar spent on email marketing, you'll get $42 in return. Email marketing gives you direct access to your audience where you can establish a relationship with them and educate them on all the benefits of being listed in your online directory.
It allows you to build trust and reach them without the fear of social media algorithms burying your posts.
To start building your list, include sign-up forms on your website. Consider offering an incentive such as a discount for their first listing or a special bonus such as a top spot in the corresponding category for the first month.
Final Thoughts
Like with any other website, driving traffic is crucial if you want to generate income with your online directory business. With the tips laid out in this article, you'll be able to get more traffic to your website.
Keep in mind that you don't need to use all of these tactics at the same time. Start with one or two and then slowly introduce other methods and keep experimenting. By doing so, you'll be able to understand which traffic-generating method works best for your online directory website and double down your efforts. Good luck!