The eDirectory SEO Center
Control every SEO aspect of your site: page title, friendly URL, description, and keywords. Take advantage of our built-in tools: sitemap generator, robots.txt editor, and 301 redirects editor.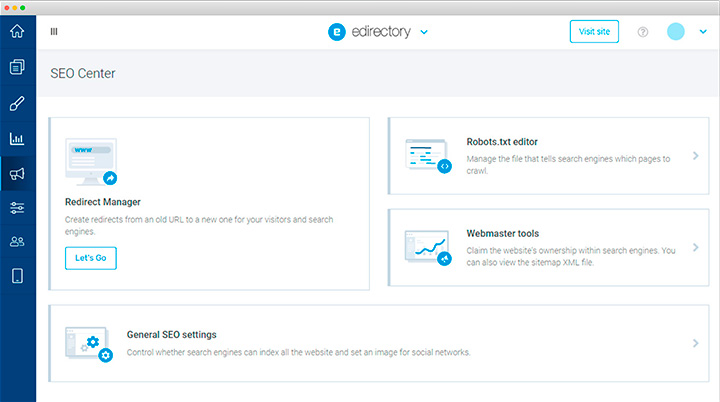 Structured Data Markup
eDirectory tags your content so search engines like Google can index your content better, and present it more prominently in search results with rich snippets.
Sitemap Generation
eDirectory software creates and automatically updates your sitemap. Submit it to Google and Bing Webmaster tools to speed up content crawling and indexing.
Schema.org Compliant
By following the recommendations from the schema.org project, eDirectory's sites demonstrate their credibility and authority to search engines also enhancing the user experience.
Robots.txt Editor
This file gives instructions to web crawlers on how to crawl and index the pages on a website and to prevent them from accessing pages that are not relevant or valuable to search engines.
301 Redirects
If you need to move URLs or if you are migrating from another platform, we've got you covered. Easily tell search engines where they should go for your best content.
Indexing Control
You can decide whether your entire site - or some custom pages - will be available for indexation or not. One click and you are set.