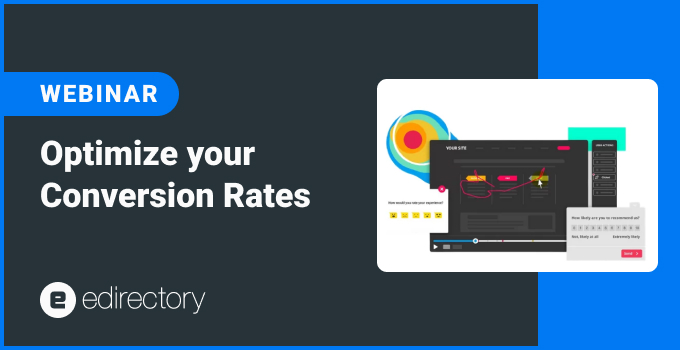 CRO (Conversion rate optimization) is the process of optimizing web pages based on visitor's behavior to maximize conversion rates, which means increasing the chances that visitors will take the desired actions on your site, such as form submissions, downloads, newsletter subscriptions, clicks, and other.
In order to optimize a website, there are two main elements to consider:
 Design – How visitors will perceive the content they are searching for.

 Copy – This is the text that will capture the visitor's attention and will persuade them to take action.
For directory-based websites, you must also think about two verticals of optimization:
  Conversion for visitors – drive them to premium content.

  Conversion for advertisers – drive them to sign up for a plan.
In this week's webinar, the eDirectory marketing team shared strategies on how to optimize conversion rates through data analysis and conducting multiple tests, tweaking content to make it more relevant to visitors, and drawing appropriate conclusions from the data.
Optimize your Conversion Rates
Useful links and tools mentioned in the webinar:
*We are not affiliated, associated, authorized, endorsed by, or in any way officially connected to the tools and sites mentioned in the webinar.
This session was recorded on August 24th, 2022.
Want more tips? Shoot us a note at marketing@eDirectory.com.