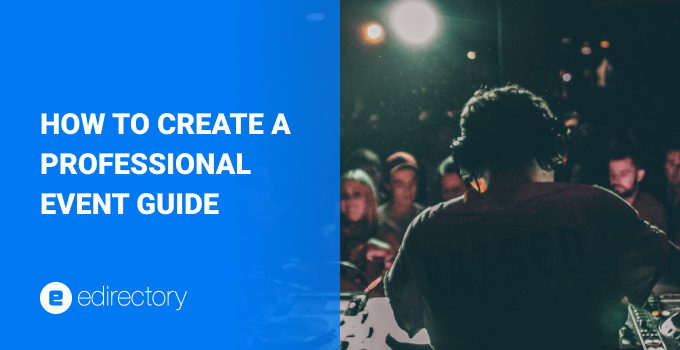 To create an event guide, it is essential to map all the relevant information about an event so that your website can be a bridge of access between the producers and the users/visitors of the events.
An Events Guide is extremely relevant to the current post-pandemic context.
The global health crisis significantly affected the event segment, and many believed that it would not be able to sustain itself. However, as in many other segments, event organizers had to rethink how they offer their services and transform the business into something more suited to the modern world.
Currently, forecasts for this segment are very satisfactory and promising, as pointed out by a report by Statista, which indicates that the event ticket sales niche is projected to reach US$72.31 billion in 2022. The report further showed that the event ticket sales segment is expected to deliver revenue growth of 14.4% in 2023.
Thus, investing in this segment can be a very profitable and sustainable way to develop an online business.
Read on and learn how to create and monetize a professional and efficient event guide!
What is an event guide?
As the name suggests, an event guide is a platform developed to create interactions between organizers and visitors/users by promoting events in different niches and segments.
An event guide works as an exhibition showcase, where organizers and advertisers can offer their events more comprehensively, reaching a large number of interested consumers.
An event website simplifies the process of purchasing tickets, registering, and accessing events.
This business is an excellent way to monetize online, as it offers many opportunities and formats to grow steadily in your niche.
What are the possible niches for an event guide?
Creating an event guide gives you the opportunity to monetize different niche activities with many different services.
You can create an event guide focusing on just one niche or one that covers several segments. Either option offers benefits to the website's creator as well as event organizers.
If you have a niche event website, you will be able to target a specific segment and become a leader in this market.
As you are targeting multiple niches, you will be able to reach a larger audience and promote a wider range of events.
Some niches to explore are:
Music, festivals, and entertainment;
Religious events;
Regional and agricultural fairs;
Sporting and fitness events;
Gastronomic events;
Technology events;
Professional and work-related events, etc.
How to create an event guide professionally
Creating a professional event guide is easy if you have the right tools. eDirectory is specialized software for creating classifieds websites, business directories, and of course, event guides.
To create your event guide using eDirectory, you need to follow a few simple steps. See below!
1. Choose the niche that fits your strategy
A niche is the starting point for all classified websites, including event guides, as it is through choosing a niche that you can begin to develop your marketing and monetization strategies.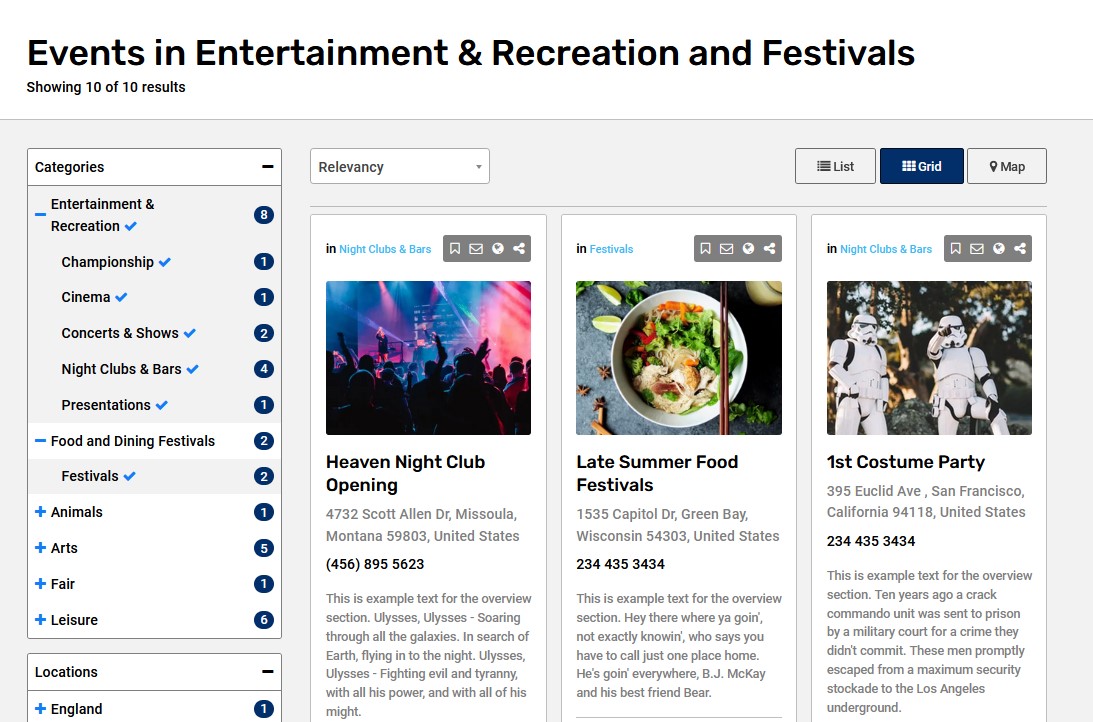 If you already have an online presence for your business, such as a website, social networks, or a blog with an established theme, take advantage of the identity in your event guide. If you haven't defined your niche yet, consider choosing a subject that you have an affinity for or are interested in exploring. Believe me, this identification will make your work to populate your site with new events much more pleasant and fluid.
Bet on specific niches because, despite having a smaller audience, the tendency is for this audience to be more engaged with events of their interest. If you go for a bigger niche, try to target your reach to your region or city, and gradually expand the reach of your event guide as demand from advertisers grows.
2. Sign up for eDirectory to start your project
Creating an event guide from scratch is no simple task, and if you want to opt for WordPress events themes, for example, you will end up realizing that the offer of plugins is, at the same time, wide in quantity and limited in quality.
As it is a free platform, we are given the perception that is possible to build a robust and functional website, which will expand over the years at zero cost. This perception is far from being accurate, as you still must include domain purchasing and hosting expenses in your planning, in addition to themes and plugins that are usually paid on a recurring basis (monthly or yearly).
With a platform designed to create classifieds websites and events guides such as eDirectory, you have a ready-to-use solution at an affordable price with plans that include hosting and unlimited listings. In addition, eDirectory is a scalable and robust solution that will grow with your business.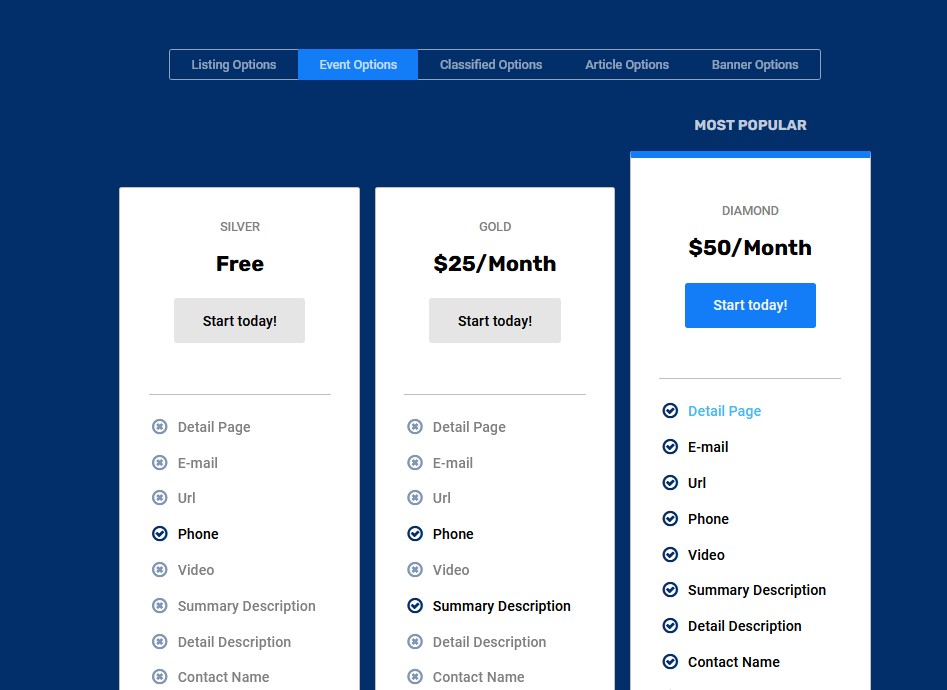 Have access to an intuitive drag-and-drop interface, complete control panel to add and edit new events, moderate reviews, add add-ons, descriptions, your advertisers can add external links such as websites and social networks, security certificate included, and many more features.
After the initial setup with eDirectory, you can now choose which payment methods your advertisers can choose when paying for plans and ads.
3. Define payment methods
Creating a simple, low-friction checkout experience is essential for an effective monetization strategy. Making it easy for your customers to pay for monthly subscriptions and other additional services is important for your event guide to generate recurring revenue.
eDirectory comes with support for the largest digital payment methods on the market, such as Stripe, PayPal, and Authorize.Net. On top of that, you can enable recurring payments with the click of a button. To set up one or more payment methods, access the control panel and select the Payment Methods option:

4. Manage features and pricing for each level
Next, you must define what will be the values and resources available at each subscription level of your event guide. With the eDirectory control panel, you give your advertisers power over every function of the event guide, from the most basic functions like email, phone, and description settings, to advanced options like including youtube videos, Facebook pages, and including a URL to another site.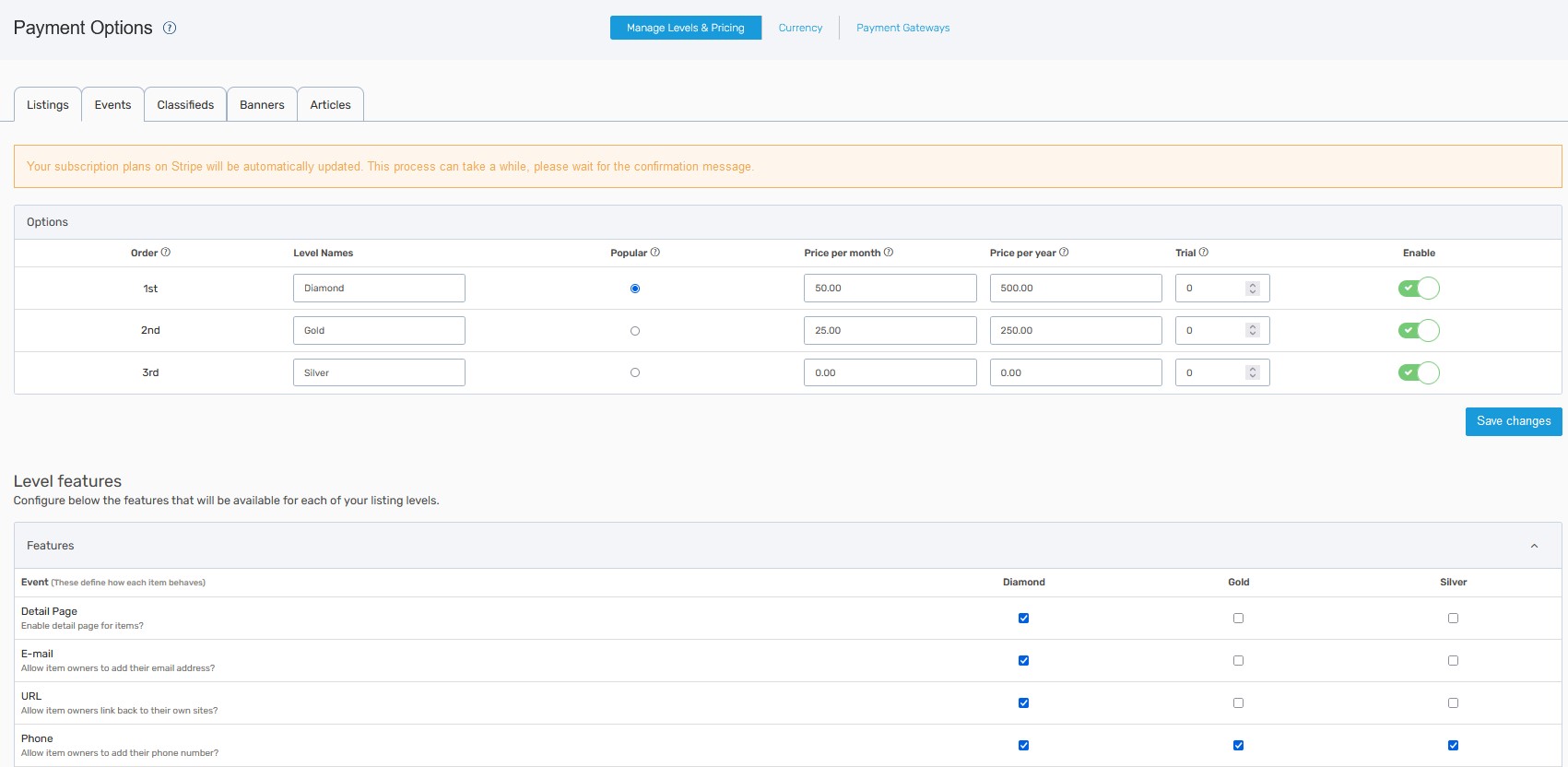 If you still don't know where to start, we suggest having a free basic plan so that your advertisers can familiarize themselves with your events guide and, from there, learn about the advantages of the other plans and move on to an event subscription.
Just remember to save the most important features for your most important plan so advertisers will want to sign up.
Need to change some option or value for one of the plans, just go back to the payment options and adjust your membership level offers whenever you need to as your business grows.
Whatever is your business plan to create your event guide, eDirectory delivers the tools so you don't miss any opportunities.

5. Create categories and subcategories for your event guide
One of the most powerful features of an online event guide or an online business directory is its categories and subcategories. Essential for the organization and sectorization of a website and for indexing and ranking in search engines (SEO).
Inside eDirectory, you, as the event guide manager, define how many categories your site will have, being able to expand according to the needs of your niche. Aggregate subcategories to segment your event guide and allow your advertisers to find the option that best fits their events.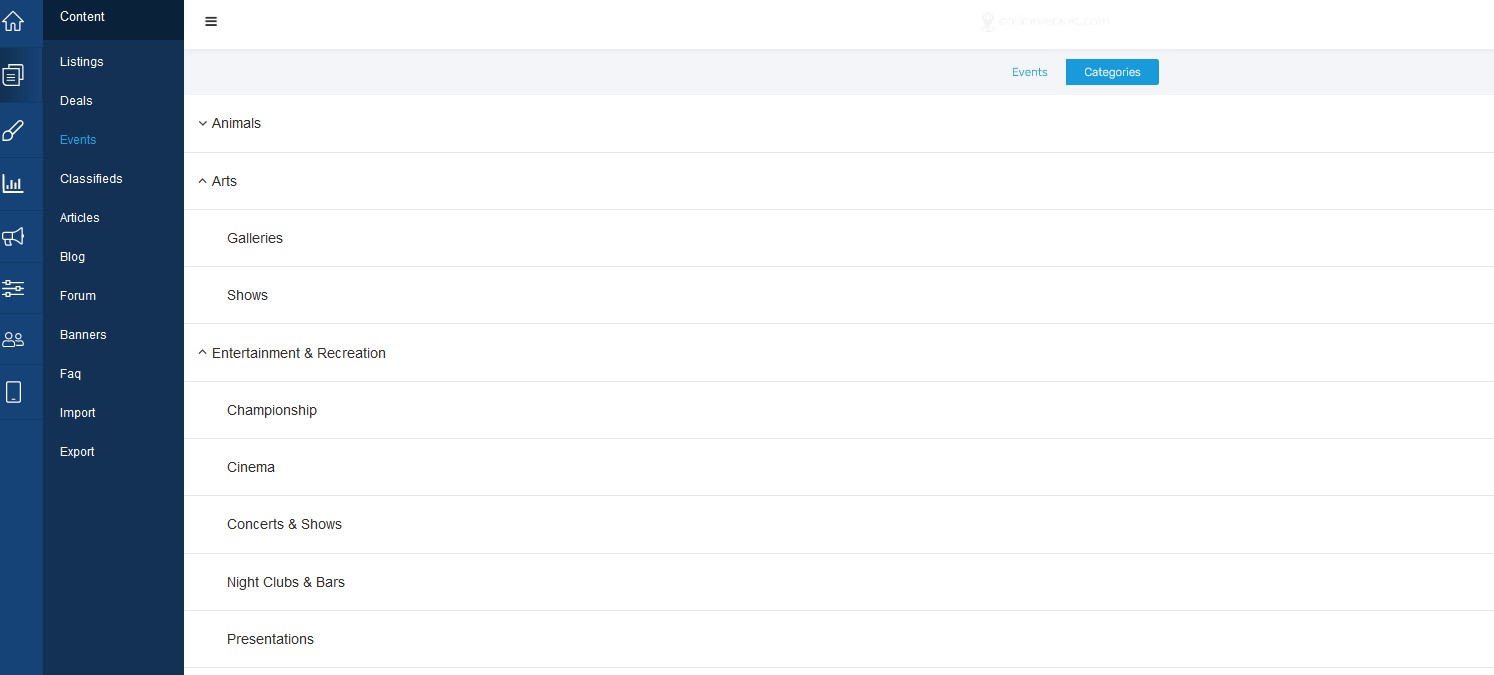 6. Create a new event
And finally, the most important part: how to create an event. Through the control panel, advertisers can easily create and edit events within minutes.
Set event name, date, location, add photos and videos, opening hours, links to external websites (purchase tickets), map, social media feed (Facebook and Twitter), and more.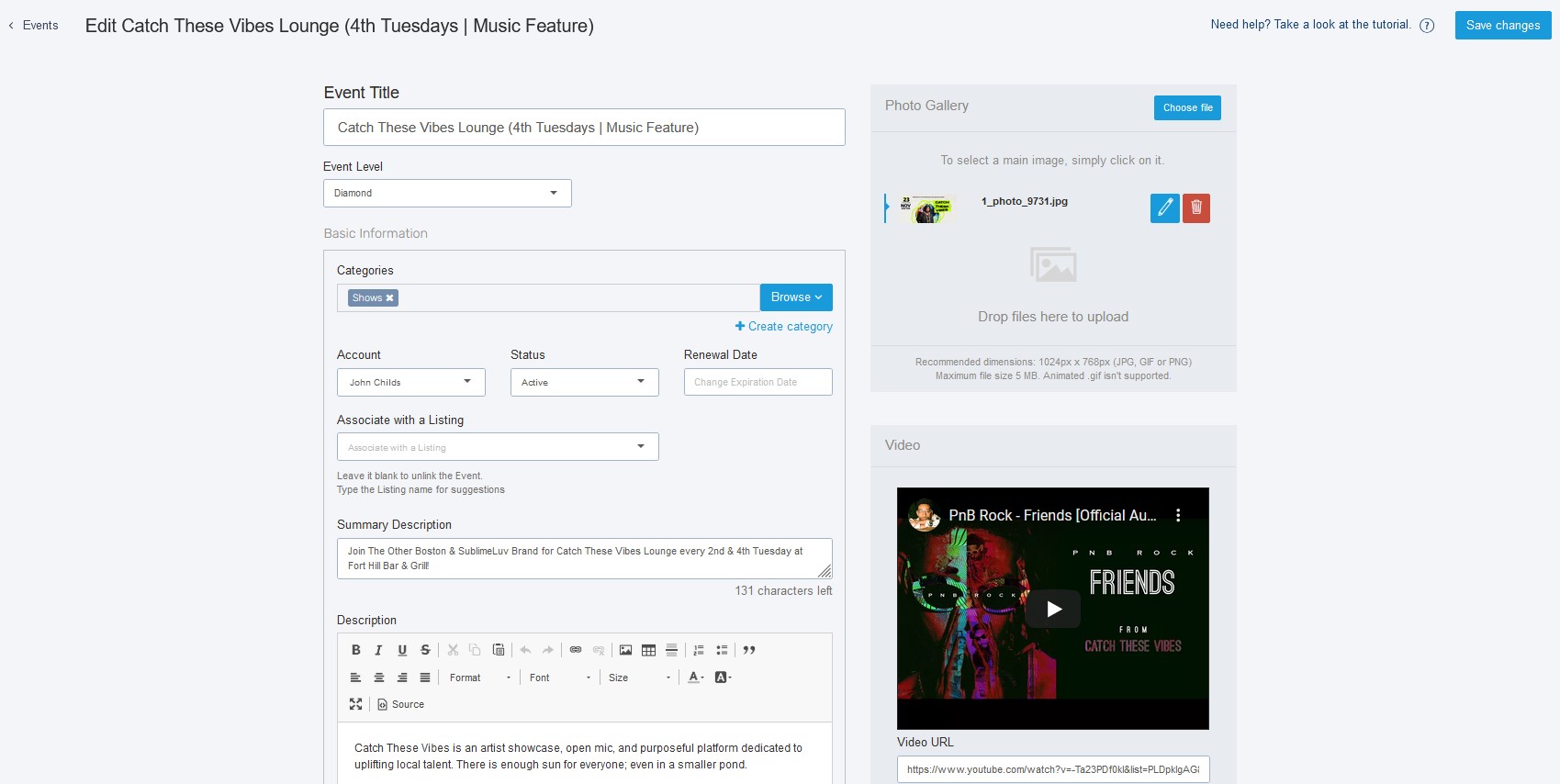 Advertisers have control over SEO settings such as description, title, and keywords. With eDirectory it is also possible to obtain reports on leads and the performance of each event created, making it easier for advertisers to analyze information.
Next, we'll show you how to monetize your event guide.
How to monetize your event guide?
You can monetize your event guide with eDirectory in a variety of ways, ensuring a recurring source of earnings. Check out how to do this:
Creating plans for your events: You can create up to three subscription plans (basic, intermediate, and premium, for example) and offer users various options and price ranges.
Banners and classifieds: another form of monetization is to sell advertising spaces with banners so that advertisers can advertise.
Offer additional services: by creating an event guide, you can also offer additional services such as design, video, and digital marketing. The classifieds section can be used to advertise event-related products such as musical instruments, accessories, etc.
Benefits of eDirectory for creating an event guide
You may have already realized that creating an event guide can be very beneficial for entrepreneurs looking to build a profitable online business.
By using eDirectory you create your website with several useful tools for advertisers and users, such as:
a. Recurring events – create and display
The advertiser will have access to the recurring event's configuration, where they can create a list of events that occur frequently, for example, annual, monthly, biweekly, or weekly.
b. Monetization from free to premium events
As mentioned before, you will be able to create plans for your events, thus establishing various monetization possibilities.
It is possible to create from free events to premium events. In addition, you can also monetize classifieds and more with eDirectory.
c. Widgets for displaying events (featured/recurring)
Use widgets to highlight your events and reach more users and visitors. This is a great way to create relevant content and keep your users engaged on your page.
d. Multiple categories
eDirectory also allows you to position your event in multiple categories, which greatly increases the likelihood of your event being found in searches by your site's users. Advertisers see this option as a big differentiator, which certainly makes their event guide more competitive.
Wrapping up
See how an event guide can be beneficial if you want to build a profitable online business? Now you know the best tool to make you achieve the success you want.
Ready to create an event guide professionally and efficiently? So, don't hesitate to test out eDirectory in a free guided demo right now to get the best and richest experience in creating event guides and classified portals.