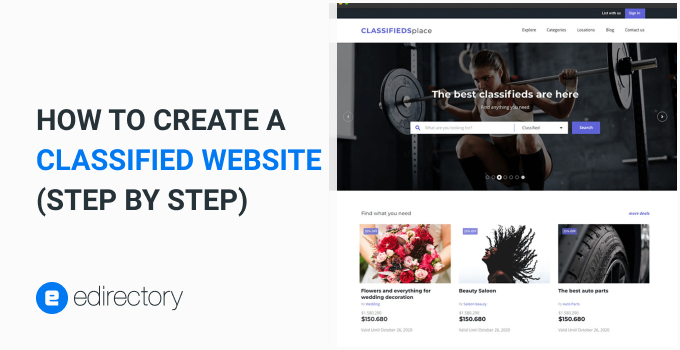 Any idea how much annual revenue comes from digital classifieds?
It's 2.49 billion dollars in the US alone.
So, it's no surprise more and more people are looking up how to create a classified website themselves.
Especially because more smart business owners are realizing a classified ad website that earns money can be easy to build (with the right tool).
And the industries and niches that a classified website can help serve are nearly endless. From a regional classified site that lists rare items to a local classified site that advertises available neighborhood goods, the opportunities are only limited to your ideas.
But making sure that you have a good idea, a solid plan, and a quality classified site software are all key when learning how to create a classified website.
So, let's jump right in and take a deeper look at the ins and outs of classified websites, so you'll have all the knowledge you need to build yours.
What Is a Classified Website?
A classified website is an online advertising platform that connects sellers to buyers by promoting products and services.
Simply put, a classified website is a list of online advertisements. And usually, they'll be listed by specific categories or by location.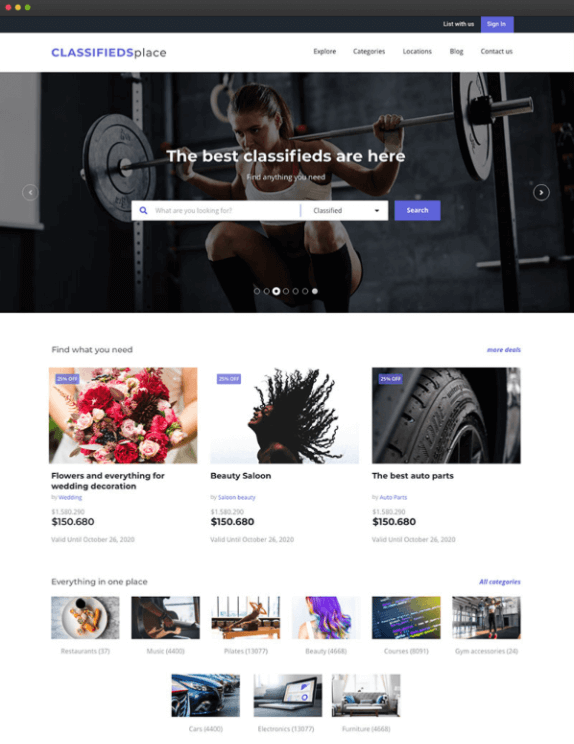 On one end, there's a listing owner who has a service or product to sell. On the other end, an interested buyer.
The goal of the classified site is to connect the listing to someone who wants that service or product (or in the case of a job board or a wanted ad, someone who could offer that service).
Some good classified site examples (on a large scale) include sites like Craigslist, OfferUp, and OLX. But some other places you may not realize are classified websites can include:
Real Estate Listings
Job Boards
Online Consignment Shops
Casting Notices
…and others.
Since online advertising is becoming the norm, more and more people and businesses are getting in on the action and making their own classified site.
Classified ad websites are an incredibly fast-growing type of online advertising. Businesses and people love advertising on them because a listing is usually affordable. And, if the website is being optimized and promoted well, listing owners can expect to see an awesome ROI on their investment.
For people browsing listings, it's a great way to connect with a business or person in the exact area they're researching. Whether someone's looking for a new job, a second-hand bike, or something else.
And it's not just for buyers and sellers. Classified websites are exploding in popularity for business owners wanting to start their own classified project.
That's because a good classified website not only helps connect people, it can also earn the site owner money.
How Classified Websites Earn Money
You might be surprised to learn that classified ad sites can and do make money in more than one way.
Classified websites typically make money for their owners in several different ways, actually. And if you're using a solid classified ads software like eDirectory, you'll have all the tools you need to make money with a classified site.
Here's how classified websites owners earn money:
Selling Listings: The most straightforward way classified sites earn money is by charging people to list an ad on their classified site.
Selling Ads: Charging a fee for placing an ad (usually a banner) somewhere on the classified site. This is often a great upsell to add when selling someone a listing so that more people will see their details.
Pay-per-Click (PPC) Advertising: Using a PPC platform like Google Ads, business owners can earn money from 3rd-party banner ads displayed to website visitors.
Membership Fees: Some classified website tools offer membership features, so site owners can collect recurring dues.
Affiliate Links: Inserting links to partner products that let you collect revenue off any sales you send to your affiliates.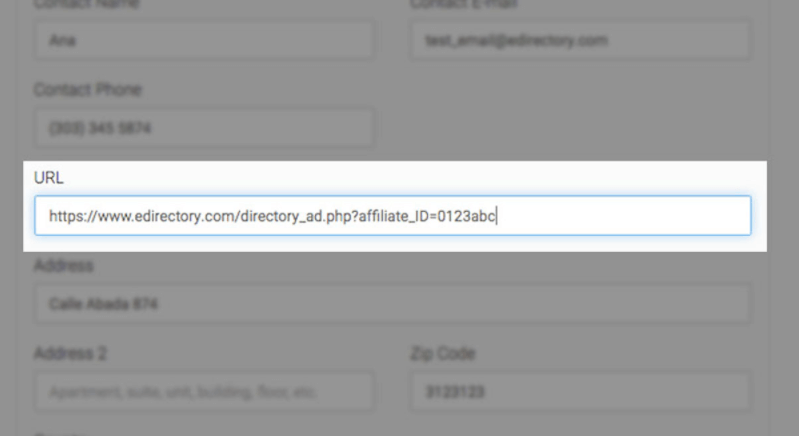 With all these great ways to earn money, are you starting to think creating your own classified website sound like a great idea? You're not wrong.
Launching your own classified ads site project can be a game-changer for many businesses. But, doing it on your own can have some major drawbacks to consider before you begin.
DIY Site vs a Dedicated Classified Tool
When creating a classified website, there are two main options. You can either do a DIY project and build every aspect of your site from the ground up (advanced) or keep things simple by using a dedicated tool.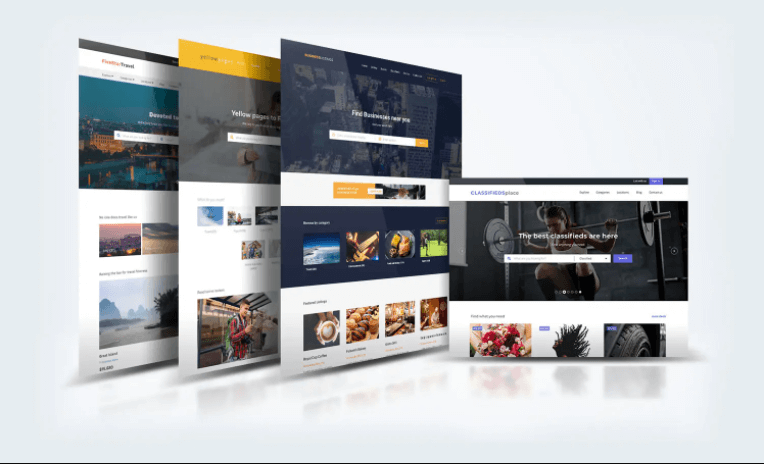 We recommend using a dedicated tool to build a classified website. But for advanced users, taking the DIY route to build it yourself or by paying a developer might be a good option for you if you:
Are a web developer.
Have coding skills.
Are planning to continually pay a someone to maintain your site.
Are wondering how to create a classified website with WordPress and a plugin.
Because it's the easier and more affordable option, using a dedicated classified tool like eDirectory is the best choice for most people. Using a software that's built specifically for classified ad sites comes with tons of benefits like:
Beginner-friendly tools have made it so building and managing a classified website is easy, even for non-developers.
Make more money by accessing additional revenue-generating features.
Simple setup lets you launch quickly.
Integrated blog modules to keep content management easy.
It looks professional so you can maintain a healthy reputation.
Advanced search functionality so people can find what they're looking for on your site, without hassle.
Even for people who can build a website on their own, there are tons of other reasons website owners choose a dedicated classified tool instead of a DIY site.
So now that you know how important using a dedicated classified website tool is, let's take a look at exactly how to create a classified website.
How to Create a Classified Website
Ready to launch your own classified ads site project? Follow these steps to build a high-quality classified website.
1. Pick Your Niche
The first thing you'll want to do when making your classified website is to pick your niche. This is the industry in which you'll be making your website.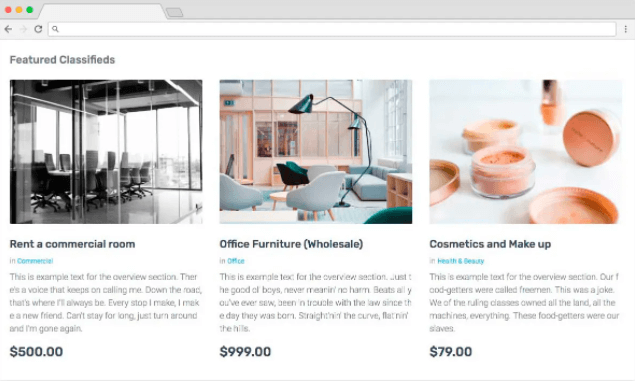 Already have a business idea? Great! Still exploring ideas? No problem. This is an extra exciting time because as directory and classified websites skyrocket in popularity, there are still tons of opportunities for different types of helpful sites.
The most common classified websites tend to be:
Local goods-based classified directories.
Industry-specific job boards.
Membership directories.
If you notice that your industry or your local area is lacking a strong classified site, take note. You may just notice that you've got a great opportunity to create an online classified community that connects people, businesses, and services while also generating revenue.
2. Choose a Domain Name
Next up, you want to pick a good domain name that's easy to remember and spell, like www.exampleclassifieds.com.
Your niche will help inspire your business name, and your business name should be the backbone of your domain name.
You'll choose this while you set up your website hosting. If you're hosting your website yourself, we recommend Amazon or Digital Ocean. However, all eDirectory cloud service plans include secure hosting.
3. Sign up for eDirectory
The next thing you'll need to do to set up your professional classified ads website quickly and easily is to sign up for eDirectory. Avoid having to hire a web developer to build your WordPress site, and never need to worry about having to pay them every time you need to change anything.
Then once you've got your classified ads software up and running, you can start categorizing your site.
If you're ready to set up your classified website for free and explore all the available features, you can request an eDirectory demo here.
4. Pick Your Categories
In order to make sure your classified website is easy to navigate, you'll want to pick and define your categories.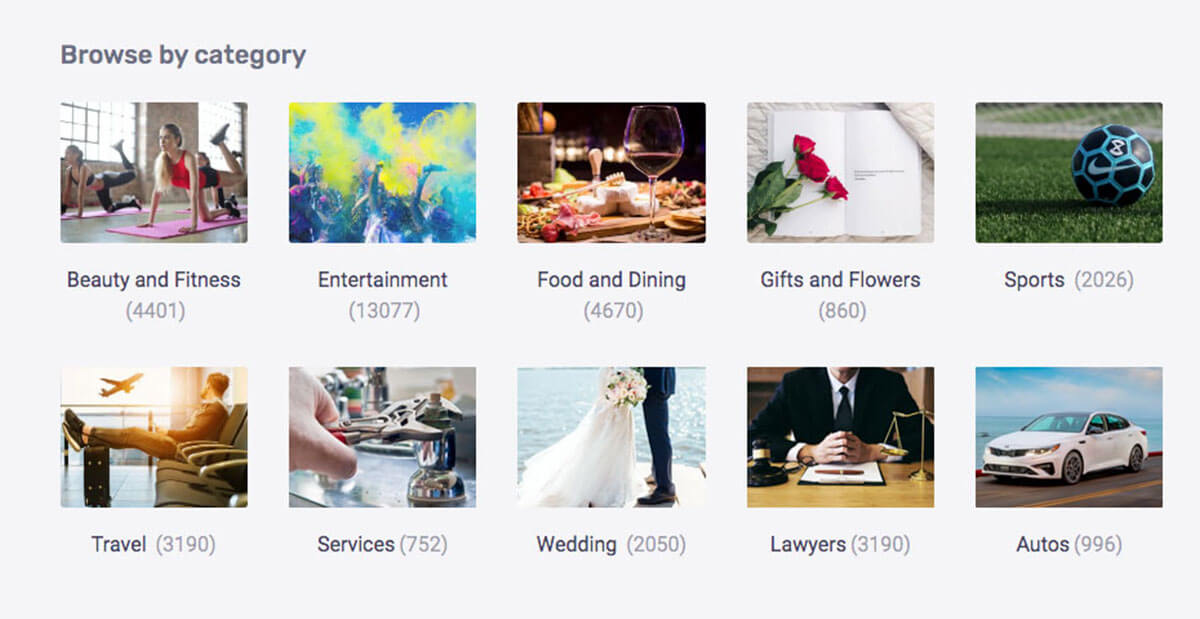 Not only do search engines love categories (meaning your website can rank higher when people search for specific keywords), but website visitors love to search through different categories and filters.
Your job? Build out this important section of your site by providing comprehensive details inside each category. Also, make sure to add sub-categories so you can take advantage of the advanced filtering capabilities (your website visitors will!).
With eDirectory, you get unlimited categories, so feel free to get as granular as you want.
Offering to display a listing in multiple categories is also a great way to upsell your higher membership levels, which we'll cover next.
5. Set Your Membership Levels
If you're taking advantage of all the ways eDirectory lets you earn money from your classified site, then the next step is to determine your membership levels.
This means you'll decide which features each level includes plus how much it costs.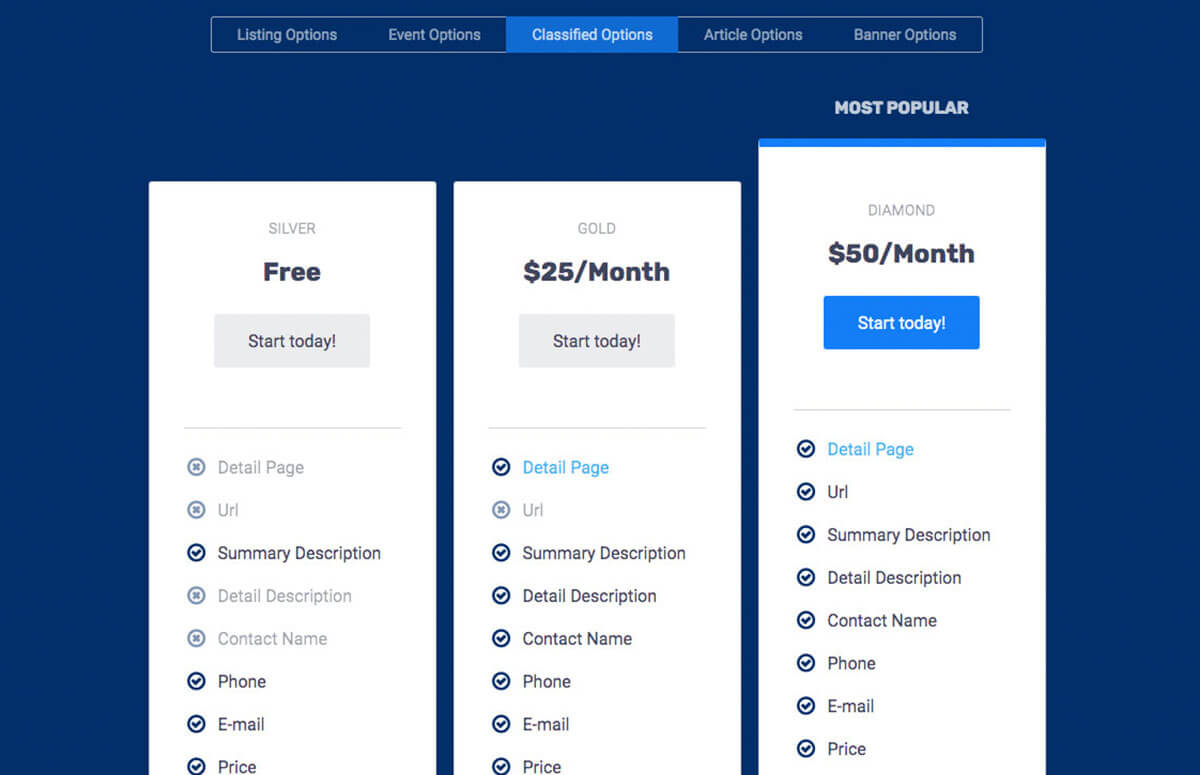 And because eDirectory classified websites are scalable, meaning you can have a small site with just a few listings to a network of sites with millions of listings, you can choose exactly how much to charge for your membership levels.
If you're just setting up your website, we recommended starting with a free membership level.
Even though you aren't charging them, free members can offer a lot in return. Using a free membership level is a smart way to:
Turn people into paying members when they upgrade.
Grow your email list.
Gather feedback about the site.
Get listings shared on social media.
And for your paid membership levels, you'll want to offer exclusive benefits that are appealing. For instance, you can offer one month of "free" banner ads to anyone who signs up for your highest plan (a great incentive if you've got decent traffic coming to your site).
Remember, you can always adjust your offerings and pricing as your business grows and you learn more about what works for you, your audience, and your website.
6. Create Your First Listings
Before your classified website can be helpful to anyone (advertisers or otherwise) it needs to have listings.
So, the next thing to do to make a classified site is to create your first listings.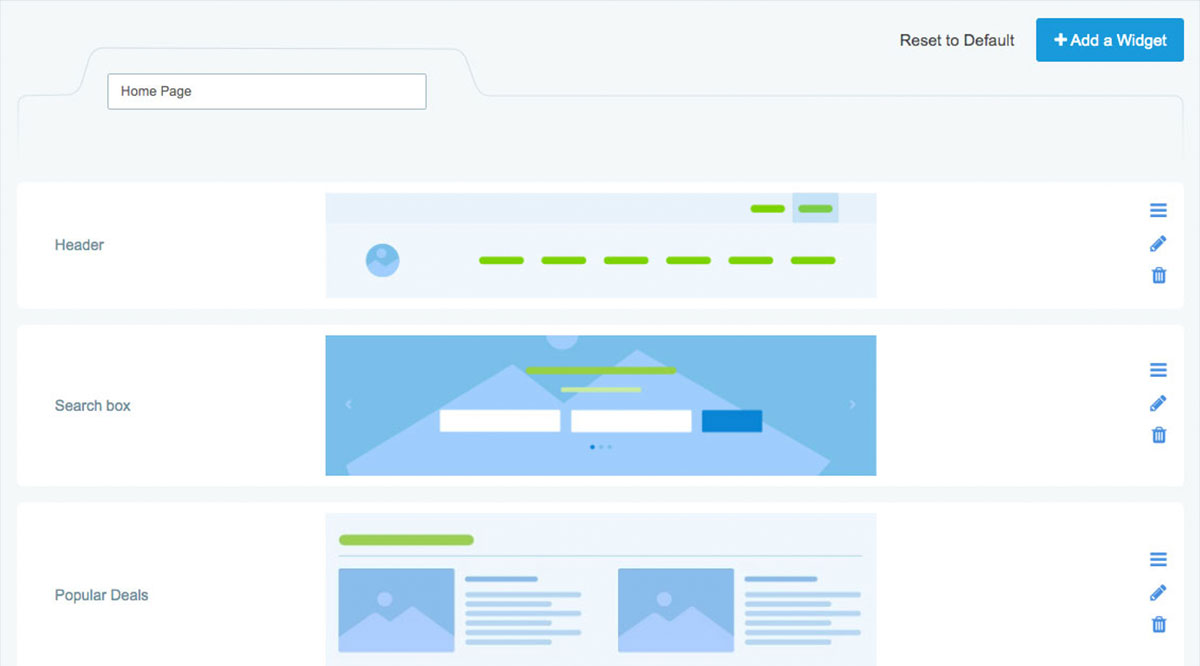 You can do this manually or import them if you have a large amount of data and want to make things easier on yourself.
Setting up your listings is where you can really have fun customizing your classified website. That's because you can use drag-and-drop widgets to configure your pages and highlight:
Top-level classifieds.
New members.
Most-recently added items.
…and more.
Sure, it may take a bit of time to populate listings yourself, and you may need to get creative with the classifieds you're listing. But until an advertiser can visualize what you're selling, it will be hard to get them to pay to list on your classified site.
7. Create Quality Content
Once your classified site is up and running with some listings, it's time to start creating content.
Blogging is one of the best ways to drive traffic and sales to your website. It's an incredibly important part of advertising a business these days, and your classified website won't be any different.
Because we know blogging is essential to a successful classified website, eDirectory includes an easy-to-use Blog Module where you can create, monitor, and optimize your content.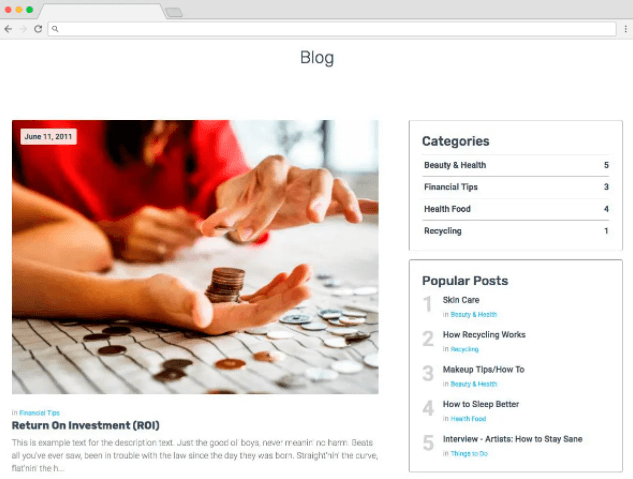 Once you've got the hang of consistently posting high-quality content, don't forget to naturally insert your affiliate links within your content. The Blog Module also helps you insert these, which is extremely helpful if you're planning on generating revenue through affiliate sales.
8. Market + Promote Your Site
Creating a classified website step by step is incredibly exciting. But remember, you'll need to have traffic coming to your site before you can start earning money from it.
As a classified site owner, part of your job will be to market and promote your site. On top of blogging, this could also range from paying for advertising, using social media, and even rolling out an automated welcome campaign to your email list.
If you don't already have an email list to promote your classified website to, email marketing is a great place to start. Did you know that more than 8 out of 10 people will open a welcome email?

Image Source: GetResponse
Whatever you do, you'll need to prioritize getting the word out there and promoting your site.
Be sure to check out our guide on how to market an online directory for detailed tips on promoting your classified site.
9. Keep Optimizing + Improving
Your website is a business, so you'll need to continually improve and optimize your classified ads site for success.
Connect with your community to ask questions. Find out what they love and give them more of it. And do it all automatically if you can. To automate your outreach, you can sync your classified site to your CRM.
Integration opportunities like this are just some of the reasons why having a tool that can help you create a classified site is so important. It costs a big chunk of change to pay someone to set up a classified website. And when you have to pay them to make any changes in the future to improve your site, the costs can really add up.
With eDirectory, you have tons of control to optimize your website and make it even better for yourself, your advertisers, and your visitors.
And no matter your industry, the more control you have of your classified website, the more control you'll have over the long-term success of your business.
Next Steps: Install eDirectory and Create Your Classified Website
So now that you know how to create a classified website, it's time to get started on your own.
If you're looking for the best tool to help you successfully launch and manage your classified website, try eDirectory. It lets your customers sell or list anything they'd like with expertly categorized, well-organized, and beautiful classifieds.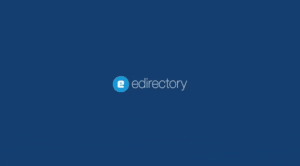 eDirectory is packed with features that will help you grow your classified site like:
Flexible Customization: Access a nearly ready-made classified website that you can customize to your heart's content, with detailed control over descriptions, photos, pricing, and contact information.
Professional Listings: Easily create gorgeous directory listings with images, video, and coupons inside a beginner-friendly and intuitive interface.
Classified Website Template: Offers a visual Listing Template editor to further customize your listings.
Social Media Integration: Connect with social media platforms for more exposure with social sharing links and a website Twitter feed.
Auto Renewal Reminders: Automate your payment collection process by notifying listing owners when it's time to renew.
Blog Module: An easy-to-use area that lets you create and manage content to drive traffic and sales to your classified site.
Interactive Map: Our Google Maps integration lets pins automatically appear as new listings are added.
Optimized Images: Let your listing owners upload a variety of gallery photos, plus use a built-in photo editor.
Membership Site Capabilities: Create member profiles and tap into the power of recurring payments by collecting repeating dues.
Banner Ad System: Earn money from banner space by selling it to advertisers and/or running Google Ads on your site.
SEO Optimized: Rise to the top of search engine rankings with built-in SEO control.
Awesome Support: A robust online knowledgebase plus access to a genuinely friendly and helpful team via chat or email.
…and much more.
With your dedicated classified site tool in hand, you'll be on your way to creating a classified ads site that earns you more revenue and grows your business.
So get started today.
Sign up for a free classified website demo today and create your eDirectory site right away.