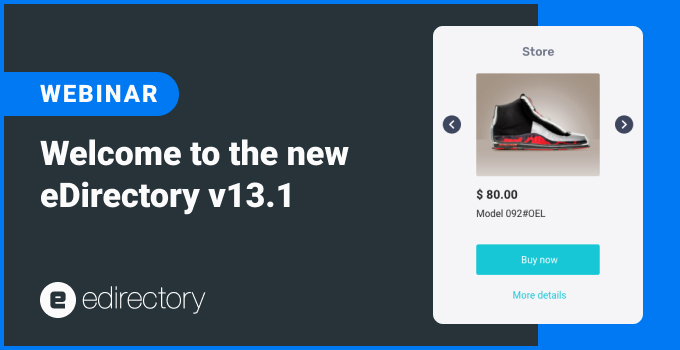 In this webinar, see the most important features of the all-new eDirectory V13.1. We're joined by Fernando Nascimento, eDirectory's product manager, who offered a comprehensive tour of everything you can achieve with the new version.
Further, we discussed in depth the new Marketplace widget – for Products and Services – which is a killer feature that enables advertisers to sell both products and services and to make appointments, through external links to their service of choice. Moreover, the online directory owner has the option to monetize this feature on the top listings level.
The Marketplace feature (as we call it) is something that can change the usability and the value proposition of your online directory, so it is highly recommended that you watch this webinar and take some time to read through our new blog articles on the new eDirectory V13.1 release and also the new eDirectory App.
So take your seat and enjoy this session with us!
Welcome to the new eDirectory V13.1
Useful links and tools mentioned in the webinar:
*We are not affiliated, associated, authorized, endorsed by, or in any way officially connected to the tools and sites mentioned in the webinar.

This session was recorded on April 13th, 2022.
Want more tips? Shoot us a note at marketing@eDirectory.com.