You've heard the buzz. More and more people are researching how to build a membership website.
Why? Membership websites can provide a great new source of recurring revenue, so it's no wonder they're exploding in popularity.
So then, which one of these are you?
1) It's all in my head: You have a really great idea for a membership website you want.
or…
2) I've got the content: You're a pro at something and already have a ton of content you'd like to monetize.
Whether you've only been thinking about doing it or you've already been building an online knowledge base, you're onto something big…
Because regardless of the path you walk now, starting a successful membership website has never been easier. 
Yes — running a successful membership site takes work, but luckily, there are some great tools out there to help you along the way (and give you access to amazing features you can use to grow your business online).
So in this article, we'll show you exactly what a membership website is, what it does, and how you can build one (no advanced technical skills required).
Ready to explore this ultimate guide to membership websites? Let's jump in.
What Is a Membership Website?
A membership website is a platform that offers exclusive content to members only. Usually, that content exists on the other end of a paywall.
Simply put, in exchange for signing up for the site, members can access gated content that's not available elsewhere. Only members can access and use the information you put "behind" your membership sign-up.
Pricing for a membership site can be free, paid, or tiered. Most notably, a membership website takes advantage of the booming subscription-based model of recurring revenue.
Meaning, site owners can expect to see repeated income. Which is extra enticing since 76% of businesses now look at subscription-based pricing as a way to improve their customer relationships and retention.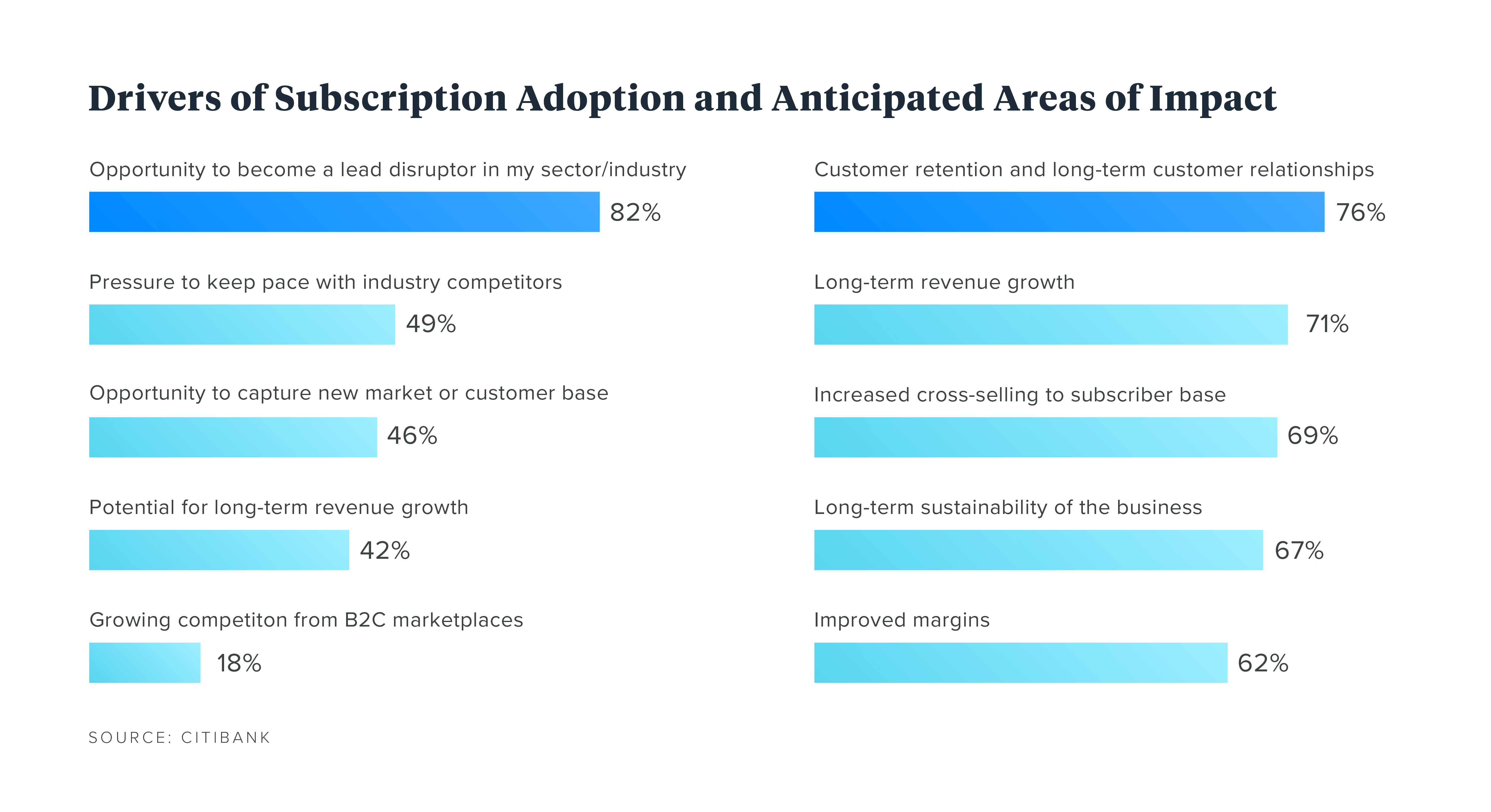 Sure, numbers like this are super exciting if you're just starting to learn how to build a membership site. However, it's important to point out that building this kind of website is no small task. Business owners who make money online through a successful membership site put a ton of work into it.
So, let's see how people end up making money with a successful membership site next.
How Membership Sites Make Money
It's likely you've heard about people making good money from running a membership website. And you may be thinking that income is just from repeating monthly or annual fees. In reality, many successful membership sites make money using a mix of different methods.
So now you're probably wondering…ok then, exactly how do membership sites make money?
Well, here are the main ways membership sites can earn money:
Membership Dues: Get recurring revenue month after month (or year after year) when people pay you to be a member of your site. This can be set up in tiers so the highest-priced plan should also include the most perks for your members.
Affiliate Sales: Collect revenue from sales you send to your affiliates. Insert affiliate links to partner products within your website content.
Google Ads: Make money from your web traffic by displaying 3rd-party advertisements in banner areas with Pay-per-Click advertising.
Selling Digital Products: Courses, guides, and other downloadable content that's valuable to others can be sold on your website. You can set up an eCommerce shop or bundle these products with specific membership plans.
Selling Directory Listings: If you're using a robust membership tool, you'll have access to other revenue-generating features like online directories and classifieds. Selling these listings to advertisers and sponsors can be a fantastic way to generate income.
As you can see, there's more than one way to make money using a membership site. And using a solid membership tool that offers features that support these revenue streams makes it much easier to tap into these different ways to generate income from your website.
WordPress Plugin vs Dedicated Membership Tool
When you're learning how to build a membership site, you'll see there are WordPress membership plugins that developers install and use to give normal website membership capabilities.
Some people look up how to build a membership website with WordPress and dive right in, trying to do everything at once and all by themselves. This could cost months of time setting up a DIY website and configuring a WordPress plugin. And after it's up and running, many people realize they simply don't have the time or energy it takes to continue to build every feature their membership site needs.
Because for the average business owner, installing, setting up, and maintaining a made-from-scratch website plus a membership plugin can be very time-consuming and not beginner-friendly.
For those that plan their membership site, use a dedicated membership site tool like eDirectory, and stay committed, the possibilities for growth can be astounding. This dedicated membership site tool offers everything you need to launch and grow a successful membership and online directory website like a blogging system, banner advertisements, online recurring payments, and more.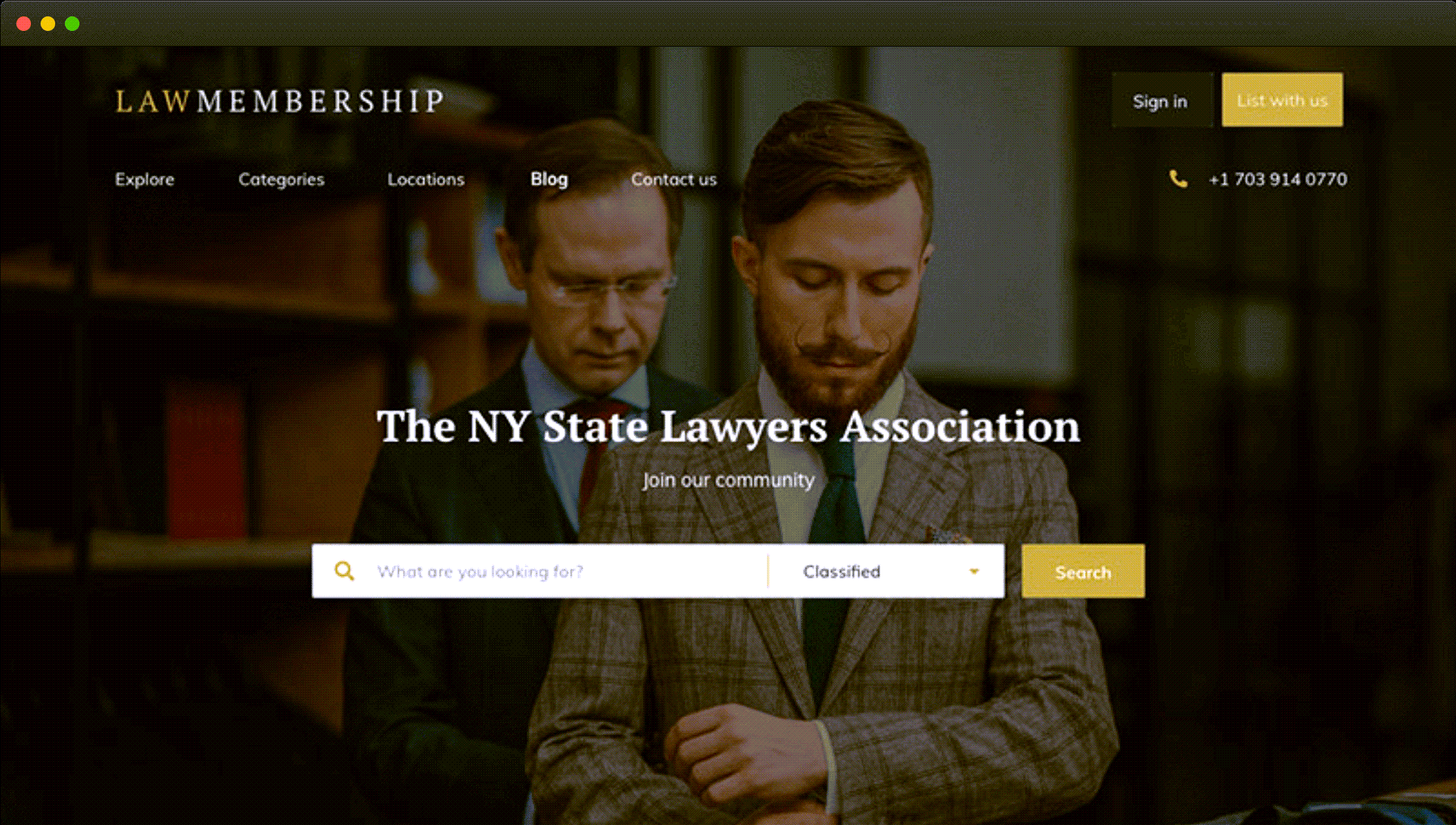 If you're serious about setting up a successful membership site and looking for a one-stop solution, a dedicated membership tool is the way to go.
So now that you know why people prefer dedicated membership tools over DIY solutions like WordPress membership plugins, let's cover exactly how to build a membership website.
How to Build a Membership Website
When you're ready to make your own membership website, follow these easy steps to get it up and running in no time.
1. Determine Your Industry
When you're first learning how to create a membership program, it can feel overwhelming. Luckily, this step is not only fun, but it will also help clear a path for where your website is headed.
The very first thing you'll want to do to build a membership website is to pick your niche.
You may already have an online presence that you want to monetize, like a blog or podcast. In that case, you've already carved out your niche.
If not, some great membership website ideas can include (but are not limited to):
Niche online business directories.
Specialized gated content like stock photos, how-to's, recipes, etc.
Local classified listings.
Event calendars for specific interests and groups.
…and a lot more.
So, what do you know a lot about? What are you passionate about? The answers to these questions can help inspire ideas for your membership website.
2. Choose the Right Membership Tool
Next up, you'll want to sign up for eDirectory. Using a dedicated membership tool is the best way to easily build and manage your website (plus access features that let you generate additional income.)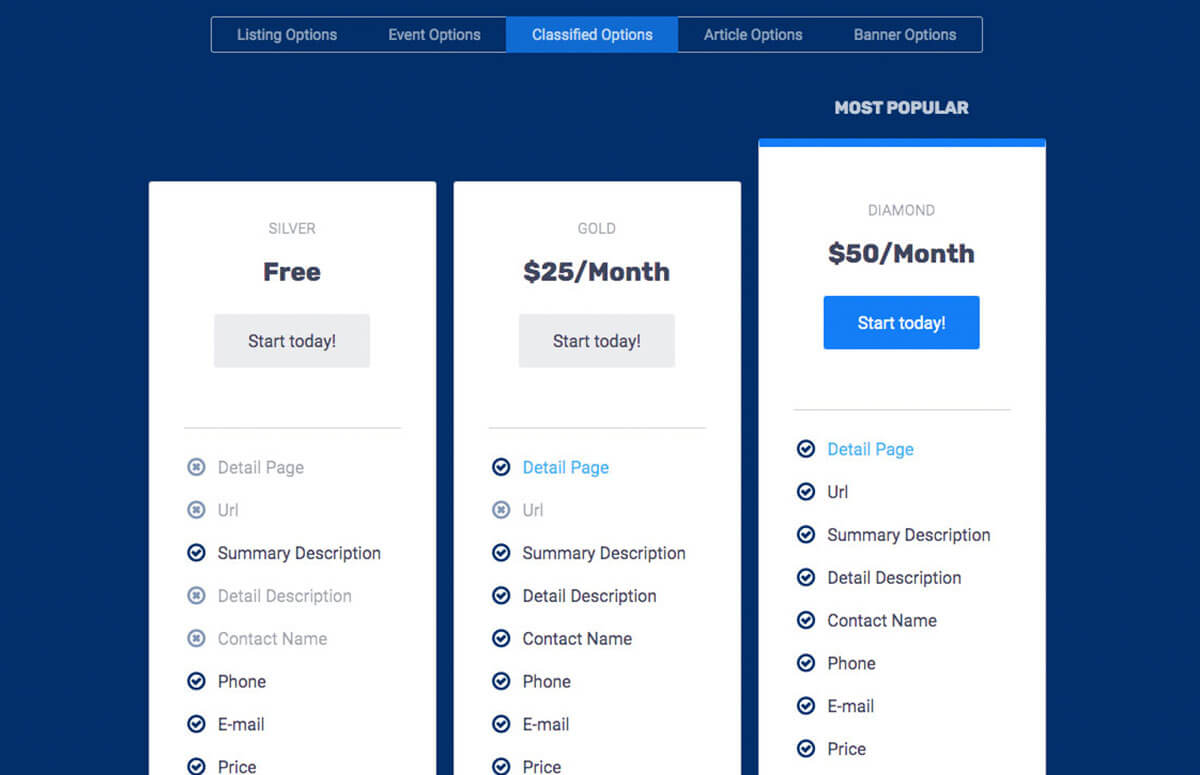 And unlike a WordPress membership site, eDirectory is a cloud solution that provides everything you need to build a raving online community (and without all the hassle).
After you've got your membership tool up and running, you'll want to set up your payment gateways.
3. Set Up Payment Methods
Accepting secure credit card and PayPal payments over your website is a must for a successful membership site. Plus, you need a way to get paid.
So, the next step to setting up your membership website is to configure your payment methods. You'll have many payment service provider options to choose from.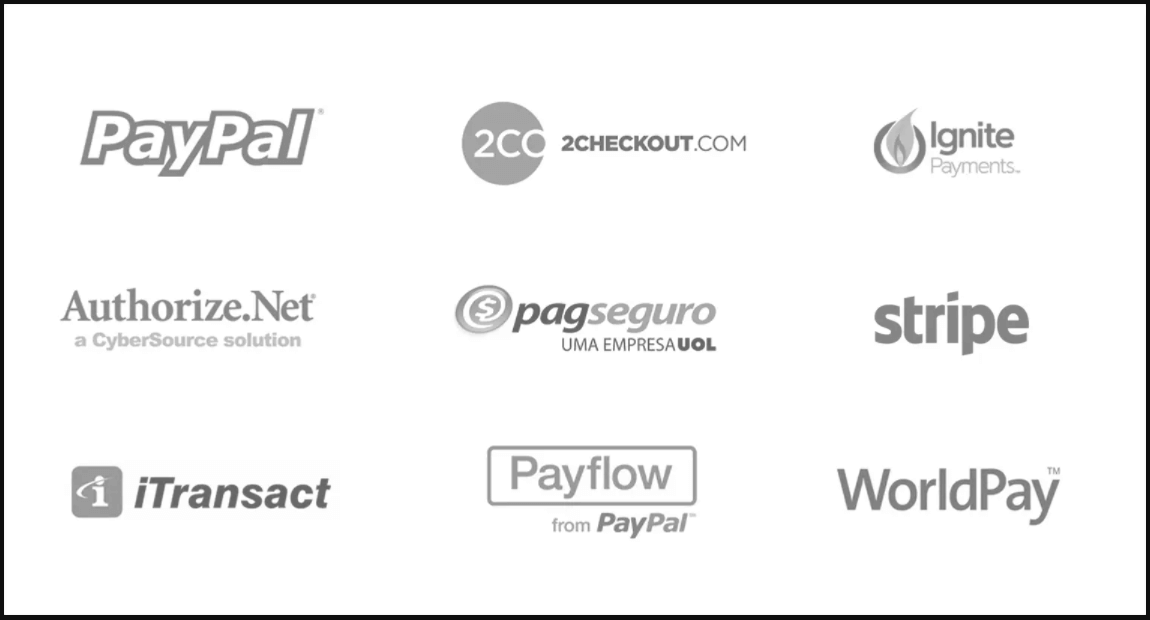 If you don't already have one, you'll need to set up an account with your preferred payment solution. Then, you can connect your account through your membership website.
To do so, simply head to Settings > Manage Levels & Pricing > Payment Gateways.

Once you've connected your payment provider(s) details, you'll be ready to set up and customize each membership level that you offer.
4. Build Your Membership Levels
The next thing you need to do is determine the cost and features of each one of your membership levels.
Not sure what to charge? We recommended starting with a free membership level with some features included. Free members get to use your software and are a great place to find paying customers since they're already familiar with your brand and software.
After your free level is set up, you'll need to decide what you'll include with each one of your paid membership levels.
Because eDirectory is a leader in online business directories, you'll find a lot of options to really fine-tune what your members can and can't do.
You can offer different features within:
Listings
Events
Classifieds
Banners
Articles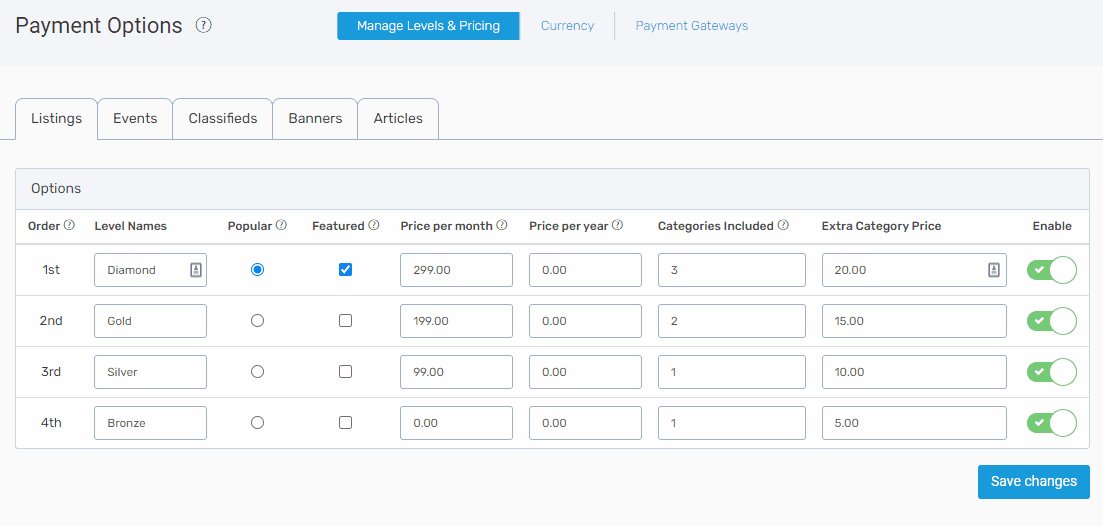 Just remember to save the most impactful features for your highest plan so people will want to sign up.
And don't stress about which features and pricing to go with. It's easy to return to this area and adjust your membership level offerings whenever you need to as your business grows and your members' needs change.
5. Populate Your Listings
Now that your membership plans are built, it's time to populate your directory listings. This is an important step because you'll want to show leads what they can expect when they sign up as a member with you. That's nearly impossible to do if you can't visually explain it.
So, you'll need to create some listings, by hand or by importing them.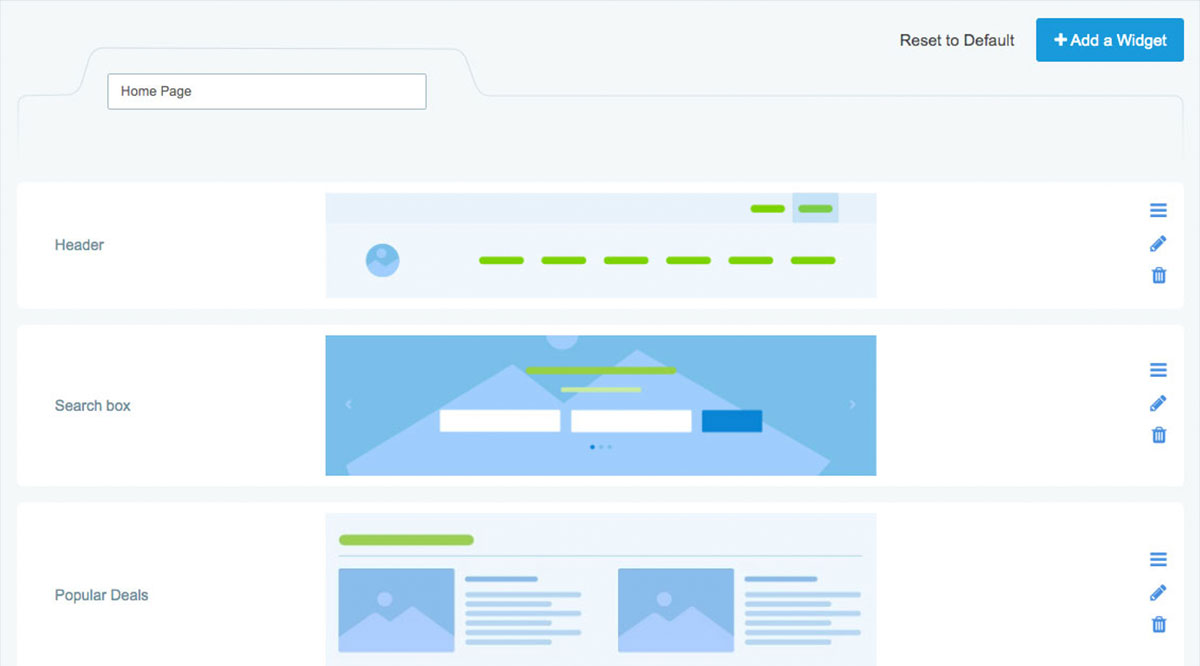 During this step, you'll want to customize your listing layout to match your membership website. There are many configuration options, so pick the one you like the most and keep populating your listings.
6. Create Members-Only Content 
The next step to build a membership website is to create members-only content. The psychological phenomenon known as FOMO (Fear Of Missing Out) can really drive sales, so locking gated content behind a paywall can be a great business decision.
This can look different for everyone since no one membership website is the same.
You may be an expert at succulent care and have tons of helpful guides already published. Compiling this content into an organized course or workbook is a great way to source members-only content for your website.
If you don't already have a blog, or if it aligns better with your business model, these are some popular ways to create some members-only content:
Business Directory: From local business directories to niche hobbyist groups, people are willing to pay to access listings specific to what they're interested in. 
Classified Ads: If you're using classifieds on your site, only letting paid members post ads is a great way to earn new recurring subscriptions. Just make sure to populate your ads just like you've populated your listings in the previous step.
Event Calendar: Only allow members to post to a public event calendar. Alternatively, set it up so only members can view the events.
Offer Services: Access to coaching calls, pre-recorded webinars, or courses.
Offer Goods: Creatives can give members access to things like custom social media graphic templates or stylized stock images.
…and anything else you can think of that may have value to someone. But to start, these are excellent sources of members-only content you can create quickly and easily.
7. Promote Your Membership Site
Next, you need to promote and market your membership website.
This is an extremely important step because, after all that hard work, you want to make sure people are coming to your website.
Head to the Blog Module in eDirectory and start writing posts around keywords related to your membership website and your intended audience. Find out your ideal customer, what they need, and how they search for it.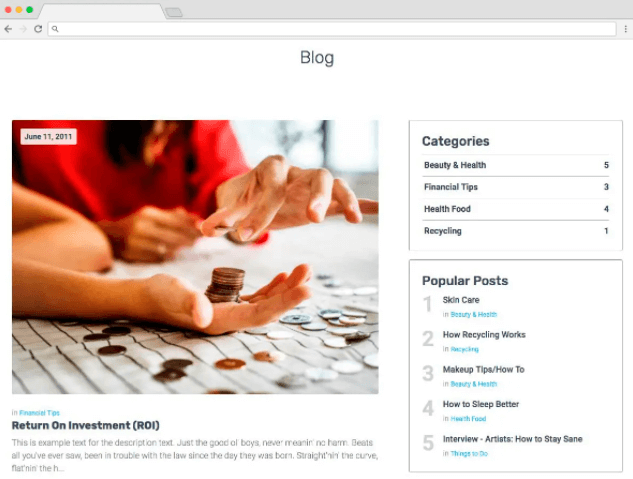 The easy-to-use and SEO-optimized Blog Module lets you create, monitor, and optimize your content in just a few clicks.
And if you're planning on making money through affiliate sales, you'll also find an option to seamlessly insert your links within your content.
On top of SEO blogging, you might also want to consider these popular website promotion methods:
Pay-per-Click Advertising (PPC): Pay for Google Ads advertising on specific, related keywords.
Take Advantage of Social: Create (and stick to) a social media posting schedule.
Email Marketing: Build an email list by collecting addresses on your site then promoting to those leads (great for returning traffic and high conversions).
Word of Mouth: In this digital world, website owners often forget how impactful telling other people about your membership site can be. This is especially important for online communities that are locally based, like a business directory.
There are a lot of ways to promote your membership site, but these are all very popular places to start. For more, make sure to head over to our article on how to market an online directory where we've laid out some detailed tips for powerful website promotion.
8. Keep Improving Your Membership Site
For any business to succeed, you'll need to make sure to continually improve. If you notice something isn't working right on your site, jump in and fix it. If you get feedback from an advertiser about a feature request, see if you can provide it. Make the customer experience pleasant and you'll likely see members who stay subscribed for the long haul.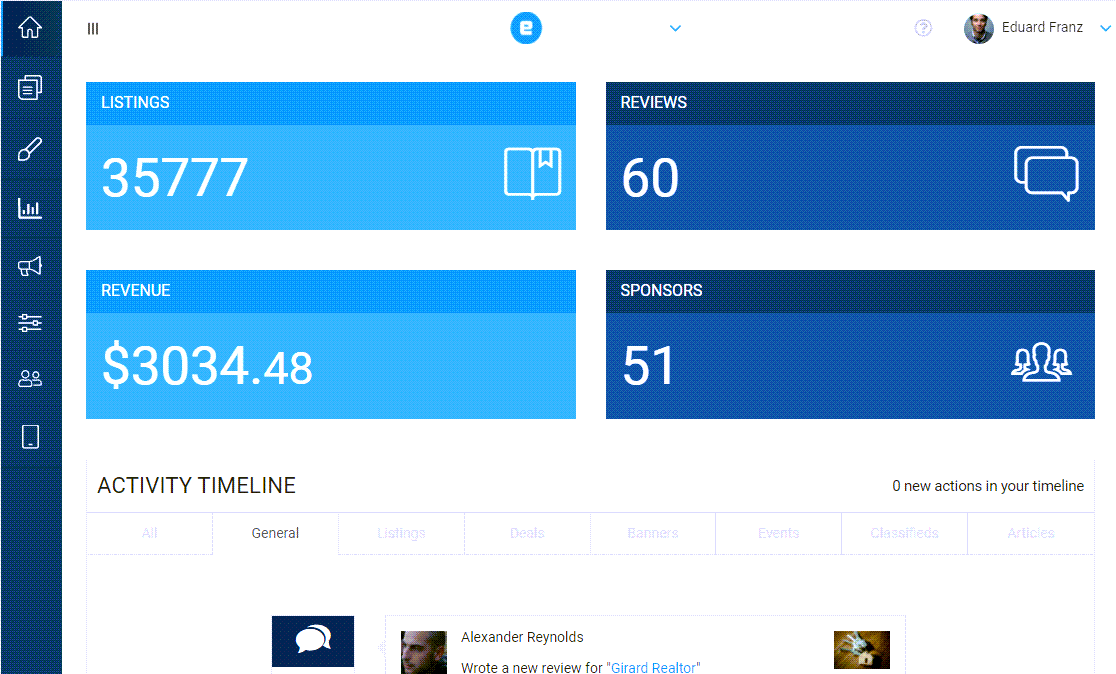 The great thing about easy-to-use membership website platforms is that whenever you see an area for improvement, you can jump right into your site and change it. And if you're not sure how, reach out to us for help.
With eDirectory, you get access to a helpful support team ready to help you make your membership website a success.
Create a Membership Site with eDirectory 
Now that you know how to build a membership website, your next step is to launch yours using eDirectory. This feature-rich tool lets you build and manage a customized membership directory to meet your business goals and drive growth.
With eDirectory, your membership site can:
Collect Member Dues: Generate recurring revenue from membership fees.
Let Members Login: Display an easy-to-use login area for your members to access and manage their own account information.
Sell Directory Listings: Allow people and/or businesses to create listings, and automatically turn them into member profiles.
Featured Listings: Sell featured directory spots with a repeating revenue model.
Integrate with Social Media: Display your Twitter feed on your website, plus encourage members to share your brand across popular social platforms.
Use Classified Ads: Offer your members different capabilities inside of classified listings based on membership levels, driving sales to your higher plans.
Social Media Integration: Connect with social media platforms for more exposure with social sharing links and a website Twitter feed.
Grow with Content: Access the Blog Module to create and manage SEO-optimized content that brings you the right kind of traffic.
Earn Money from Ads: Easily Insert Google Ads into banner space on your site or even sell the space to members with a powerful Banner Ad System.
List Events: Encourage a sense of community among members by letting them create recurring or one-time event listings, complete with a Google Maps integration.
…and more.
So if you're wanting to build a successful membership website that's easy to manage and gives you access to the power of online directories, eDirectory is a fantastic choice.
Asking yourself how can I create a membership website for free? Don't wait, sign up for a free eDirectory demo today.