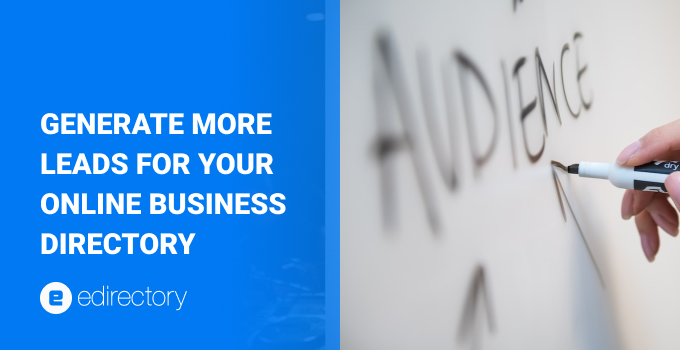 If you are the owner of an online business directory or a classified ads portal and you still don't use a lead generation strategy in your business, you may be missing out on sales opportunities. Lead generation is vital for any business looking to attract new users and consumers to their products and services.
Typically, this strategy involves the implementation of digital marketing campaigns, which include the production of content aimed at attracting potential customers and visitors.
There are ways to boost those results by driving more leads to your website and converting them into advertisers, but you must ensure your website is running smoothly and has all the tools you need to capture these visitors' information, like forms and pop-ups (newsletters, discount offerings) and rich content marketing material in general.
This article delves into more detail about how to do this effectively. So, keep reading to learn how to generate leads through an online business directory!
First of all: what are leads?
It is crucial to understand what a lead is before discussing the strategy itself, in order to put the strategy into practice and achieve the desired results.
Leads are people who have shown genuine interest in a niche or business topic after searching online. Users provide some information about themselves in exchange for valuable content, information, or something else that adds value to their search.
This information can be the name, phone number, e-mail, or any other data required by the company in exchange for this rich material, which can be an e-book, access to an exclusive webinar, a free trial for some service, a video course, a spreadsheet, etc.
Having this exchange opens up a new business opportunity for the company, which puts them into its sales funnel. A sales funnel consists of a few steps that a user takes until actually purchasing a product or service.
Thus, a lead management strategy is essential if you want to qualify users and convert them into customers in the future. This is because they represent the beginning of the journey that this customer must take to reach the goal of buying the product or service.
So why generate leads with an online business directory?
Developing a lead generation and management strategy through the creation of organic content requires a good understanding of the target audience and buyer persona on the part of the company. This means that it is necessary to understand precisely who the ideal potential customer is and what the company can offer them to convert them into subscribers.
When you have an online business directory, lead generation is made easier since the companies listed on the website are already well segmented with crucial information like location, company size, niche, etc., and even more detailed information that is not easily achieved.
On the other hand, an advertiser that uses the right strategies to stand out in a classifieds portal can attract many more users and convert them into customers. 
And remember that, as an online directory owner, you must, of course, generate leads for your business as well as for your sponsor's businesses, as this is how you keep your user base engaged for as long as possible, while you earn the revenue on their ongoing subscriptions as well selling leads for them.
How to generate leads for your online directory
There are several ways of putting this strategy into practice. We've compiled a list of the most relevant ones for owners of online business directories.
Some of them are Digital Marketing strategies such as paid traffic (see Google Ads, Bing Ads, and Facebook Ads), and the production of organic content for blogs or local advertisements in your neighborhood or city.
On Pay Per Click campaigns (or PPC), be aware that you will need some familiarity with tools such as Google Ads, and that you need to invest money on these platforms in order to appear on sites like Google and social media platforms such as Facebook, Instagram, Tik Tok, Twitter.
In order to succeed and maximize your ROI (return on investment), it is crucial to understand who your target audience is so that your brand is seen by as many people as possible.
Another good strategy is to team up with local marketing and sales agencies to endorse your product, offer discounts on yearly plans, and special campaigns on social media. Take advantage of bigger portals or profiles that you believe you could benefit from and leverage their audience.
With eDirectory, you can create blog articles and produce strategic content or open a space for paid ads through banners. The more strategic and optimized your planning is, the more qualified leads you will generate.

Generating leads for your advertisers (sponsors)
The key to keeping your online business directory, membership website, or classified ads site financially healthy is via recurring revenue. This is a business model that benefits greatly from this type of monetization because it works on monthly or yearly subscription plans. 
But your advertisers can benefit from it too since an online directory with great quantity and excellent quality traffic is a source of incoming leads to its sponsors. That means that the visitors of these kinds of websites are already far ahead in their buying journey since they are looking for suppliers or services to solve a specific need. 
Be sure to offer the tools your sponsors need to collect these leads and they will see great value on your website. Keep them wanting more by investing in good content and traffic campaigns for your online directory.
Ways to generate leads for advertisers are:
When the advertiser creates a lead form on their listing and a visitor fills in their name and email

, becomi

ng a lead.

When the advertiser creates a direct contact button or another form of direct communication, such as a phone number in the ad, and the visitor clicks on it, a lead is generated.
These features allow the online business directory owner to collect leads and offer them to advertisers in the way that makes the most sense for the business guide owner's strategy.
Generate additional revenue by selling leads to advertisers
With eDirectory, you can use the Advanced Lead Distribution plugin to generate an additional revenue stream by selling qualified leads to your advertisers. With eDirectory, you can create different levels for your advertisers depending on the subscription level.
This way, you will be able to set the specific amount of free leads your customers will be able to receive and distribute them accordingly. So, to get more leads, advertisers will be able to buy extra leads and you will get additional income by offering this feature to your subscribers.
The Advanced Lead Distribution plugin helps streamline this process and qualify leads for advertisers, who can then convert more users into customers.
Reach leads targeted to your niche
Content Marketing is a powerful strategy when it comes to an online business guide. Sites of this type, combined with Content Marketing strategies, are essential for ranking in search engines such as Google and, consequently, for capturing leads targeted to your niche.
Through the production of strategic pieces in different content formats, it is possible to help search engines to find and target your commercial guide site more easily. Some ways to do this are through blog articles, keyword usage, videos, optimization plugins, etc.
Indexing and optimizing your page is one of the ways to reach targeted leads in your niche and turn them into advertisers in the future.
eDirectory provides the tools necessary to make this happen and maximize lead generation results.
Generate leads through good user reviews
Another way to improve this process is by getting good reviews. By gaining positive reviews, it is natural for advertisers to generate more qualified leads, as they build trust and credibility in the company's work.
In addition, advertisers with good ratings may be better ranked in the online business guide, increasing reach and consequently generating more leads.
This strategy mainly provides for good content planning, which aims to rank relevant keywords that will attract potential customers to the company.
In addition to, of course, good services offered that bring social proof and credibility to companies. The page that details the advertiser (company) also has a resource to improve lead capture: lead generation resources.
This tool made available by the eDirectory software offers the option to add quick forms on the advertiser's detail page, taking the user into direct contact with the business in which he has an interest. Moreover, you can offer the advertiser the option to be able to reply to reviews, creating more engagement with their audience.
Prepare your online business guide to generate leads
When using eDirectory, you will have an integrated platform that has lead generation and management tools such as:
Create custom lead forms directly from the site manager;

Use data analysis tools (such as Google Analytics);

Use plugins to generate additional revenue by selling leads to advertisers;

Develop a Content Marketing strategy to rank the commercial guide in search engines, among other resources.

It's easy to use eDirectory for lead generation purposes, and you can

request a free demo

directly through our website.
Wrapping Up
Generating leads through an online business directory is a must to make your website profitable and attract new customers, and sell their products and services to customers more aligned with the business.
So, investing in dedicated software for creating online directories that offer the best of both worlds – a place that collects qualified leads and a selection of companies that want to advertise their quality services to potential customers – is critical.
Lead generation is one of the first steps in the user's buying journey and, the more qualified that lead is, the more chances of conversion (and possibly sales) the business will have. Therefore, using the right resources is essential to provide satisfactory results and enhance online commercial guide management strategies.
eDirectory is that tool, a fully integrated platform that has the resources you need to leverage lead generation with an online business directory with ease.