How to populate your online directory is one of the most common questions for new and existing directories. Data is the most valuable asset of directory-based websites.
In this Webinar with our CEO James Chubb, learn more about how to populate your online directory with good and quality curated data, software for data scraping, list brokers, and best practices on listing management.
For more information on how to populate your online directory, please visit the article below, which also brings information and links to the Octoparse freemium tool and a few list brokers mentioned in the webinar.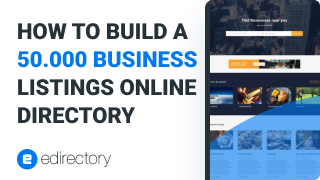 This session took place on December 1st, 2021.
Watch the past webinars here.
Want more tips for building a successful home page? Shoot us a note at marketing@eDirectory.com and join our Facebook Group.
Check our webinar schedule at https://www.edirectory.com/webinars/.