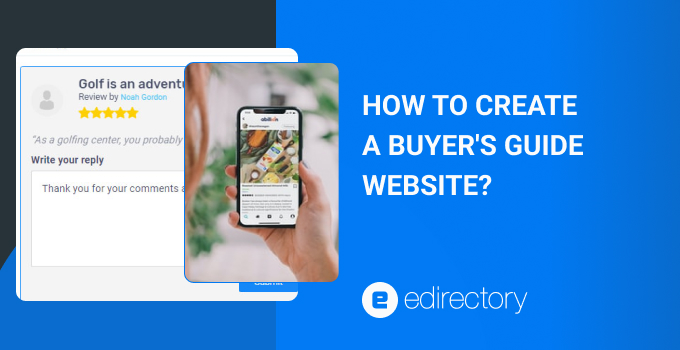 How to Create a Buyer's Guide Website?
Buyers' guide websites are essential for providing information plus reviews for customers to make informed decisions prior to the purchase. The objective of this category of online business directory is to provide detailed information about products, software, and services.
A good buyer's guide should also include reviews from real customers who have purchased the product, providing a basis for other users to make an informed decision based on their experiences.
As a result, the added information will help users find the products they want and increase the conversions on your buyer's guide website. 
When a customer searches for a specific product, they want to know why one product fits their needs better than another. Think about choosing software for web development. There are some tools you know you need. However, through a buyers' guide, you might find that the software of interest requires even more features. The added information about the product will show how your product can solve your users' problems.
Throughout this article, you will learn how to create a killer buyer's guide website and the best platform to start your project. Let's get started!
Topics covered in this article

What is a buyer's guide website?

Why is creating a Buyer's Guide website so Important?

Popular types of buyer's guide websites

Create a Buyer's Guide Website with eDirectory

Conclusion
What is a Buyer's Guide Website?
You may be asking yourself what is a buyer's guide. A buyer's guide is designed to streamline purchasing by supplying all the necessary data about a determined product, service, or company. Customers should be able to access a clear message about a product with a simple click. 
The purpose of a buyer's guide website should be to increase the user's confidence before making a purchase. It doesn't matter if you are simply showcasing products and services or if you are also promoting your own affiliate links. The most important thing here is to provide trustful content, especially through user reviews.
Why is creating a Buyer's Guide website so Important?
In this topic, we will cover four points to explain the importance of creating a buyer's guide website. As mentioned above, we learned that educated customers become well-reasoned customers. These users are not just browsers; they are people who want to get the best product facts. Buying guides are essential as they help consumers with valuable content and maximum sales potential. They should include product specifications, and customer reviews to help customers make an informed decision.
Keep your Audience Well Informed
Imagine you are looking to purchase a new smartphone, a laptop, or even a new marketing software for your company. Where do you start your search? Probably going to Google to find the reviews and opinions from people who actually have purchased and used the product you're looking for. 
The same goes for everyone else searching for any kind of product on the web, and here's where creating a buyer's guide website can be very interesting. Focus on your area of activity and offer comprehensive reviews based on user-generated content. People tend to trust other people's experiences.
Remember: social proof drives sales and well-informed customers and around 90% of online shoppers read at least one review before making a purchase.
When shoppers decide what to buy, they will look at search engines like Google and Bing, or even Amazon. All of these websites index and rank content (products) differently. However, all algorithms value original content, and customer reviews feed the search engine website which can be translated to a better ranking of your buyer's guide website to surface among the results on the SERP (search engine results page).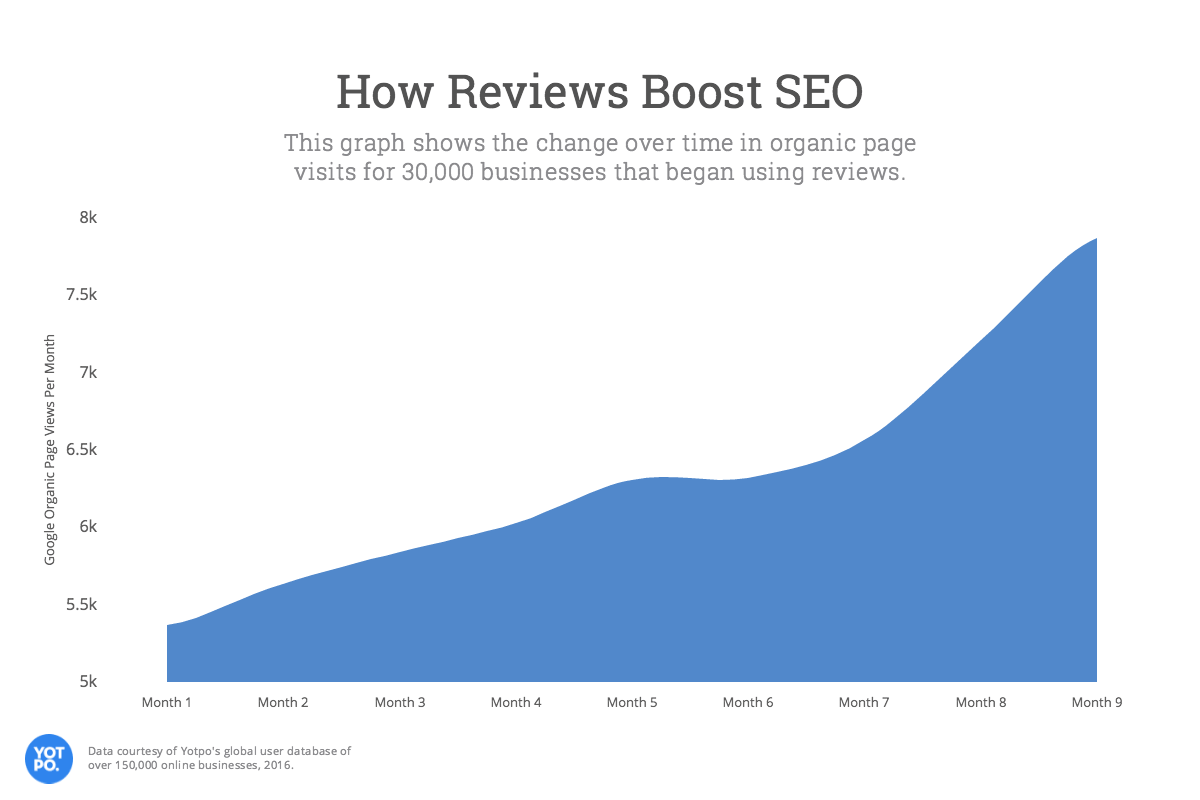 source: https://www.yotpo.com/blog/reviews-seo
Sixty-three percent of all shopping starts online. If your optimized guide's visibility increases for particular search terms, you can drive more traffic to your site. For that to happen you will need to work on content first, be sure to go after sponsors that will advertise on your buying guide website, make sure to include all the products that are relevant to your niche, and take advantage of keyword tools such as SEMrush, Ubersuggest or Google Keyword Planner to understand what are the search terms used by shoppers when looking for product reviews and make sure to incorporate these keywords to the results page and product pages of your buyer's guide website.
For example, Shopper Approved and G2 rank highly on search engines for gathering user-generated content in the form of reviews, demonstrating how reviews are a powerful form of customer content that boosts organic traffic.
Increase your conversions
Through SEO or paid ads, your buying guide website is likely to gain traffic as well as rank higher in search engine results. Once you've generated enough traffic, you need to convert that traffic into leads. This is what we'll call conversions.
Your audience's purchasing patterns can vary as new trends emerge. You may uncover new customer groups as you research your buyer's guide. Remain flexible and acclimate to the facts you discover. It'll help you create more compelling content that drives sales.
 Take Advantage of User-Generated Content (UGC)
One of the top benefits of user-generated content is that it serves as excellent social proof. Seeing content from real customers increases the advertiser's credibility and brings their brand's promises into perspective. In addition, people trust user-generated content over most other types of review content. Therefore, incorporating user-generated content will enhance the trustworthiness of your buyer's guide website.
Consumers have different reasons for wanting to try a product, and UGC can play an important role in this decision. Numbers are very clear about the impact UGC has on them, more specifically, UGC increases conversion rates 85% better than other content types. 
A recent study from Harvard Business School found out that the more stars a brand or product has on Yelp, there is a boost of 5% to 9% in sales and lead generation. eDirectory is prepared to receive UGC in the form of reviews and stars that will be displayed for other users to read and make informed decisions.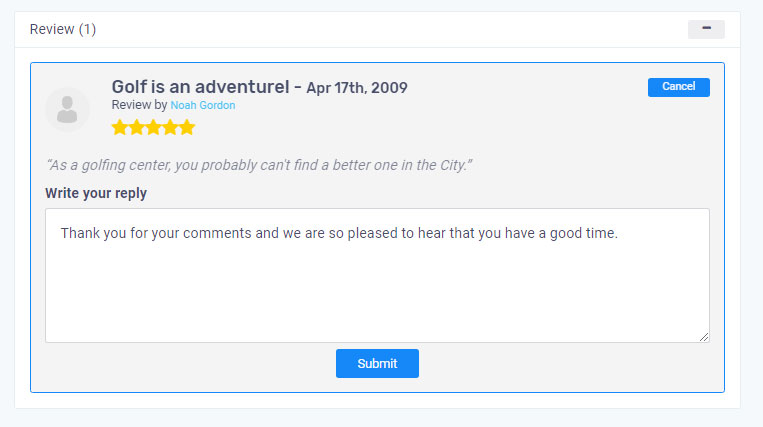 source: www.edirectory.com
Popular types of buyer's guide websites
Here are a few buyer's guide websites you could take as inspiration for your own project. 
Capterra


The

Capterra

online marketplace acts as an intermediary between technology buyers and suppliers within the software industry. Here, users can read other users' opinions on a vast variety of software and online products to make an informed purchase decision. This is a classic buyer's guide website that relies on UGC to take inspiration.

Software Advice


In more than 300 market categories,

Software Advice

provides consulting, research, and user analysis services on software applications. Similar to what we see on Capterra, but with

 Business intelligence, marketing automation, CRM, HR, and construction are a few of them.

Glass Door


In addition to being a web-based review company for job boards,

Glass Door

is another kind of review website, where you don't actually buy anything, but rather, get the opinions of actual employees about companies, jobs, salaries, and other work-related matters. Just to illustrate what types of buyer's guide websites you can build with

eDirectory

.
Create a Buyer's Guide Website with eDirectory
Now that you understand how effective a good buyer's guide website can be, it's time to choose the right platform to build your own. eDirectory is a software where you can easily build classified ads sites, online directories, events guides, and, of course, buyer's guides and review websites.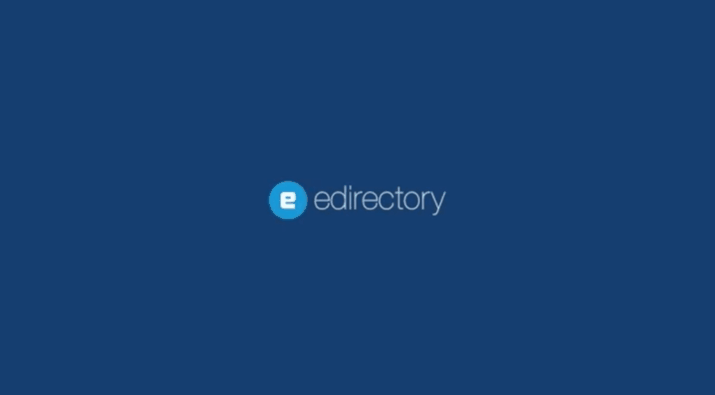 With eDirectory, you can take your idea from scratch to the finished product easily. With its intuitive drag-and-drop page editor, you can quickly create pages and insert widgets for anything you need. Your sponsors will benefit from eDirectory's powerful categories and subcategories, as well as flexible listing templates that let you completely customize the layout and features of the listing for each level of subscribers. 
Quick steps to create a buyer's guide website with eDirectory
Sign up and create your account in eDirectory
First things first, go to edirectory.com and sign up for a free guided demo. As your first contact with the platform, you will have access to the site manager back panel. For a complete understanding of what eDirectory can do for you to create a great buyer's guide, we recommend you try the demo first!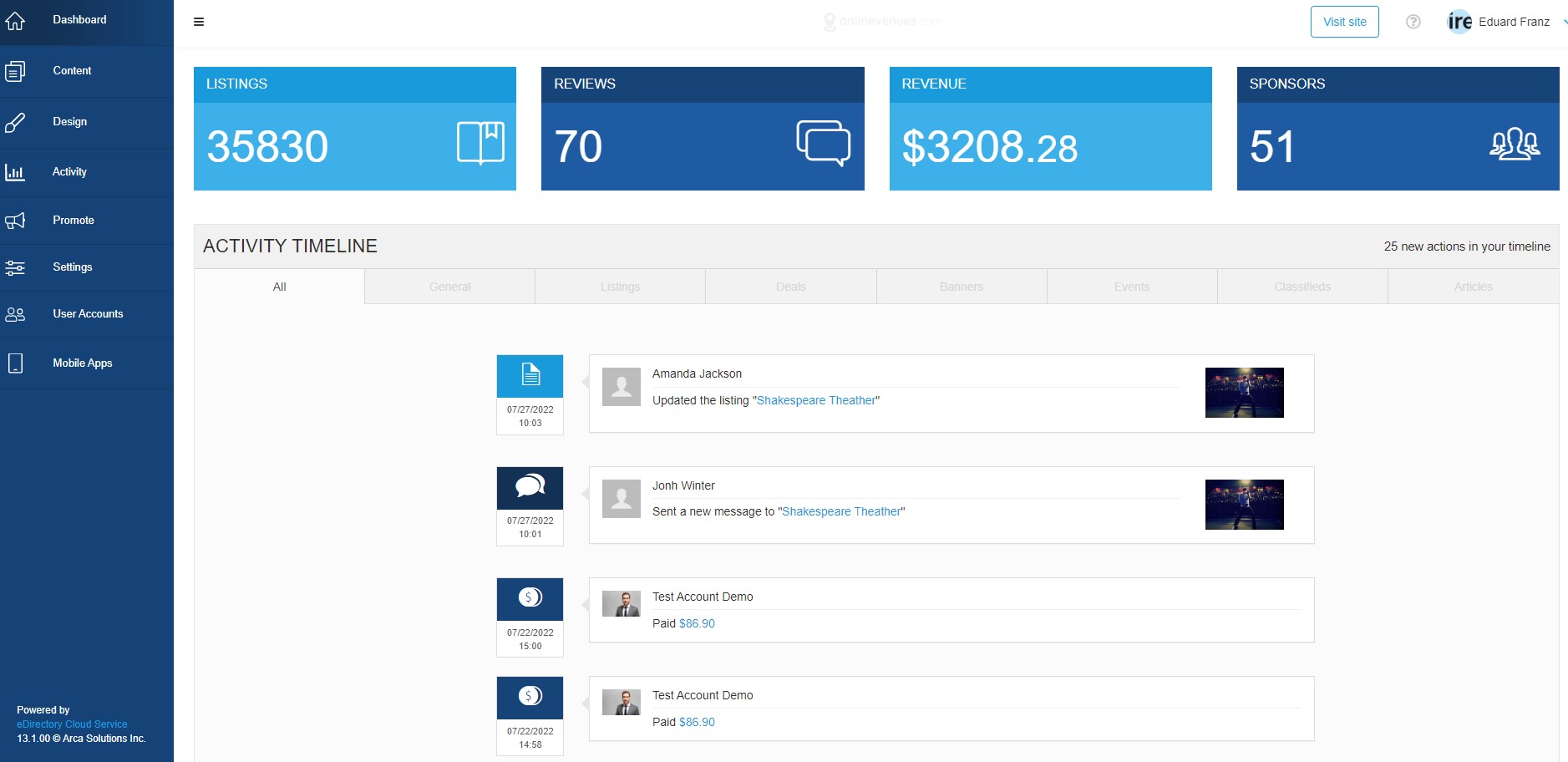 Here you'll manage your buyer's guide, create listings, moderate reviews, create categories, design new and existing pages, etc.
Select your target location
You can set up your buyer's guide websites in any location you'd like, no matter if they're local, regional or national. When offering local deals or classifieds, as well as for SEO purposes, this is quite important. Make sure you select your time zone and the language in which you want your dashboard and website to be displayed.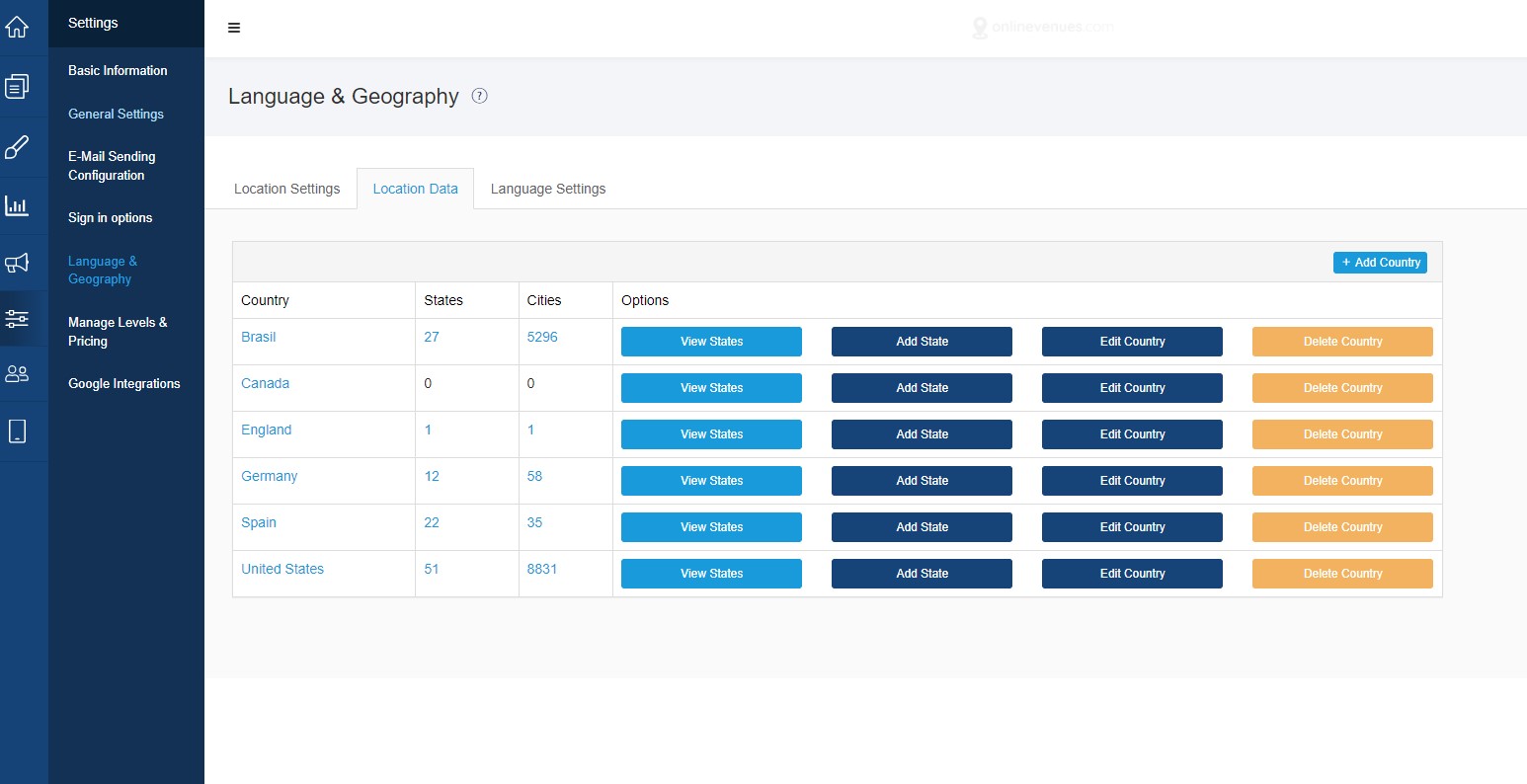 Adding categories and subcategories
Depending on the niche of your Buyer's Guide website, you will have different categories. If your business is focused on food and restaurants, it is most likely that your website will have categories related to it. Creating categories in eDirectory is quick and easy, you will find the categories feature inside Content > Listings, and then click on categories. Create as many categories as you need with up to 9 subcategories.

Import your first products or business
Now that you've created your categories, you can import your products or services. In the initial stages of your buyer's guide website, you can either register all items individually (which can be a time-consuming task) or use bulk imports to expedite the process.
On the Content tab, click the Import option and then click Listings. You can upload your CSV or XLS spreadsheet file and follow the instructions. This will only take a few seconds, as you'll be asked to match the fields on your spreadsheet and that's it.

Connect your domain name and spread the word
Lastly, don't forget to set up your new domain name using your favorite platform, and don't worry about the SSL certificate and hosting, as it comes included in every eDirectory plan. If you want to self-host your buyer's guide in another service, go ahead as this is also an option.
Don't forget to set up the Google services like Maps, Analytics, and Tag Manager. 
Once your buyer's guide is live, is time to promote it and spread the word about your service. Remember that Google loves good and unique content, and buyer's guides are an excellent source of UGC, so leverage this strategy. Go after partnerships with local brands or suppliers, offer them exposure or free premium subscriptions for a couple of months, investing in paid advertising on social media and PPC (pay per click) campaigns. You'll very likely drive way more traffic and attract new sponsors.
Wrapping up
The purpose of this article was to demonstrate what could be accomplished with a buyer's guide website. Additionally, it allows users to generate content, making it a reliable source of information for people to make informed decisions. This makes it not only a great business model for recurring revenues but also one that encourages user-generated content. 
Your buyer's guide website can cater to any niche, not only tech products and services. There are review-based websites for everything, like jobs, food and restaurants, cars, games, apps, events, lawyers, dentists, and doctors. It truly fits every industry.
If you want to create a powerful and easy-to-manage buyer's guide website, Directory is your best choice. Don't wait, sign up for a free eDirectory demo today.