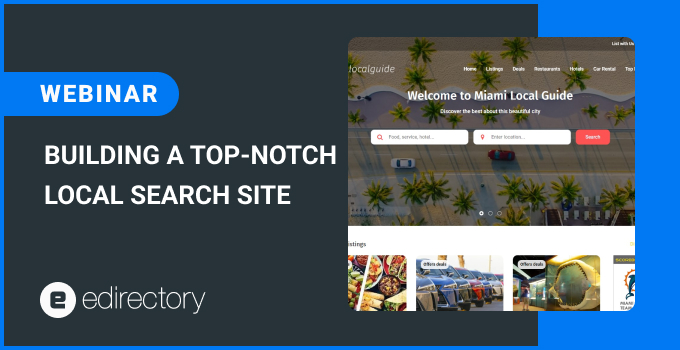 Creating a local search site will help you unite your community around the best businesses and services offered in your town – with the added benefit of being able to generate recurring revenue.
Make sure you include as much content as you can, with both breadth and depth: e.g. as many listings, services, and classifieds as possible, and depth, which is how strong your listing's content is, with comprehensive descriptions, very good photos, a video, features, hours, map, social media feeds, and so on.
If you happen to live in a big city, the quantity of content you can find might be overwhelming, so curation is the key to having a relevant local search site. Members (and new users) are drawn to content that is well-done and informative.
Define your target such as residents, tourists, and retirees so you can include relevant content for each one of these audiences. They will have different interests and will look for a variety of services and products on your website. Make sure to work keywords and SEO in your listings so your local search site can be ranked on search engines like Google.
In this week's webinar, we went through the best practices and strategies to launch your own local search site with eDirectory including strategy and a hands-on demonstration. Enjoy this session.
Building a top-notch Local Search Site
Useful links and tools mentioned in the webinar:
*We are not affiliated, associated, authorized, endorsed by, or in any way officially connected to the tools and sites mentioned in the webinar.
This session was recorded on October 5th, 2022.
Want more tips? Shoot us a note at marketing@eDirectory.com.