eDirectory vs WordPress Directory Plugin
5 reasons why eDirectory crushes WORDPRESS
As you begin to plan and research creating and building a profitable online directory, you will find that there are a few options for you and may wonder – 'what is the best solution for me?'
If you are contemplating using WordPress directory plugin, there are some pros and cons to consider.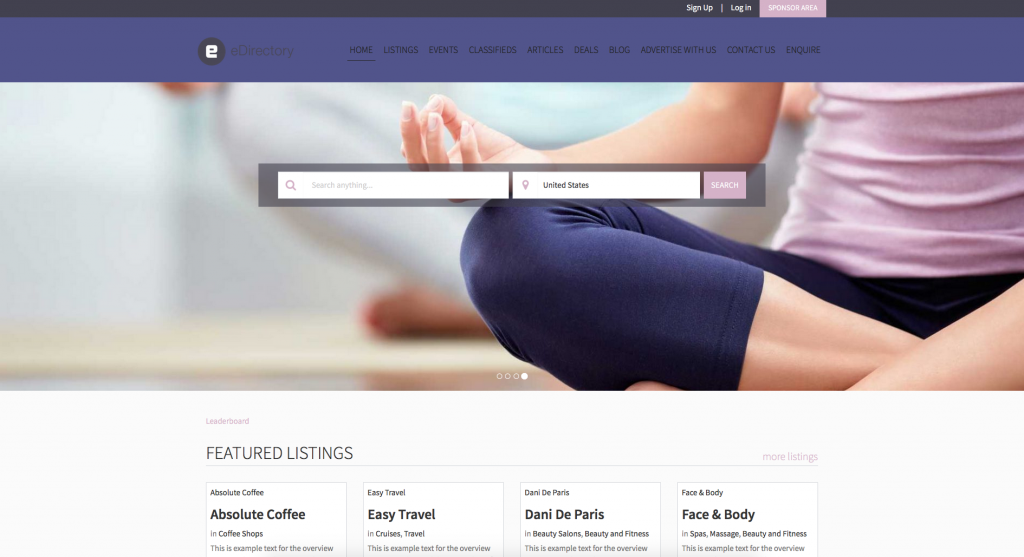 If you are new to using WordPress, there may be a bit of a learning curve. Although getting started with WordPress has a relatively low cost as an open source code, to build on the website it begins to add up and create a lot of moving parts. Many of the reliable WordPress themes are offered at a premium price – same is to be said for plug-ins.
eDirectory.com is a platform specifically designed for building and managing an online directory. The skilled development team has thought through all of the details needed to build a fully-functional website. Every feature that a directory website would need are built into the platform and eDirectory offers several modern and attractive themes to help get you started.
Here are the 5 key reasons to consider eDirectory over WordPress Directory Plugin:
1. Support
With eDirectory, you have a TEAM of over 50 techs, reps, and trainers to make sure you have the greatest opportunities for success – whether that means squashing a bug, scheduling a training session, or getting some help with how it all works…. No need to chase down a developer or have staff on payroll for basic maintenance or consultation. You have your account executive, support team, project managers, and trainers all ready to assist you.
2. Product
With WordPress, you may end up with a sort of frankenstein website with lots of controlled moving parts by various 3rd party developers that may or may not keep current with the constant security updates of an open-source platform like WordPress, meaning you could go weeks with broken items on page with no sign of help in sight. So in the end, just to make things work, you may bog down your site and find yourself trying to piece things together with bandaids, duct tape and hot glue.
3. Scalability
Many people launch with WordPress for the low sticker price, but once your clients start gaining traction with WordPress and eventually grow out of it, clients experience high-switching costs to a platform better-suited for growth and scalability like eDirectory.com…. Many clients experience extended delays and issues with migrating data, service interruptions, customer dissatisfaction from a broken site, and overall growing pains that can easily be avoided by launching with eDirectory from the get-go… SO for clients with serious revenue goals and long-term growth plans, and less headaches so they can focus on activities that add value rather than operational development, clients choose eDirectory.
4. Credibility
Visitors can spot a WordPress site from a mile away. There's nothing special about a $99 theme that makes your brand look credible. With eDirectory.com, our clients LOVE the integrated app builder, all the essentials under one roof like payment processing, hosting, and member management…. And your online community will appreciate all of the features you're able to provide with our fully-integrated online directory solution to provide a one-stop shop for growing your revenue goals. When people see you have an unbranded, mobile app, they know you've invested and are serious
5. Growth & Custom Development
As your online community grows and you start to receive actionable feedback, you might find there are features or functionalities unique to your community that you need to keep growing and adding value to your brand. With WordPress, you may encounter the same frankenstein scenario that makes it more difficult to keep it all together without a fulltime developer at an average hourly rate of $100 per hour. We have an entire DEPARTMENT of custom development services to add what's most important to your expansion plans
eDirectory offers a stable, secure hosted solution so you can rest assured your investment is in good hands. With so many built-in features and functionality, the website need not get 'bloated' with additional plug-ins and scripts therefore leading to faster load times.
By choosing eDirectory as your directory platform, you can be up and running AND generating revenue quickly and easily.
To help you get started, contact an account executive to discuss your needs and ask about our onboarding plans to help you get jump on your new venture!