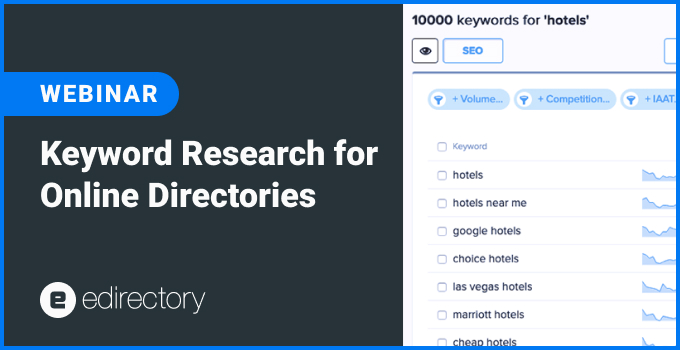 Keyword research for online directories is a key element to understanding the opportunities your website has to rank higher on search engine result pages (Google, Bing, Yahoo, etc). Google won't display your page if it doesn't find any search terms in it (or other search engines).
You can use keyword research to determine whether a topic you want to write about has strong search demand. The result will be a consistent stream of highly targeted visitors to your page if your page ranks well in Google for its target keyword.
In order to do it right, you need to do two things:
You should have a thorough understanding of your niche
Knowledge of how keyword research tools work
In this webinar, our CEO James Chubb along with the marketing team shows how to determine which strategic keywords to target in your website's content, and how to craft that content to satisfy both users and search engines.
Webinar: Keyword Research for Online Directories
The second part of the webinar demonstrates how to use professional keyword research tools such as the Google Ads Keyword Planner and SEMRush. Following that, we showed how to add keywords to your eDirectory website.
Since eDirectory's code is written with SEO in mind. The structured code makes it easy for search engines to index and understand what is important.
USEFUL LINKS AND TOOLS MENTIONED IN THE WEBINAR
*We are not affiliated, associated, authorized, endorsed by, or in any way officially connected to the tools and sites mentioned in the webinar.
This session was recorded on August 16th, 2023.
Want more tips? Shoot us a note at marketing@eDirectory.com and don't forget to join our Facebook group.