Meet the New eDirectory v13.1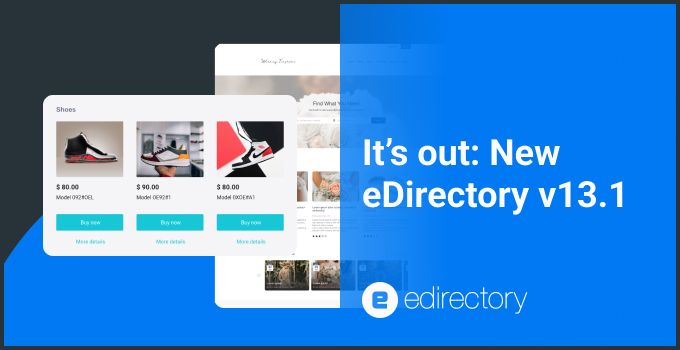 We are proud to announce a major release: eDirectory v13.1. It is filled with new features and new technology. It reflects the constant evolution of the most complete directory software.
According to Arca Solutions' CEO, James Chubb, this new eDirectory version comes from a new set of internal processes for faster release cycles. It means more product features are being added with even more quality.
This release gives more flexibility and functionality, making it easier to launch and monetize directory-based websites.
The new eDirectory Mobile App
The star of the new release is the new generation of the eDirectory Apps. Formerly built using two different platforms (one for Android and one for iOS), the new eDirectory app is created with Flutter, an open-source framework developed by Google in 2015. It delivers native performance and visual consistency on different platforms.
Fernando Nascimento, product manager of eDirectory, says that web and app formats are now closer and the plan is to get them even closer in terms of design, features, and functionalities.
Read more about the New eDirectory App here.
There's no doubt the new eDirectory App brings more flexibility but it also brings more opportunities for customization, to meet specific needs. "The new version is built on the open-source Flutter platform, where the single code base can generate native iPhone and Android apps. Going forward this will dramatically increase the velocity of the app development, as well as make app customization much more affordable", says James.
What's new on eDirectory v13.1
Besides the new eDirectory App, the web version brings improvements and new features across all modules. As we have a blog post dedicated to the new eDirectory App, let's see here the highlights for the web version!
New Widgets for the Listing Detail Page
Marketplace Widget
This feature allows listing publishers to create lists of products and services that
will be shown as a catalog on the listing detail page, and an external purchase link can be added so the end-user can purchase the offered item. Learn how to add this feature to your eDirectory site.
Header Widgets
A total of 5 new header widgets for design enhancements and to create fine-tuned templates for each category.
Thin Header

Centralized Header (3 different versions)

Header with Gallery (up to 8 images)
Contact Us Widget
The contact information is displayed on the default header widget but now it can be displayed anywhere on the listing detail page. It includes address, phone, an additional phone, website, and email.
Badges Widget
Similar to the Contact Information, Badges were displayed only on the default header but now can be added anywhere on the listing detail page.
Browse by Category Widget
Site managers can now select from which module the categories will be selected on any
of the "Browse by category" widgets. It creates more options to highlight the best content of your project, improving user engagement.
Twitter Feed Widget
With the sunset of the Advanced Social Media Plugin, the Twitter feed is now available for all new installations. Available for Listings and Events modules. LinkedIn clickable URL can now be added to the listing page.
Deals Module
Advertisers are now able to upload their own QR code, which will be displayed on the redeemed coupon, making it easier the deal validation. Fixed prices are now optional, allowing advertisers to create generic coupons such as "All products with 50% off". Advertisers will be able to define if redeem codes will be generated randomly for each deal redeem or define a unique, customized coupon code that will be presented for all visitors who redeem that deal. Lastly, the Site Manager will be able to disable the display of the time left to redeem and the deals left counter. See how to use QR Code on deals.
General Settings – Maps and Banner Ads by level
Site managers can now choose which levels will display Google maps and Banner Ads on the detail page. Available for listings, events, and classifieds It allows to create or highlight the benefits of the premium plans.
Theme Layout Updates
New layout for themes Doctors, Wedding, and Restaurant. Improved default color palette for contrast and usability.
Claimable Listings export
New option to export claimable listings on the Mailing list section. Claimable listing is a powerful built-in feature so you can reach out to your potential advertisers, starting a conversation to engage and sell. This new export feature creates a faster way to pull this data and feed your preferred email marketing platform.
Read the full list of enhancements of eDirectory v13.1 here.
Upgrade to the latest version of eDirectory today!
For active clients looking to take advantage of the latest and greatest eDirectory.com has to offer, simply fill out the Upgrade Request form or contact your account executive.
For new clients looking to launch their online Enterprise with all you see here and much more, please request a demo here, call us directly at +1-800-630-4694, or send an email to sales@eDirectory.com.