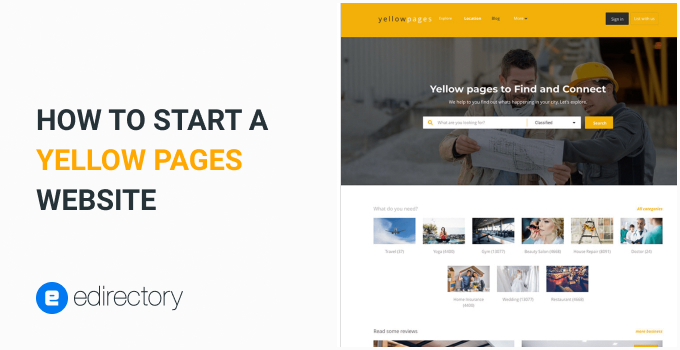 Yellow pages are some of the most useful online directory websites, both for your visitors and local businesses. They're also beneficial for you as the directory website owner. But what exactly is a yellow pages directory website? What are the advantages of creating one and, most importantly, what does it take to build one? Those are the questions we'll answer in this article. We'll also explain how to get started building a yellow pages directory site.
What is a Yellow Pages Directory Website?
A yellow pages site is an online business directory that helps visitors discover local businesses. Typically, a yellow pages directory consists of location-based listings that include businesses, service providers, organizations, and similar. If a visitor is looking for a restaurant or a doctor in their area, a yellow pages directory can point them in the right direction.
This type of listing can provide them with all the necessary information they need to know about a particular business: address, hours of operation, contact information, website address, and more. They can even show reviews and ratings of any individual business.
In other words, online users benefit from a yellow pages directory because it's an easy way to find the information they need when they need it. Businesses and organizations benefit from being listed on yellow pages because the listing can bring them more customers and clients.
Why Build a Yellow Pages Directory?
A yellow pages directory website is useful for both online users as well as businesses. But what about you, the person behind the yellow pages directory? Why should you bother building a yellow pages directory website?
There are a few reasons. For starters, it's a good way to make money online. You can sell listings as well as advertising spots. On top of regular listings, you can also sell enhanced listings and allow businesses to claim a listing for a fee.
Secondly, it allows you to create a business without having to worry about creating a product or gaining skills to provide a specific service.
Lastly, it's a low-risk and low-cost business idea as you don't need a huge investment to get started. Another benefit is that you also don't have to worry about renting an office space and paying associated bills and other fees.
What Does It Take to Create a Yellow Pages Directory Website?
The first thing you'll need to build a yellow pages website is a dedicated yellow pages directory software like eDirectory. Using eDirectory is the fastest and most affordable way to launch a directory website in any niche without the need to hire a developer.
eDirectory Notable Features
eDirectory has a plethora of features that make it a great choice for building a yellow pages directory:
Build a small directory with several thousand listings or a whole network of sites with millions of listings
Easily create and sell listings, classifieds, events, deals, articles, blog and banner ads
Price listings by category, sell enhanced listings, and offer the ability to claim listings
Users can create detailed listings with descriptions, photos, maps, video, categories, keywords, downloadable files, and more
Automated listing renewal reminders
SEO-optimized platform
The ability for users to leave ratings and reviews
Integration with multiple payment providers
And more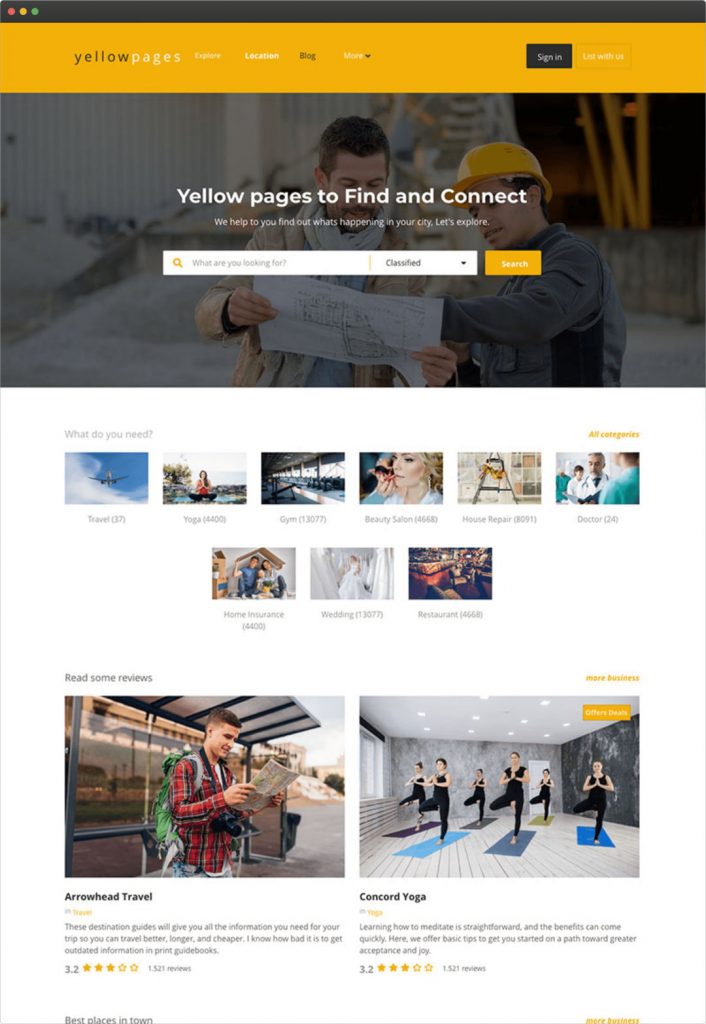 How to Get Started With Your Yellow Pages Directory Site
Now that you know what it takes to build a yellow pages directory site as well as what features to look for in a yellow pages directory software, it's time to take the next step. Here are the steps to get started with your yellow pages website.
1. Decide On Monetization Method
Before you start building your yellow pages directory website, it's important to decide how you'll monetize it. As mentioned earlier, you can charge for listings, sell advertising space, as well as charge an additional fee for claiming a listing or selling enhanced listings.
If you're just getting started, focus on one or two monetization methods and expand from there.
2. Get a Domain
The next step is to decide on a domain name for your yellow pages directory. There is no shortage of domain registrars where you can purchase a domain name. A few tips to keep in mind when it comes to domain names are:
Keep the name short and simple
Try to include your main keywords
Opt for a name that is easy to spell and remember
3. Build Your Directory
Once you have a domain name and you know how you'll monetize the directory, it's time to build it. As mentioned earlier, you'll need a dedicated yellow pages directory software like eDirectory to facilitate the process. Packed with the features mentioned above, eDirectory makes it easy to launch a yellow pages site in no time.
4. Get Listings
A directory is nothing without listings. But it's hard to get people to create a listing if nobody knows your directory exists. A good starting point for getting the initial listings is to reach out to local businesses and offer them a reduced rate for their first term.
5. Drive Traffic
Once your directory is live and you have the initial listings, the main task is to drive traffic to your directory. A few ideas include:
Being active on social media where your target audience spends time
Creating quality content around topics that interest your audience
Optimizing your directory for search engines
Conclusion
Building a yellow pages directory website might seem daunting. But once you know what's involved, what features you need to include, and how to get started building a yellow pages directory, the task becomes easier.
Get started on your yellow pages directory website with eDirectory and see how easy it is to build one using our platform. Sign up for a free demo and explore all the features eDirectory has to offer.