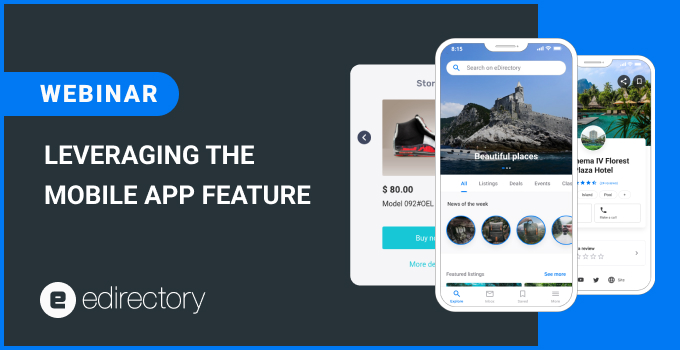 eDirectory, as the sole platform in the market offering a native mobile app builder, empowers site owners like you to effortlessly create, customize, and publish your online directory website on both Google Play and the App Store. Here are the key features of the eDirectory Mobile app integrated builder:
Fully Native Apps: Your apps will be fully native, bearing your brand and residing in your app store account.

Unified Data and Management Interface: Manage your app and web content using the same intuitive interface.

Extensive Customization: Customize your app in multiple ways to align with your unique requirements.

Dynamic Layout Updates: Publish changes to your app's layout on the fly, ensuring flexibility and adaptability.

Self-Submission or eDirectory Submission Service: Choose to self-submit your app or utilize eDirectory's submission service for a seamless process.
By embracing a mobile app, you ensure that your online directory holds a prominent position on your users' cellphone home screens, offering the following advantages of native apps:
Brand Visibility: Your app icon will reside on your users' home screens, maximizing brand exposure.

Reduced Bounce Rate: Unlike web-based experiences, users are less likely to navigate away from your app.

Seamless Interface: Native apps provide a smooth and optimized user interface for enhanced user experience.

GPS-based Location Accuracy: Leverage GPS functionality for accurate location-based services within your app.

Notifications: Engage with your users through push notifications, delivering timely updates and messages.

Additional Monetization Opportunities: Native apps open doors to additional revenue streams for your online directory.
By leveraging these features and benefits, eDirectory empowers you to create a comprehensive mobile presence that ensures your online directory remains at the forefront of your users' attention and offers a superior user experience.
Webinar: Creating Sponsorship Opportunities for Online Directories
*We are not affiliated, associated, authorized, endorsed by, or in any way officially connected to the tools and sites mentioned in the webinar.
USEFUL LINKS AND TOOLS MENTIONED IN THE WEBINAR
This session was recorded on July 12th, 2023.
Want more tips? Shoot us a note at marketing@eDirectory.com.