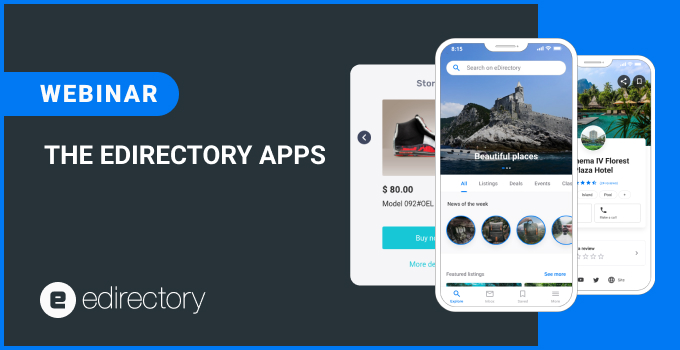 With the release of the new eDirectory version 13.1, the suite of eDirectory apps became even more powerful. The new App was built using a Google technology named Flutter which delivers improved performance and visual consistency on different platforms.
The new technology was combined with a new design to make the eDirectory App look fresh and current. It took the eDirectory team months of research and prototyping to get to the final product: an app that's fast and looks great on any device.
We were joined by Fernando Nascimento, product manager for eDirectory. In this webinar, he will describe in detail the eDirectory App's main features, to help you understand what it can do for your business.
These are the main new features of the eDirectory app:
Listing template design
Exclusive content
Stories
Deals
Banners
Custom home screens
Sliders
Inbox messages
Apple ID login
The eDirectory Apps
Useful links and tools mentioned in the webinar:
*We are not affiliated, associated, authorized, endorsed by, or in any way officially connected to the tools and sites mentioned in the webinar.
This session was recorded on October 19th, 2022.
Want more tips? Shoot us a note at marketing@eDirectory.com.