Enhance content efficiency
The ChatGPT integration empowers you to efficiently create and optimize content for your directory-based website, enhancing its functionality, user experience, and search engine visibility. This technology-driven approach can give you a competitive edge in the directory website market.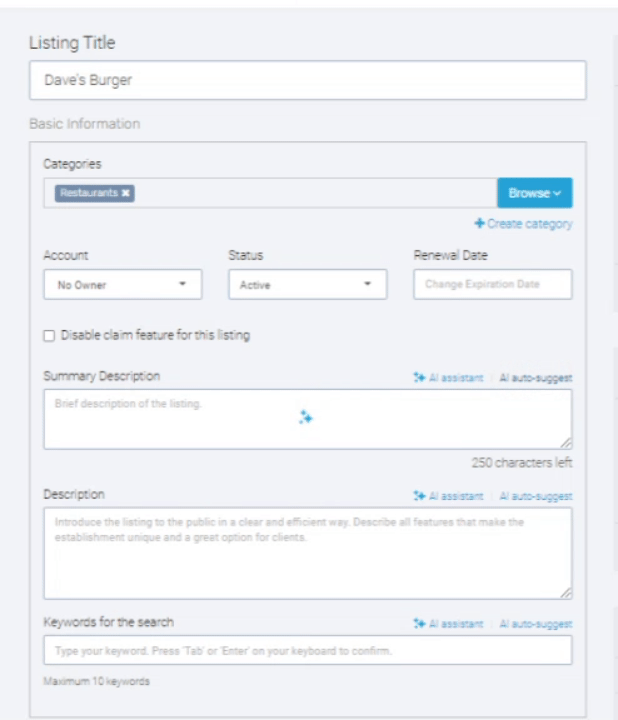 Incorporating ChatGPT into your website streamlines operations and enhances the quality and reach of your listings, events, classifieds, articles, and blog posts. It's a cost-effective and scalable approach that can boost user engagement and the overall success of your directory platform.
The Chat GPT integration works across all modules: Listings, Classifieds, and Events, on long and short descriptions, and for Blogs and Articles it writes from scratch.
If you don't know where to start writing Blog Posts and Articles for your site, our Prompt Assistant guides you through the most important sections of a great piece of content. If you are an experienced writer, you can type your own prompt and guide Chat GPT to deliver the content you've planned.
Easy Integration
Simply create an account on the Open AI website - the creators of Chat GPT - and grab your code. Paste it in your eDirectory site and you're done.
Level Management
Choose which advertisers will have access to this feature setting its availability by level and by module. Or leave it for admin only, it's up to you.
SEO usage
Leverage the SEO of your content by checking the suggestions from Chat GPT for the keywords and meta descriptions. It will help you with visibility and organic traffic.