Get Picked Up on the Social Radar
eDirectory integrates seamlessly with all the major social platforms. Be assured that with us, you're already ready to compete with others on social media from the start.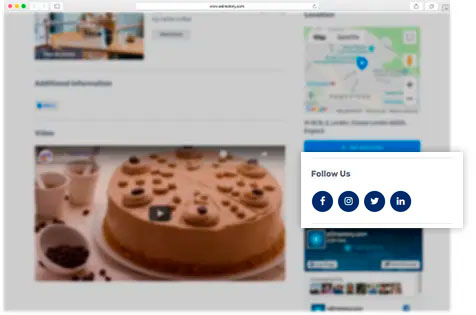 Facebook
Connect your Facebook account with a few clicks in the site manager, and you're all set to go. Users can seamlessly share or like your content across the major networks.
Twitter Stream
Display your Twitter feed directly on your site. It's as simple as adding your Twitter username to our systems.
---
Sponsor Sharing
The Sponsor section features social sharing links to entice listing owners to share their listings to drive traffic and reviews.
Visitor Profile Social Link
To help drive engagement around your directory site, the Visitor Profiles feature an optional link to their social media accounts.
Social Login
eDirectory features the ability to log in with Facebook, Gmail, and Apple accounts, making it easy for sponsors and visitors to create their profiles.